Pripyat, Ukraine — A few kilometers from the Belarus border, Ukrainian forces are training for what they expect to be a brutal spring.
Ageing T-72 tanks – some twice the age of their crews – fire off rounds into the mist, while ground troops practise storming abandoned buildings. Some of the training takes place in the eerily quiet town of Pripyat, deserted since the Chernobyl nuclear disaster in 1986.
As the troops are put through their paces, Lieutenant General Serhiy Naiev takes delivery of a dozen pick-up trucks armed with heavy machine guns and anti-aircraft guns, a crowd-funded initiative to help Ukraine repel Iranian-made Shahed drones, which have caused so much damage to Ukraine's power infrastructure.
But Naiev, a stocky and affable commander, believes the next phase of this war will be about tanks. And that means not his ancient T-72s but more modern machines such as German Leopard 2s and British Challengers. Ukrainian officials say they need several hundred main battle tanks – not only to defend their present positions but also to take the fight to the enemy in the coming months.
"Of course, we need a large number of Western tanks. They are much better than the Soviet models and can help us advance," Naiev said. "We are creating new military units. And our next actions will depend on their combat readiness. Therefore, Western assistance is extremely important."
Chief among their requests is the Leopard 2, which is relatively easy to maintain and operate, and in service with many NATO nations. Both the military and political leadership in Ukraine were hoping that the Ramstein meeting of Ukraine's partners on Friday would greenlight their delivery, but Germany held back.
Ukrainian Defense Minister Oleksii Reznikov, speaking after the meeting, said he and German counterpart Boris Pistorius "had a frank discussion on Leopard 2s … to be continued."
Mykhailo Podolyak, an adviser to Ukraine's Presidential Administration, told CNN Friday: "We are disappointed. We understand that some countries have inhibitions. But the slower this goes the more of our soldiers and civilians are killed.
"It would be significant if Germany took a leadership position here."
He contends that "300 to 400 of these tanks, in fact, would outdo 2,000 to 3,000 Soviet-era tanks…It would sharply accelerate the tempo of the war and initiate the closing stages."
In the meantime, Ukrainian officials say they are running out of spare parts for their existing Soviet-era tanks, even as they scour other former Soviet bloc states for supplies.
The Ukrainians fear that a second Russian offensive may begin within two months. By the spring, 150,000 Russians drafted last autumn will have been trained and probably incorporated into battle-ready units. For the Ukrainians, it's a race against time. But they are essentially converting a military based on Soviet hardware to one using advanced western weapons at warp speed.
They won't be getting M1 Abrams main battle tanks, which are powerful but difficult to maintain. Colin Kahl, the Pentagon's top policy adviser, said of the M1 that it's "expensive. It's hard to train on. It has a jet engine."
Experts also believe the German tanks could make a real difference. "Leopard 2 is a modern, well-protected main battle tank with good sensors," Jack Watling, Senior Research Fellow in Land Warfare at the Royal United Services Institute (RUSI), told CNN.
"It was originally designed to be maintained by conscripts and is therefore simpler to keep in the fight than some other NATO designs like the Challenger 2. There is also an existing production line to keep Leopard 2s supplied with spare parts."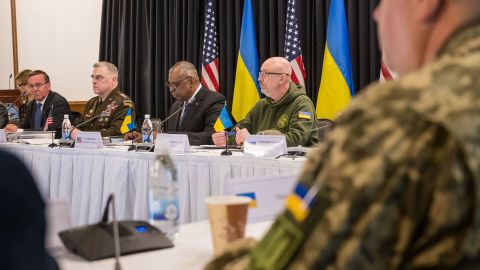 But other weapons continue to flow in – Stryker armored vehicles and Bradley infantry fighting vehicles from the US, howitzers from Finland, the advanced ARCHER artillery system and anti-tank guns from Sweden.
The Ukrainian military has to train units on the new equipment and integrate it into its existing formations.
"The whole unit should be equipped with the same vehicle, so a whole battalion is equipped with Bradley, if we get it, or with Leopards," Lieutenant-General Naiev told CNN.
Several senior Ukrainian officials have said that Ukraine wants to go on the front foot before Russia reinforces its lines and its battalion tactical groups. The front lines – all the way from the Russian border in the northeast to the Black Sea – have moved little since Ukrainian advances in Kharkiv and Kherson in the autumn.
Podolyak said rapid deliveries of modern tanks would localize the war. "It wouldn't spread, but remain on the occupied territories and be decided with tank warfare."
Ukraine needs tanks to clear occupied land quickly, but also longer-range missiles, Podolyak said. He expects the Russians are "going to bring in a lot more troops, a lot of old Soviet equipment, everything, according to our estimates, that they have left."
The Russians appear to be trying to reduce the vulnerability of their ammunition stocks and troops concentrations by placing them further away from the frontlines, perhaps even beyond the range of US HIMARS systems that Ukraine has used effectively against such targets.
The list of hardware that the Ukrainians want seems ever-expanding, but Podolyak responds: "Our guys aren't leaving the battlefield, even if they aren't provided with new weaponry. They'll just die more often and with greater regularity.
"I understand that some countries may feel tired of this war," Podolyak told CNN.
"But we are the ones whose are paying the real price for freedom. We are the ones whose people are dying because of Russian aggression."
As reported by CNN