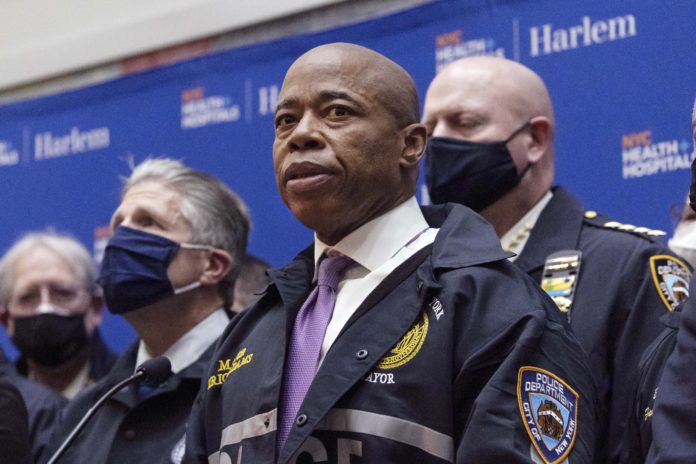 NEW YORK (Yaakov M / VINnews) — Once again Mayor Eric Adams is making strange new rules for police officers, rather than locking up criminals.
NYPD patrolmen have been ordered not to engage in chit-chat on duty, and the rule appears to have come directly from Adams, a former cop.
A memo was released this week, telling officers not to "congregate" or engage in "unnecessary conversation" — just weeks after Adams criticized officers for chatting on the job, according to the NY Post.
"Do not congregate, or engage in unnecessary conversation, with other members of the service while on post, absent police necessity," the order states, addressing police officers.
NYPD cops ordered not to 'congregate' or converse on city streets, memo shows; Mayor Eric Adams chastised officers on the street for chatting on the job.

Throwing cops under the bus. Letting criminals go free. Thousands leaving, thousands more on the way out.



— Conservative American (@honor_country) August 24, 2022
Earlier this month, a video posted on social media showed Adams pointing to officers on a street corner in Manhattan and telling supervisors that "they should not all be congregating together."
"How about scattering out, so we ensure safety and deploy personnel?" Adams said. "We have not been deploying our personnel correctly."
In response to the arcane rule, Police Benevolent Association president Pat Lynch observed that soon there will not be enough officers to congregate anyway because so many are quitting.
A Manhattan officer blasted the mayor for focusing on silly rules rather than the surge in crime. "Worry about crime in the city and stop worrying about cops congregating," he said. "Worry about your transit system and how it's out of control. Worry about your shootings. Officers can't even walk around their own neighborhood without getting their ass kicked."
This wasn't the first time Adams, a former NYPD captain, interfered with officer patrols. In May, he ordered them to begin solo patrols in the extremely dangerous subway system.
That rule was quickly changed one day later, after a detective was assaulted while on solo duty.
As reported by VINnews