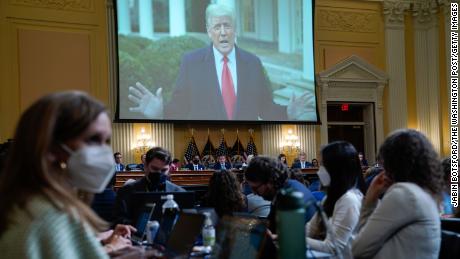 It's not just about the 2020 election anymore.
The unhealed wound in American politics first opened by Donald Trump – a President who mounted a coup attempt after he was rejected by voters – is already tainting the 2022 and 2024 elections.
A rush of fresh evidence and the House January 6 committee's expanding ambition to hold the ex-President to account over the Capitol Insurrection mean its probe, and new hearings in September, will crash headlong into midterm election season.
Trump all but declared a 2024 campaign this weekend, firing up a rally in Arizona with a new torrent of lies about his defeat to President Joe Biden and setting the tone for another democracy-rattling White House bid that he could officially launch at any moment.
Trump's determination to run a 2024 campaign of vengeance rooted in his mountain of misinformation means it could be 2026, at least, before Americans experience a campaign that is not shaped by his inability to accept his legitimate loss nearly two years ago.
It is no coincidence, therefore, that leading members of the January 6 committee are becoming increasingly adamant about the need for Trump to pay a price now for his misdeeds after the 2020 campaign – before it is too late.
"There's no doubt in my mind that the (former) President of the United States is unfit for further office," committee vice chair Liz Cheney told CNN's Jake Tapper on "State of the Union" on Sunday.
"Any man who would conduct themselves – or woman – who would conduct themselves the way that he did in attempting to overturn an election and stay in power must never again be anywhere close to the Oval Office," said the Wyoming Republican, who's facing a Trump-backed primary challenger next month who's well-positioned to win the state's only House seat in November.
The panel has not yet decided whether to recommend a criminal investigation of the former President, Cheney told CNN, but committee members on Sunday heaped indirect pressure on the Justice Department to mount a formal prosecution of the ex-President, days after exposing his dereliction of duty as his mob ransacked the Capitol in January 2021.
They also signaled willingness to open another politically electric avenue of investigation with a potential subpoena for Virginia "Ginni" Thomas, the conservative activist and wife of Supreme Court Justice Clarence Thomas.
Trump's behavior in Arizona, where his demagoguery previewed the presidential campaign he may soon launch, sharpened the dilemma of the Justice Department, which must decide whether damning evidence in the House select committee hearings is sufficient to open a criminal probe against the ex-President.
In its televised hearings, the committee has alleged that Trump knew he lost the 2020 election, but pressured officials in Washington, DC, and the states to overturn it anyway. He called a crowd to Washington and incited it to march on the Capitol in the knowledge that some members were armed. Then, as the committee revealed in shocking detail on Thursday, the ex-President watched the mayhem unfold and broke his oath to defend the country and Constitution.
Despite preconceptions that there was nothing new to learn about January 6, 2021, the hearings have suggested a previously unknown level of intent by the ex-President over his coup attempt.
The question has now become not just whether a Justice Department investigation into an ex-President would cause so much recrimination that it might be counter to the national interest. Such is the strength of the evidence uncovered by the committee that Attorney General Merrick Garland must now consider the example set if Trump's coup attempt does not draw accountability.
Cheney slams Trump for 'most serious' misconduct of any President
Cheney laid out the gravity of the moment on Sunday.
She told Tapper that with his violations of his oath of office and the Constitution, Trump had engaged in "the most serious misconduct of any President in the history of our nation." The Wyoming lawmaker, a rare Republican with the courage to confront Trump, may return to Washington in September in the knowledge that she has sacrificed her immediate political career in defense of democracy.
But Cheney told Tapper that she has no regrets.
"If I have to choose between maintaining a seat in the House of Representatives or protecting the constitutional republic and ensuring the American people know the truth about Donald Trump, I am going to choose the Constitution and the truth every day."
Cheney also said that the committee will "contemplate" a subpoena for Ginni Thomas, if she doesn't voluntarily agree to an interview over her role in advocating the overturning of the 2020 election result. The committee's request for an interview will revive controversy over the role of the Supreme Court justice's wife and questions over whether her role in discrediting the 2020 election poses conflicts of interest for her husband, a radical voice in the conservative majority on the nation's top bench, which Trump reshaped during his presidency. Ginni Thomas called on Mark Meadows to make sure the then-President did not give up his bid to stay in power, according to text messages the former White House chief of staff handed over to the committee.
Even without the panel deciding whether to recommend a criminal referral of Trump, the increasing stridency of the statements from committee members leaves little doubt about where they hope this is headed.
Democratic Rep. Adam Schiff, who also sits on the select committee, seized on comments by Garland last week in which he said that no one was above the law.
"The attorney general has committed to follow the evidence where it may lead and it has led to Donald Trump. "And so I think the President should be investigated," the California Democrat said on NBC's "Meet the Press." Schiff added, however, that it was up to the Justice Department to decide whether the committee's evidence proves Trump's guilt beyond a reasonable doubt.
Another committee member, Democratic Rep. Elaine Luria of Virginia, was even more forceful. She said she had no specific knowledge on the question of a potential Justice Department probe into the ex-President but added: "I sure as hell hope they have a criminal investigation at this point into Donald Trump."
Garland's dilemma
There is a difference, however, between a House select committee investigation and a probe conducted to the exacting standards of a court room – a distinction that is often lost in the commentary about the recent televised hearings.
The select committee is not a criminal proceeding and has no power to lay charges. There has been no cross-examination of witnesses – partly because House Minority Leader Kevin McCarthy pulled GOP representation from the committee after House Speaker Nancy Pelosi objected to his choice of two of Trump's fellow election deniers to serve. (It was Pelosi who then selected Cheney and another prominent Trump critic – Republican Rep. Adam Kinzinger of Illinois, who is retiring from Congress – for the panel).
The way the committee rolled out evidence and selective clips of depositions from witnesses in a highly produced, made-for-television format may have disguised contradictions or inconsistencies in evidence that a defense lawyer could exploit.
Given the extraordinary implications of mounting criminal action against a former President, Garland would have to be exceedingly sure a prosecution could succeed.
And one reason why Trump may be interested in launching a presidential campaign even before the midterms is to make it easier for him to portray any official investigation against him as politically motivated.
If he found that the evidence befits an official investigation, Garland would also have to consider the implications of establishing a precedent for a former President to be pursued in a criminal probe by a successor administration.
Trump, for instance, has already shown a commitment to politicize the law and to weaponize the Justice Department for his own ends. Given his strength in the Republican Party, he appears to have a reasonable chance of winning the nomination and being the next president. There is no doubt he would use his power to seek vengeance.
Kinzinger warned on Sunday that the Justice Department should not stop short of a prosecution of Trump for political reasons since it could also set a dangerous precedent.
"If there's the ability to move forward on prosecuting, and you don't, you have basically set the floor for future behavior of any president. And I don't think a democracy can survive that," Kinzinger said on ABC News' "This Week."
In Arizona, the wild personality cult that helped lead to the January 6 insurrection was in full force, with Trump's choice in the Republican gubernatorial race, Kari Lake, burnishing the ex-President's strongman image.
"For the record, I do believe that Superman is coming back, and hopefully, he's coming back soon," Lake said.
Trump, spinning fresh lies about the 2020 election and slamming the January 6 committee, left few doubts about his future intentions.
"This is the year we're going to take back the House, we're going to take back the Senate, we're going to take back America. And in 2024, most importantly, we are going to take back our beautiful, magnificent White House," he said.
As reported by CNN