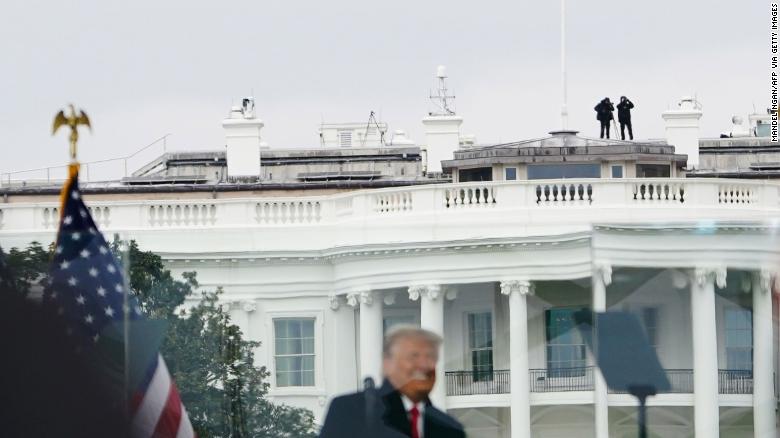 The House committee investigating the January 6, 2021, insurrection will put on a prime-time show Thursday night — and it will be a show — to highlight then-President Donald Trump's inaction as the US Capitol was invaded by rioters who supported him.
But what we're getting from the committee is far from the whole story.
For every newly identified former White House staffer who comes forward to speak to the committee, there are scads of missing pieces:
Key Secret Service agents appear to have failed to preserve text messages from January 5 and 6, 2021.
Former Trump aide Steve Bannon is currently on trial in Washington for misdemeanor contempt of Congress charges after refusing to talk to lawmakers, a test case for other Trump allies and officials who ignored Congress.
These sideshow dramas neared crescendos this week, but anyone expecting them to result in Bannon's cooperation or a sudden drop of Secret Service agent text messages will be disappointed.
Critics will seize on these gaps to question the House committee's allegation that Trump masterminded a conspiracy to upend the 2020 election.
It's true that for all its methodical work and exhaustive interviews — often edited down to short videos that accuse Trump of leading that conspiracy — the committee may forever lack the complete picture of what happened on January 6.
Anyone else who has taken the time to watch the public proceedings, which have featured primarily Republican witnesses, won't question that central point about the former President's role, which comes from Trump's own mouth and Twitter feed.
Still at it
In fact, Trump is STILL trying to undo the election. Wisconsin Assembly Speaker Robin Vos said Trump called him just last week as part of a new effort.
The TV exchange of the day was between former White House chief of staff Mick Mulvaney, who resigned his position as special envoy to Northern Ireland after January 6, and CNN's Jake Tapper.
MULVANEY: (Trump's) being advised by some very sketchy individuals, and it looks like he's still being advised by people who don't understand the law. Because I'm not sure who told him not only this was a good idea, but that calling Wisconsin … having them undo the election, was even possible.
TAPPER: It doesn't seem particularly sane, just as an observation.
What we don't know
If anything, the missing pieces from the January 6 hearings raise questions about how deep the plot went and what happened when Trump was not in rooms with multiple other people.
What are Bannon and other, more official Trump advisers trying to hide by refusing to testify?
Would text messages between Secret Service agents confirm the secondhand report from former White House aide Cassidy Hutchinson that Trump tried to seize the wheel of an SUV when his protective detail refused to let him join the march to the Capitol?
Criminal investigation re: missing text messages
CNN reported on Thursday that the Department of Homeland Security inspector general is investigating the deletion of text messages from 24 Secret Service agents as a criminal matter.
It has told the Secret Service's own watchdog to stop a separate inquiry that had been requested by both the January 6 committee and the National Archives, which want access to the apparently deleted text messages.
How were the messages deleted?
The agency says agents were told to save messages before a January 2021 phone migration, but apparently none of the agents complied with the request.
The agency was only able to provide a single text exchange to the inspector general after it requested a month's worth of records.
(I will insert here a mea culpa that I often do not read emails from our IT department until after something important has happened. The deletion of these text messages from some of the most consequential days in recent American history is clearly a suspicious coincidence. But I can also commiserate.)
CNN's Whitney Wild and Jeremy Herb have been all over this story and reported on Thursday that the Secret Service has not been notified of a specific criminal allegation regarding the deleted text messages.
Bannon's trial has proceeded quickly
Federal prosecutors laid out their case in just a little more than a day of proceedings before the jury. Bannon's attorneys declined on Thursday to call any witnesses in his defense. Read this recap from Wednesday, after the prosecution rested its case, from CNN's Tierney Sneed and Katelyn Polantz.

Key lines: So far, Bannon has been a peripheral figure in what the House hearings have presented, and could continue to be mentioned minimally, given he was not an administration official on January 6, 2021. But a conviction in the case could be a gust in the sails of the House's work …
Bannon could face a minimum of 30 days in jail and a fine of up to $100,000 if convicted.
Sneed and Polantz point out prosecutors have said the trial is meant to be punitive rather than to coerce him into sharing information.
Bannon hasn't exactly hidden his own plan to overhaul the US government, which he discusses on his podcast, and which CNN featured in a profile on Sunday.
But that's different than facing questions from investigators. The outcome of Bannon's trial will have major consequences for other Trump allies, including House Minority Leader Kevin McCarthy, who along with a few other GOP lawmakers, shrugged off subpoenas.
It will be a much different Washington next year if, as is likely, McCarthy becomes speaker of the House and shuts down investigations into January 6.
As reported by CNN