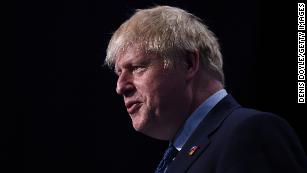 It wasn't so much a starting pistol as a starting squib. Last week, British Prime Minister Boris Johnson stood outside Number 10 and announced his resignation. Closing a speech notable only for its lack of memorable excerpts or emotional resonance, our once intractable leader shrugged "them's the breaks" before retreating back inside.
Given the lack of poetry from Johnson, who hero-worships Winston Churchill and is allegedly writing a biography of William Shakespeare, you'd be forgiven for assuming this moment didn't signify anything extraordinary.
But his final admission of defeat didn't just mark the beginning of a Conservative leadership race that's now dominating every facet of Britain's public discourse. It largely erased the scandal over sexual misconduct that forced Johnson to that hastily-erected lectern in the first place.
The final straw that had prompted 60 MPs to quit their jobs and call on Johnson to stand down was his appalling reaction the week before to the resignation of MP Chris Pincher, and the catalog of failures that had preceded it.
Pincher stepped down from his role as deputy chief whip, a critical administrative and pastoral role in the Conservative party, amid accusations of sexual misconduct spanning over a decade. Johnson initially denied all knowledge of them, but it later emerged that he'd been briefed on Pincher's alleged history before giving him the job.
Senior officials claimed he'd responded with trademark lack of concern, quipping "Pincher by name, Pincher by nature." (An official spokesperson refused to comment on this.)
Johnson mentioned none of this during his farewell. The Pincher story had taken Westminster so by storm in the days leading up to it that it drowned out everything else. Even Johnson's admission in Parliament that he met a former KGB colonel without officials present as foreign secretary in 2018, in itself a potentially sackable offense (his fellow Conservative MP Priti Patel was forced to step down as international development secretary for a similar infraction in 2017), faded into the background.
Johnson's reticence to retread such unflattering ground was understandable, but what was far more striking was the ease with which the public, the MPs who'd resigned in fury and the candidates vying to replace him as leader abandoned the story too.
Some of the immediate distractions were relatively superficial, but in a country where every public service feels broken, every confirmation of a deficiency in our lawmakers draws fire.
A video clip of the newly-minted education minister Andrea Jenkyns giving the waiting crowds the finger outside Number 10 last week whipped up a storm of excited outrage that was only intensified by the sullen, poorly-phrased letter of so-called apology that followed. Meanwhile according to The Times Education Commission, schools across Britain are currently "failing on every measure." Johnson's parting vote of faith in Jenkyns to take on the job of fixing them was absurd and insulting enough to draw our attention away from his own disastrous stewardship.
As the Conservative leadership race got underway, the diversions became more serious and took a firmer grip on the news agenda. MP Nadhim Zahawi, who Johnson made Chancellor when Rishi Sunak stepped down in protest over the Pincher story — and nevertheless added his voice to the chorus demanding the prime minister resign just 48 hours later — quickly threw his hat into the ring. He'd barely done so before questions about his tax affairs surfaced, along with the revelation that they're currently the subject of an unresolved probe by Her Majesty's Revenue & Customs. Zahawi protested that he was being "smeared," but the story proved deadly to his candidacy.
The remaining leadership hopefuls have their own problems. The major issues troubling the country — a cost of living crisis, massive queues for NHS treatment, a backlog of criminal cases suffocating the justice system, and of course, Brexit — are awkward for them to address head-on, given they've been members of the party in charge for the last decade.
The frustrations of the British public are being amplified almost hourly by obfuscations from some of the candidates, whose favorite responses when asked how they plan to steer the country back toward prosperity have included promises of sweeping tax cuts and forays into culture wars too inane to overlook.
MP Kemi Badenoch, one of the most right-leaning of the aspirants, has declared herself the figurehead of a "war on woke" with a zeal almost compelling enough to make us forget no one asked for it. Her ban on gender-neutral toilets at her leadership launch stoked more news lines than her speech, which leaned heavily on quashing "social justice concerns" and championing "free speech." Her throwdown (and the resultant online backlash) was swiftly followed by a jibe from rival Penny Mordaunt that Westminster is "tying itself in knots" over trans issues — which generated still more headlines.
Elsewhere, resurfaced footage of a young Sunak, currently the favorite to win the race, showed him in 2001 laughing and retracting his own suggestion that he might have "working-class friends." The clip steamrolled social media in a way his opponents could only have dreamed of, prompting retweet after retweet alongside complaints that a man so completely out of touch could never hope to understand the financial straits of the British public. (Sunak told BBC Radio Thursday, "I don't judge people by their bank accounts, I judge them by their character.")
The result of each of these meme-able embarrassments is ever more noise from all corners — and a frenzy of retaliatory self-promotion that's pushing Chris Pincher and his alleged misdeeds further into the shadows.
This, really, cinches the ignominy of the last fortnight in British politics. The Pincher story went to the heart of a long and insidious cultural problem of sexual misconduct in Westminster, one which Johnson appears to have presided over during his time in office with little personal discomfort.
In April this year, in response to the news that 56 MPs (roughly one in 11 of those serving) were under investigation for sexual misconduct, Green Party MP Caroline Lucas asked Boris Johnson whether such behavior was grounds for dismissal. Johnson replied, "Of course it is."
At that point, Johnson had already appointed Chris Pincher to the whip's office, the place where staff would theoretically go to report the kinds of abuses Pincher allegedly committed. That choice exemplified the failings of a politician who had always treated rules as an inconvenience at best, and irrelevant at worst. The national mess Johnson left in his wake, and the clamor to fill the power void caused by his own inability to govern with integrity, have eclipsed what ought to be a damning legacy of complicity and negligence.
The solution to the problems facing Westminster, and those facing the wider public is the same. We need a leader who does not need accountability forced upon them.
To judge by the race so far, our chances do not look good.
As reported by CNN