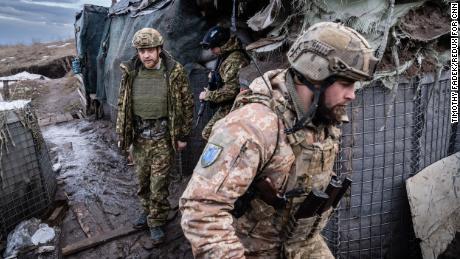 Kyiv – On Monday, as Ukraine was bracing for a possible Russian invasion and another punishing Covid-19 wave, President Volodymyr Zelensky held an event on digital transformation which resembled something out of Apple founder Steve Jobs' playbook.
Flashy graphics and cool suits framed a presentation which included a pledge to gift heavily discounted smartphones and a preferential tariff for the internet to every senior in Ukraine who is fully vaccinated.
The event might have been timed to distract attention away from the current crisis, or maybe quite simply as a follow-up on a Zelensky election pledge to transform Ukraine into a "country in a smartphone." Whatever the reasoning, the smartphone announcement didn't give the impression Zelensky was keeping his eye on the most important ball right now, namely the largest military threat to Ukraine in modern history.
Almost halfway into a five-year term, Zelensky might be wondering why his leap from television comedian to politics isn't mirroring the cakewalk to power portrayed in his television drama, "Servant of the People." In it, Zelensky portrays an impoverished teacher who accidentally becomes president, setting off a dramatic struggle for influence between his character and greedy oligarchs.
The real-life version has been very different. Within months of being voted into office in a euphoric landslide, Zelensky was embroiled in a quid pro quo scandal manufactured by another showman-turned politician, former President Donald Trump. The American leader survived an impeachment inquiry into his attempt to exert pressure on Zelensky for dirt on election opponent and now-President Joe Biden and his son Hunter.
The following years have brought a different kind of challenge to Ukrainian governance: Covid-19. Last month Ukraine passed the grim milestone of 100,000 deaths, and now has one of the highest mortality rates per capita in the world, according to research from Johns Hopkins University. The country's vaccination program has also significantly lagged behind the rest of Europe, including France, Germany and the United Kingdom, with just over 33% of the population fully jabbed.
It was as brutal a baptism into politics as one could possibly ask for, probably made worse by Zelensky bringing into the halls of power buddies who had never served in politics previously, such as assistant to the president Andriy Yermak.
Initially there were legitimate questions over whether Zelensky was his own man, after his former billionaire backer, Igor Kolomoisky, helped propel him to office with money and favorable coverage on his television channels.
Those ties frayed, but news outlets in Ukraine continue to report in on the influence of business figures and politically-connected people on the neophyte politician.
Now, with the drumbeat of war sounding louder than ever with the threat the Russians could seize more Ukrainian territory, Zelensky's credentials for holding office are being increasingly looked at by a nation nervous about the days and month ahead; questioning whether the former comedian will succumb to pressure to capitulate to a lopsided deal which was inked before he was voted into office.
And it could threaten the legacy of a man who promised voters during his election campaign to end the war in eastern Ukraine. It was a monumental pledge and one which likely helped him to defeat former President Petro Poroshenko.
Indeed, bruised badly by Zelensky's win, Poroshenko tweeted on election night the Russian government would welcome the election of a "new inexperienced" president of Ukraine who could be returned to Russia's sphere of influence.
There have been other unmet pledges from Zelensky, such as not running for a second term of office and not cracking down on corruption in the much-maligned judicial system.
Fast-forward more than two years after his election victory, and Zelensky has clearly shown he hasn't checked his bag of showmanship tricks at the doors of the presidential building.
Whether the policy to gift smartphones to seniors will be transformative is questionable. Elderly people in Ukraine tend to use simple flip phones rather than smartphones, and pensions are so abysmally low (about $80 a month) even a discount is unlikely to get them into an online environment. An estimated three million Ukrainians live in villages where there is no internet connection.
The smartphone announcement appeared out of place for a president facing war on his doorstep. Indeed, a recent survey from the Razumkov Center, a local nongovernmental public policy think tank, found more than 55% of respondents did not believe the Ukrainian government was making enough diplomatic and defense efforts to prevent a full-scale Russian invasion. Of the 1,206 people interviewed across Ukraine (excluding the Crimea, Donetsk and Luhansk regions), more than 55% also believed Zelensky would not be an effective commander-in-chief and organize the country's defense, in the event of full-scale Russian invasion.
"Both Zelensky and his administration are paying the price for the mistakes they made in the past couple of years," Olga Rudenko, chief editor of the English-language Kyiv Independent newspaper, said at a Frontline Online panel Thursday evening." I think if the invasion happened in 2019, a couple of months after he was elected president when his trust level was very high, it would've been a different story."
Zelensky's mixed messaging on the threat from Russia has also failed to inspire trust in his presidential capabilities, said Rudenko. She pointed to a video address last month in which Zelensky said, despite dire warnings from Washington about the threat of an imminent invasion, Ukrainians should go about their lives as normal, including celebrating Easter holding barbecues. But then the very next day, in a Washington Post interview, Zelensky said Kharkiv, Ukraine's second-largest city, could be occupied.
"That was completely tone-deaf to the situation, and done in a very patronizing tone… As a Ukrainian he is failing me personally from a communication point of view," Rudenko said. "We don't know what to believe."
Zelensky is of course the latest in a long line of big and small screen showman who have made the professional leap into politics, the most obvious being Trump. But let's not forget the B-list actor Ronald Reagan and original Terminator Arnold Schwarzenegger. In Europe too, France's far-right television pundit Eric Zemmour is a presidential hopeful this year. And long before he was British Prime Minister, Boris Johnson made regular appearances on the satirical panel show "Have I Got News for You," as a journalist.
If there is one quality which seems to unite most showmen-turned-politicians it is they have a knack to shake off scandals. Even Johnson has, at least temporarily, managed to change the channel on damaging coverage of his "partygate" scandal by focusing on the Ukraine crisis and traveling to its capital. He's the first British leader to do so in over two decades, gifting $119 million to boost the Ukrainian government's ability to quash corruption and achieve energy independence.
But whether Teflon will spare Zelensky from potentially fatal booby traps laid in front of him by his predecessors and international diplomats remains to be seen. Many here see the 2015 Minsk Agreement — hammered out in the Belarusian capital in a bid to end the conflict in eastern Ukraine — as extremely flawed, with conditions not in Ukraine's favor. (Which could also be why Putin is so enthusiastic for the accord).
Should Zelensky follow through on a requirement in the accords to grant some autonomy to Russian-backed combatants who have occupied eastern Ukraine since 2014, it could spell the end of his presidency. It is a no-go zone for any Ukrainian president because of the perception a huge piece of sovereign land would be handed over to Russia in return for very little.
Now, with Ukraine facing one of the most existential challenges in the country's modern history, Zelensky must pull more out of the hat more than smartphones and resist responding to a quickly-fading TV aura by prosecuting his main opponent (Poroshenko). If there was ever a time for him to resist stunts and summon up a statesmanlike style of leadership, this is it. For Ukrainians, and the world, this is no laughing matter.
As reported by CNN