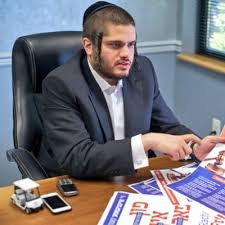 NEW YORK  — Chassidishe activist Yossi Gestetner, Executive Director of the Orthodox Jewish Public Affairs Council (OJPAC), has written a letter to incoming Mayor Eric Adams, promoting the Yeshiva curriculum as "an amazing education system".
The letter begins, "You and your administration will sadly be trolled by noise makers regarding Hasidic Yeshivas."
Mr. Gestetner then defends the robust curriculum, saying "Judaic Studies encompass history, geography, mathematics, biology, ethics, and subjects that require critical thinking."
He added, "Detractors of yeshivas use the term 'religious' studies to suggest that the day is packed with stories and prayers rather than also including an all-encompassing educational program."
Mr. Gestetner noted the strong family and community foundations in the Chassidishe world, as well as low crime rate and homelessness, all proof of "an amazing education system."
The letter closes with an offer to discuss with the Mayor-elect how the rest of the NYC education system can be equivalent to the great education among Hasidim.
Mr Gestetner's tactic appears to be preemptive, attempting to woo support from the new administration for Yeshiva independence. Some are bracing for another contentious battle, after incoming Comptroller Brad Lander recently pledged to crack down on yeshivas and vowed to do everything in his power to coax yeshivas to teach a secular curriculum.
While Adams has not weighed in on the subject directly, he has said that he is impressed with the education level of Chassidishe yeshivas, and he sympathizes with their plight against critics. The Adams campaign had strong support from multiple orthodox communities around the city, and was endorsed by many influential frum organizations.
The Igud HaRabbonim of America has put out a press release, also directed at Adams, praising him as a good friend to the Jewish community, and urging him to protect the integrity and independence of the Yeshiva educational system.
As reported by Vos Iz Neias