Survivors describe the fear and horror they endured as tornadoes tore through the southern and central US
It took everything Kyanna Parsons-Perez had to keep from panicking after heavy winds collapsed the building she was in and pinned her to the ground under piles of heavy debris.
Parsons-Perez was one of many workers trapped under the rubble of a candle factory in Mayfield, Kentucky, after it was struck by a tornado late Friday.
"It happened so fast," Parsons-Perez told CNN, describing the onslaught of destruction the tornado waged at the factory. "We all just rocked back and forth, and then boom, everything fell on us."
That tornado was one of at least 50 that struck eight states, including Arkansas, Illinois, Indiana, Kentucky, Missouri, Mississippi, Ohio and Tennessee. The winds knocked out power lines, ripped roofs off buildings and in some cases decimated communities.
More than 100 people are feared dead, including at least 80 in Kentucky, according to state and local officials.
Here are some stories from those who made it out alive.
'Boom, everything fell on us'
Parsons-Perez was working her shift at the Mayfield Consumer Products candle factory when the tornado struck.
She was one of more than 100 people working at the factory, which had been "going 24/7" in part to meet Christmastime candle demand, Rep. James Comer, who represents the area, told CNN.
The horror began when she felt wind, despite being deep in the building where she and other workers were taking cover in a storm shelter.
The lights flickered and her ears began to pop, she remembers.
Seconds later, the building was being torn apart around her, collapsing like a house of cards, she said.
"It was like one of the people took one of the pieces," she said, "and the top fell down and just caved in on us."
Something hit her head and when the chaos stopped, she found her legs pinned underneath a water fountain. When rescuers arrived, she was told she was trapped under at least 5 feet of debris.
Coworkers surrounded her. Some cried out for her help. Others prayed.
Parsons-Perez cracked jokes to try to keep people calm.
But as the minutes stretched on and on, and as she lost feeling in her toes, Parsons-Perez also became concerned. At this point, she says, she began broadcasting on Facebook Live.
"I don't know who's watching," she said, as her panicked co-workers are heard in the background. "Y'all please send us some help. We are trapped. The wall is stuck on me.
"Nobody can get to us. Y'all. Pray for us. Try and get somebody to help us."
Eventually, her supervisor and inmates who were working at the factory as part of a work-release program for low-security, low-level offenders started to break down the drywall to get them some air.
When rescue workers arrived, they evacuated everyone in her section before finally getting to her. The crew worked to remove debris from under her, until she was able to shift her body up and free her legs.
With one person pushing up from under her and another person pulling her arms up, she was able to climb up the 5 feet of rubble to get out, she said.
"Once I got out of there, I couldn't do anything but thank God," she said. "That's the only thing that saved me. It's unbelievable that anybody walked away from there."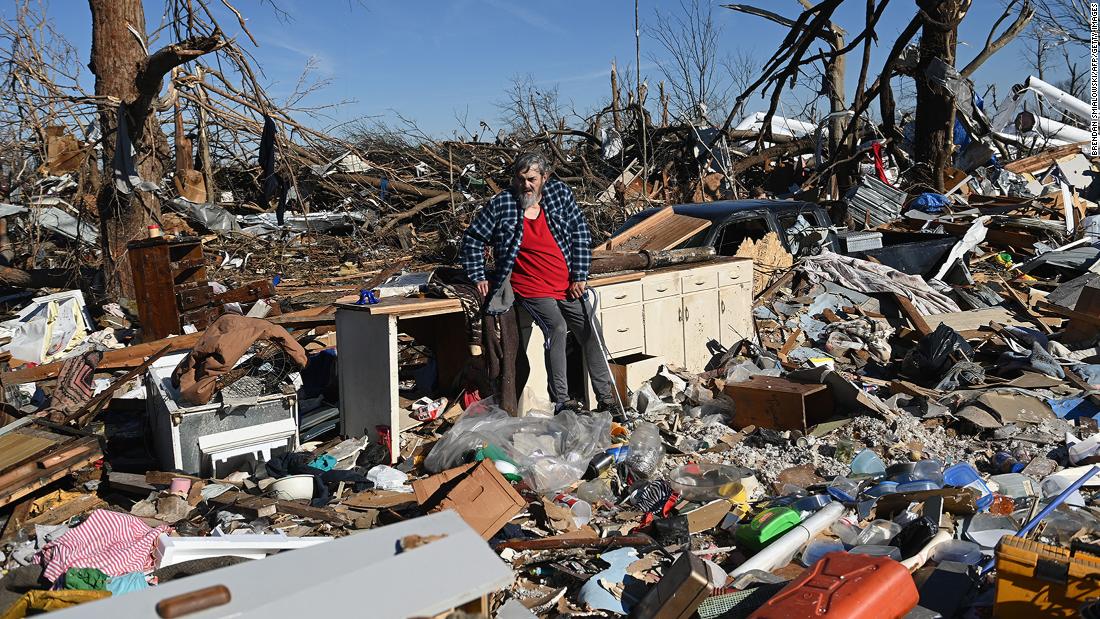 'It missed us by a hair'
A group of friends went on a duck hunting trip at Tennessee's Reelfoot Lake State Park when they found themselves in the path of a tornado.
Cayden Rawls, Korbin Stanton and Aaron Jones, who are originally from Buffalo, Texas, were visiting Tiptonville the day of Jones' college graduation.
Rawls said they knew there was a chance of thunderstorms and wind ahead of their trip, but they were unaware of the potential destruction.
As they arrived in Tennessee and began unloading their truck, they heard a tornado warning siren.
"We found out there were tornadoes when we heard the sirens … about 15 minutes later it hit," Jones told CNN.
The three friends scrambled into their room at a motel shortly before the tornado. About 50 feet from their hotel was a trailer park.
When they opened the door after the tornado, everything except for their truck and a few other cars had disappeared, Rawls said. Trailers, cars and trees were gone or torn into pieces.
"There was a camper about 20 feet behind my truck, and the tornado completely wiped it out," Rawls said.
"You could almost see the line where the tornado went behind my truck and took the camper and everything behind it, and all it did to my truck was break the glass out," Rawls said. "It missed us by a hair."
For three hours, the men searched for survivors and helped strangers they saw wandering around until law enforcement arrived, said Rawls, a volunteer firefighter with the Buffalo Volunteer Fire Department.
"You see this on TV all the time, you don't imagine you're going to see it right there in front of you and it's like, 'Crap, what do I do?'" Rawls said. "You can't train for stuff like this."
'I knew more were coming'
Jeffery Weir was home alone in Bay, Arkansas, watching the local news and tracking the storm on his iPad when the power went out.
After stepping outside to check on the weather, lightning struck and Weir shockingly caught a glimpse of an unexpected tornado. Weir, who grew up in Bay, was used to wind storms, but nothing like this.
Initially, he wasn't scared, he said, but then he heard tree limbs cracking and thought he could get hurt. He ran inside.
As reported by CNN