Opinion: Israel's ill-fated 35th government crumbled from within thanks to the efforts of Netanyahu, who proved that even in the midst of a pandemic his own political and personal interests come before those of the nation
No matter who you vote for on Election Day, we can all agree that no one will miss the outgoing government.
This includes Prime Minister Benjamin Netanyahu, who was forced to adhere to certain concessions as part of the coalition agreement, and Blue & White leader Benny Gantz, who was continuously humiliated by Netanyahu since the day he signed the coalition agreement.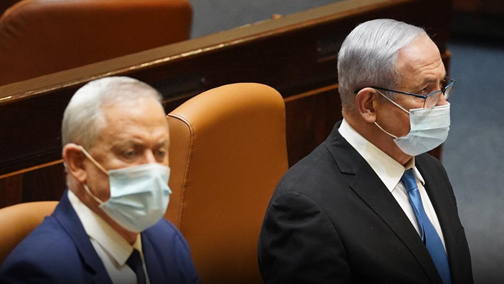 This also includes the ministers who received fancy portfolios albeit with zero authority, the civil servants whose status was diminished and dignity trampled, and the opposition that tried to dismantle this stinking morass of a government from day one.
Indeed, the fate of Israel's 35th government, formed at the peak of the coronavirus pandemic in Israel, was writ in stone before it ever convened.
This is primarily because the gulf between Netanyahu and Gantz was too wide to bridge.
Netanyahu had no respect for Gantz or his political skills, while Gantz and his colleagues in Blue & White harbored immense disdain for the prime minister and his integrity.
No matter the crisis, one cannot build a government on such shaky foundations.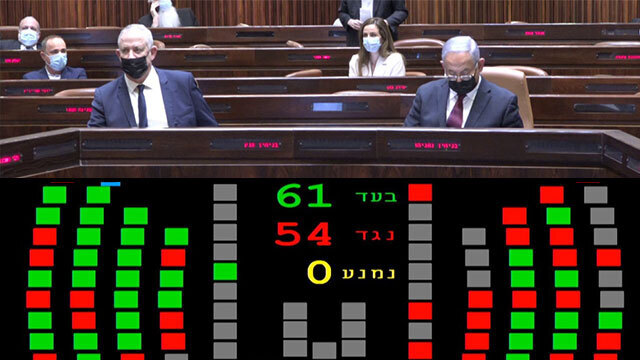 Even so, they tried. Lawyers and politicians worked night and day until they finally formulated a carefully worded, air tight coalition agreement, which was then enshrined in Basic Law.
This itself was an outrage, incidentally, for state's Basic Laws were designed to be the foundation of any future constitution. Resolving political constraints through re-legislating these laws is nigh on sacrilegious.
And that was the end of it.
In a demonstration of unbridled corruption and opacity in the midst of the pandemic, Netanyahu forced Gantz to agree to a bloated government of 36 ministers and 16 deputy ministers, the implementation of the Norwegian Law, which gave fourth-rate politicians a seat at the table of this shambolic government, and a string of other stupid concessions that served no purpose but to weaken Gantz in the eyes of his voters.
Netanyahu, meanwhile, invested most of his efforts in preserving his bloc, first by allowing Ben-Gurion Airport to remain open in the midst of the pandemic so as to not upset then-U.S. president Donald Trump and the Haredi sector.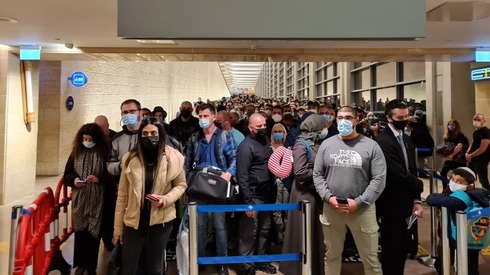 Netanyahu also worked to eviscerate the Defense and Foreign ministries – both headed by Blue & White ministers – while bending the Finance Ministry to his own personal and political needs.
At the height of the health crisis, Netanyahu effectively neutralized all his ministers sans the Health Ministry, which was also under to his authority.
All Gantz could do is use the coalition agreement to torpedo any unlawful moves by his erstwhile partner, such as Netanyahu's attempts to abolish the independence of the judicial system.
For these reasons, the fourth election in two years, more so than the three that preceded it, is Netanyahu's fault.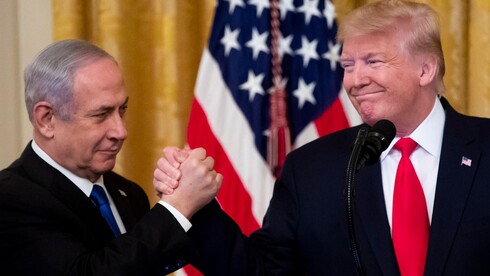 Meanwhile Netanyahu has promised his constituents a "full right-wing government," though he fails to specify exactly what that means.
Does this entail support for annexing parts of the West Bank? Heaven forbid! After all, Trump – that good friend to Israel – prevented the latest attempt to claim sovereignty over the Jordan Valley.
Does the right actually mean nationalist populism? Not a chance. As Netanyahu explains to the Arab voters he has been wooing this time, the Nation State Law – which effectively made Israeli Arabs into second class citizens – was passed only to punish migrants from Africa.
Instead, Netanyahu leaves the definition of "full right-wing" to the likes of his extremist protégés Bezalel Smotrich and Itamar Ben-Gvir, who define it as the destruction of the state's legal system.
The deal he has made with these right-wing extremists is not a partnership, but a flimsy contract. Netanyahu may indeed win these elections, but his new partners will truly make him miss Benny Gantz.
As reported by Ynetnews