The Health Ministry reports 23 new cases of virus a 0.14% rise from Saturday with 16,477 Israelis now having been infected, 4,795 currently ill, 65 needing ventilators to assist their breathing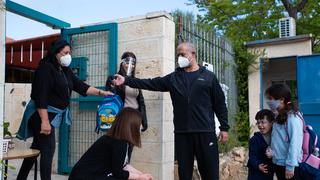 The Health Ministry released the latest figures of COVID-19 deaths showing a rise of five new fatalities in as of Sunday evening, with 16,477 Israelis now having been infected by the virus.
There are 23 new patients confirmed with coronavirus and a total of 4,795 people now ill, 74 in serious condition, 65 of them on ventilators.
At least 47 COVID-19 patients are in moderate condition and the rest have mild symptoms.
The Health Ministry said 11,430 people have thus far recovered from the disease.
Only 2,982 tests were conducted for coronavirus today, falling short of the number of tests promised.
Nursery schools opened Sunday for toddlers in small groups causing half the students to stay at home half of the week in order to follow health guidelines.
The government has approved lifting more restrictions on Israelis imposed to curb the spread of coronavirus with parks opening to the public.
As reported by Ynetnews