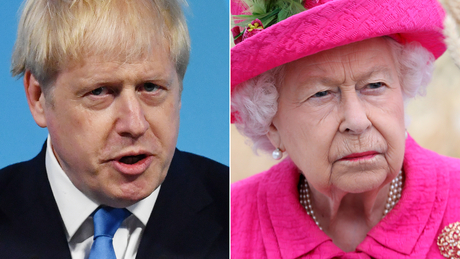 London – UK Prime Minister Boris Johnson has rejected accusations that he lied to the Queen over his controversial suspension of Parliament in the run-up to the Brexit deadline.
Johnson was asked on Thursday if he had lied to the monarch, after a Scottish court ruled the day before that his government's advice to the Queen, which led to the five-week prorogation, was "unlawful."
"Absolutely not," Johnson replied. "The High Court in England plainly agrees with us but the Supreme Court will have to decide."
"We need a Queen's Speech, we need to get on and do all sorts of things at a national level," he added.
Johnson has always insisted that his decision was a routine device that allowed the government to start a new parliamentary session with a fresh legislative agenda. Critics describe it as an audacious move to reduce the amount of time available to the opposition to block a no-deal Brexit.
The Scottish judges disagreed with the government, saying Wednesday that the suspension was motivated by the "improper purpose of stymying Parliament."
UK lawmakers are now not scheduled to return to Parliament until October 14, but Johnson said that MPs would have enough time to debate Brexit before and after the EU summit on October 17 and 18, where Johnson has said he hopes to secure a deal.
"I'm very hopeful that we will get a deal, as I say, at that crucial summit. We're working very hard — I've been around the European capitals talking to our friends," he said.
"I think we can see the rough area of a landing space, of how you can do it — it will be tough, it will be hard, but I think we can get there."
Government appeal
The three Scottish judges did not order the UK government to reconvene Parliament, noting that the High Court in London had come to a different conclusion in another case last week and that the UK Supreme Court would need to resolve the issue next week.
That led to intense debate on Wednesday over whether MPs could go back to the House of Commons, with opposition lawmakers demanding Parliament be recalled and some MPs returning to the chamber to protest.
The government will appeal at the UK Supreme Court against the ruling and an emergency hearing on both the Scottish and English cases has been scheduled for September 17.
Following Wednesday's ruling, Conservative minister Kwasi Kwarteng was widely criticized for saying that "many people" think judges are biased over Brexit, but the Prime Minister backed away from his minister's comments.
Johnson said he would not "quarrel or criticize" the Scottish judges, adding that the British judiciary was "one of the great glories of our constitution."
"They are independent," Johnson said. "Believe me, around the world people look at our judges with awe and admiration, so I'm not going to quarrel or criticize the judges.
"Clearly there are two different legal views — the High Court in England had a very different opinion and the Supreme Court will have to adjudicate in the course of the next few days, and I think it's proper for politicians to let them get on and do that."
As reported by CNN