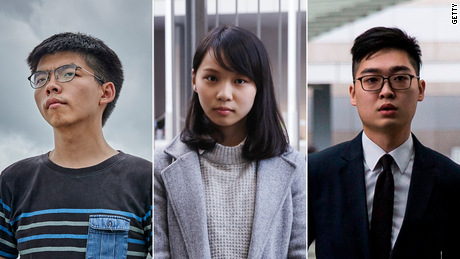 Hong Kong – High-profile pro-democracy leaders were arrested Friday in Hong Kong, in an apparent roundup of activists ahead of what will be the 13th consecutive weekend of mass protests in the Asian financial hub.
Joshua Wong, who led the massive pro-democracy protests in 2014, was arrested Friday morning, his pro-democracy group Demosisto said.
Police confirmed the arrests of Wong and Chow, saying they are currently under investigation.
Wong, 22, was arrested for "inciting others to participate in unlawful assembly", "organizing unauthorized assembly" and " knowingly participating in an unauthorized assembly," according to police.
Agnes Chow, also 22 and a former Demosisto Legislative Council candidate, was arrested on charges of "inciting others to participate in unlawful assembly" and "knowingly participating in unauthorized assembly."
Their arrests could further inflame tensions in the city ahead of more anti-government protests this weekend.
Demosisto tweeted Friday that Wong was "forcefully pushed into a private minivan on the street in broad daylight" near a subway station in a southern district on Hong Kong Island at around 7:30 am, local time.
BREAKING: Our secretary-general @joshuawongcf was just arrested this morning at roughly 7:30, when he was walking to the South Horizons MTR station. He was forcefully pushed into a private minivan on the street in broad daylight. Our lawyers following the case now.

— Demosistō 香港眾志 (@demosisto) Agosto 30, 2019
Meanwhile, anti-government agitator Andy Chan, not affiliated with Demosisto, was arrested at Hong Kong International Airport on Thursday night, according to police.
Police say that Chan has been charged with "suspicion of rioting" and "assaulting a police officer."
Founder of the outlawed Hong Kong National Party, Chan was among eight arrested in early August for possession of offensive weapons and suspected bomb-making materials.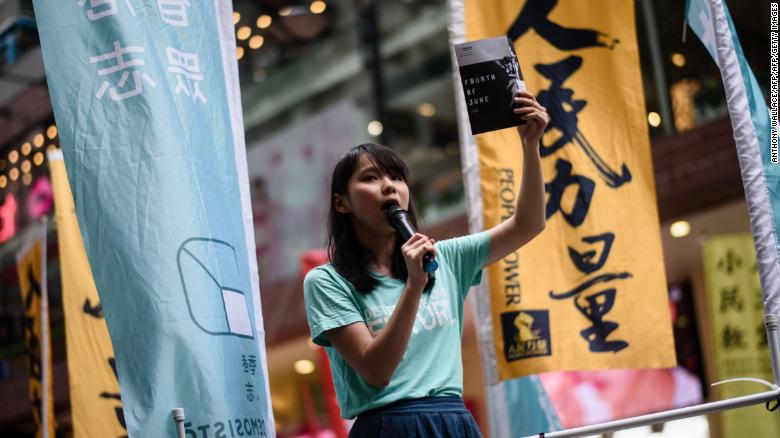 On Friday, there was confusion within Demosisto over whether an arrest warrant had been issued for former party chair Ivan Lam. The group later tweeted that he had not been arrested. CNN has not confirmed Lam's whereabouts and has reached out to police for comment.
The chief organizer behind Hong Kong's largest protest was attacked Thursday by masked men carrying a baseball bat and knife in the Kowloon neighborhood of Jordan.
The Civil Human Rights Front (CHRF) said Jimmy Sham, the group's convenor, and his friend were attacked in a restaurant. The friend was taken to the hospital for injuries, and Sham was not injured, said a CHRF spokesperson. Hong Kong Police say they arrived on the scene shortly after the report and are searching for two suspects.
Chinese troop movement ahead of planned rallies
A rally organized for Saturday by the CHRF — which has repeatedly brought out huge numbers of protesters — has been banned by police.
Last weekend saw a return to violence after a week of relative calm in Hong Kong. Numerous clashes between protesters and police have been a common occurrence since early summer.
But that violence escalated on Sunday, when a Hong Kong police officer fired a live shot into the air and water cannons were used for the first time. Protesters used traffic cones and street railings to build makeshift barricades in the street, and threw bricks, metal poles, and petrol bombs at police, in one of the most violent nights seen since the mass pro-democracy protests began.
The three arrests come as China said it was rotating fresh military troops to the Hong Kong garrison.
Chinese Defense Ministry spokesman Ren Guoqiang said the China's People's Liberation Army troop "rotation" in Hong Kong was a "routine arrangement" and the timing was "similar to previous rotations."
Hong Kong protester's 5 demands
Fully withdraw the extradition bill
Set up an independent inquiry to probe police brutality
Withdraw the characterization of protests as "riots"
Release those arrested at protests
Implement universal suffrage in Hong Kong
China has stationed troops in Hong Kong since it was turned over to the Chinese in 1997 from Great Britain.
The People's Liberation Army troop movements were carried out in the dead of the night and took place at the same time as a rotation of the garrison in neighboring Macao. They were announced by Chinese state media early Thursday morning.
But the movement sparked skepticism among United States defense officials.
"This is the time to start worrying," one unnamed US official told CNN. The specific concern in the next few days is that the Chinese troop movements, including tactical vehicles and personnel carriers, puts Beijing's forces into a more immediate position to crack down on pro-democracy rallies.
"We are monitoring the Chinese military movements in and around Hong Kong closely," Pentagon Lt. Col. David Eastburn said in a statement. "We stand with the G7 countries in calling for violence to be avoided and in reaffirming the importance of the Sino-British Joint Declaration."
Wong has been jailed before
Wong was the face of the 2014 Umbrella Movement and has been a visible fixture of the recent protests, giving media appearances and offering commentary on his Twitter feed.
He was released from prison in June, a day after protest organizers said 2 million Hong Kongers took to the streets to march against the extradition bill with China. He walked free after serving one month of a two month sentence related to the 2014 protests.
In August 2017, Wong, and two other leaders of the 2014 Umbrella Movement protests, Nathan Law and Alex Chow, were sentenced to between six and eight months in prison for public order offenses stemming from the protests, which shut down parts of the city for several months.
They were originally given community service and suspended sentences, but an appeals court controversially upgraded that to prison time. A decision in February 2018 quashed their prison sentences and reinstates the initial ruling.
Chow, also a member of Demosisto, was barred from standing for election in 2018, after authorities extended a blanket ban on pro-independence candidates to also include those who advocate self-determination for the city.
As reported by CNN