Hong Kong – "If they don't use violence, we don't use force."
That is a senior Hong Kong police officer's response to accusations from outraged protesters that the authorities are using excessive force to quell demonstrations. Allegations of police brutality have fueled increasingly violent protests in the streets of this former British colony, prompting law enforcement to fire tear gas on an almost daily basis.
Protests were first sparked in June by widespread opposition to a now shelved extradition bill but have since expanded to include demands for full democracy amid escalating violence.
Now, more than two months into the worst unrest this city has seen in decades, senior police officers invited a group of journalists to the towering police headquarters in Hong Kong's Wan Chai district. In the first face-to-face background briefing of its kind with reporters, commanders spoke at length, provided they not be named.
The officers defended their use of force in response to what they characterized as violent, criminal behavior, and rejected calls for an independent investigation into their handling of the situation, pointing to an existing organization called the Independent Police Complaints Council tasked with doing such work.
The commanders also disputed characterizations by the city's top official that Hong Kong is spinning out of control, though they admitted the police force is emotionally and physically tired after months of confrontation.
The officers insisted the city's police force, which numbers around 30,000 uniformed cops, had the situation well under control.
"We're not at full mobilization," one senior officer said, arguing that only a fraction of the officers are deployed to deal with the wildcat protests that erupt day after day. "We have the depth of resources to keep going."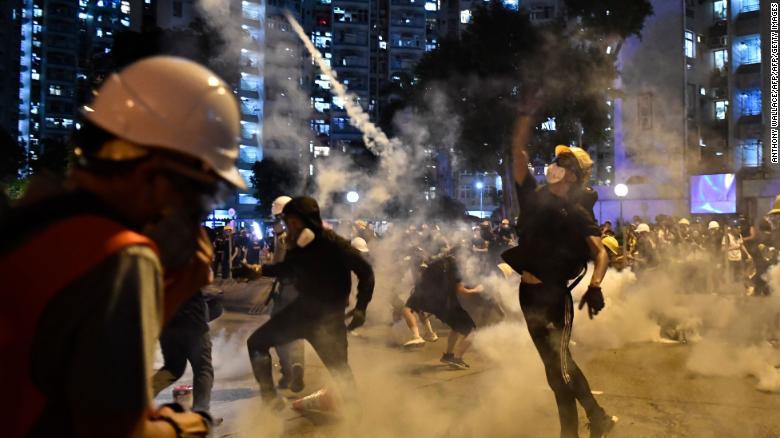 That message contradicts Hong Kong's appointed leader, Carrie Lam. "Hong Kong is not safe or stable. The rioters have pushed Hong Kong to the point of no return," she told journalists on Tuesday, after protesters succeeded in forcing the cancellation of hundreds of flights from Hong Kong International Airport for the second day in a row.
A handful of protesters apologized for maybe going too far at the airport. "We cannot avoid it. It's unavoidable because we fight for our final goal which is our freedom," said one.
The central government in mainland China has also grown increasingly alarmist about the situation in the semi-autonomous city.
On Wednesday, CNN correspondent Matt Rivers saw troop carriers, armored personnel carriers, and uniformed officers of the People's Armed Police equipped with riot shields staged at a stadium in the Southern Chinese city of Shenzhen, near the internal border with Hong Kong.
China's ambassador to the United Kingdom warned Thursday that if the situation in Hong Kong deteriorated further, "we have enough solutions and enough power within the limits of Basic Law to quell any unrest swiftly."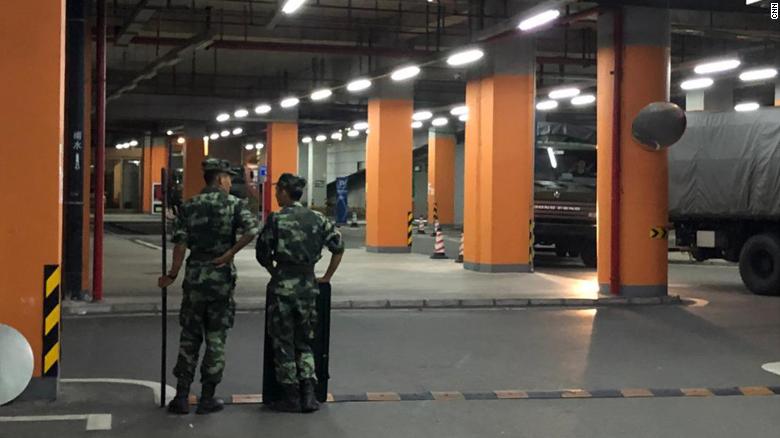 But there has been no indication that Chinese security forces are set to enter Hong Kong, and such an intervention could have devastating effects on the territory's economy. Under Hong Kong's Basic Law, its mini-constitution, the government is legally allowed to request help from the Chinese Peoples' Liberation Army (PLA) garrison of more than 6,000 soldiers that is already based in the city.
The senior Hong Kong police officers told CNN they have never trained alongside security forces from mainland China. They also said the Hong Kong police have never even prepared for a scenario that would include the deployment of People's Armed Police in this city.
Instead, the police commanders argued they have a range of tactics at their disposal to deal with protesters that they label as "rioters."
Some of those strategies have incorporated lessons learned after pro-democracy protesters staged a three-month long "Occupy Central" sit-in in downtown Hong Kong in 2014.
"We learned that our old 1960's model of dealing with a riot just wouldn't function in a modern environment," a senior police commander said.
In addition to liberal use of tear gas, the police purchased three French-made riot control vehicles equipped with water cannons last year, which have yet to be used in the clashes.
The senior police officers also said they had succeeded in arresting a number of alleged ringleaders with "snatch" operations assisted by the deployment of undercover police.
The commander preferred to call these officers "decoys," arguing they use similar tactics to infiltrate drug smugglers and criminal gangs.
The appearance of police disguised as protesters has triggered further outrage and paranoia among some of the protesters. On Tuesday, protesters at the airport severely beat a man they accused of being an undercover police officer.
While expressing confidence about their handling of the situation, the senior police commanders conceded that the confrontations have grown increasingly violent.
They said that about a third of roughly 700 people arrested since the protests began were students, one as young as 13.
"Hong Kong people are in a very dangerous moment, some things in front of you may look crazy but we have no choice," Max, a 35-year-old protester, told CNN at the airport. "It's just like war, we're fighting for our future."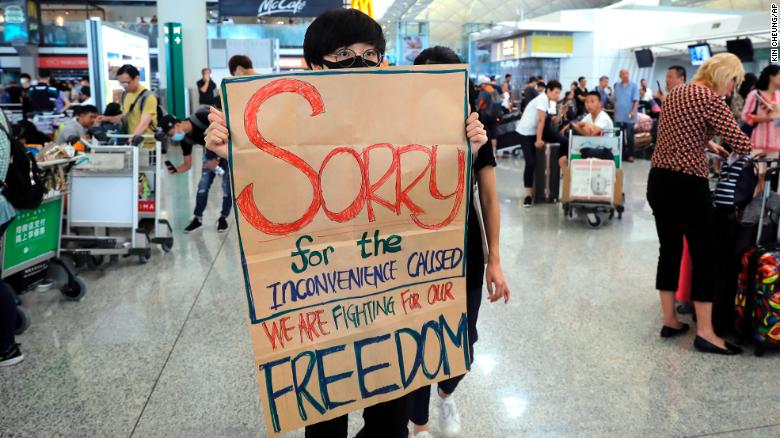 Among five demands repeated for more than a month by protesters are calls for an independent inquiry into allegations of police brutality, removal of the legal term "riot" from the unrest, and the release of all detained demonstrators.
"If they're coming pre-equipped with bricks, they are rioters," a police commander said.
The senior police officers also said they have seen no evidence that foreign governments financed or inspired the protest movement. Beijing, on the other hand, continues to suggest that Western governments are behind the unrest.
The police commanders did admit, however, that the reputation of the Hong Kong police — once nicknamed "Asia's Finest" — has been hurt.
The rate of police resignations has increased slightly in the last two months. Meanwhile, the constant cycle of confrontation has taken a toll on rank and file officers.
In particular, the police commanders highlighted the protesters' "doxing" — publication of police officers' personal information.
Rank-and-file officers "are fighting a battle outside. But at the same time they have to worry about their families' safety," one of the commanders said.
He accused protesters of using individual officers' personal information to apply for bank loans, in addition to the harassment of officers' spouses and children. CNN could not verify the officer's claim.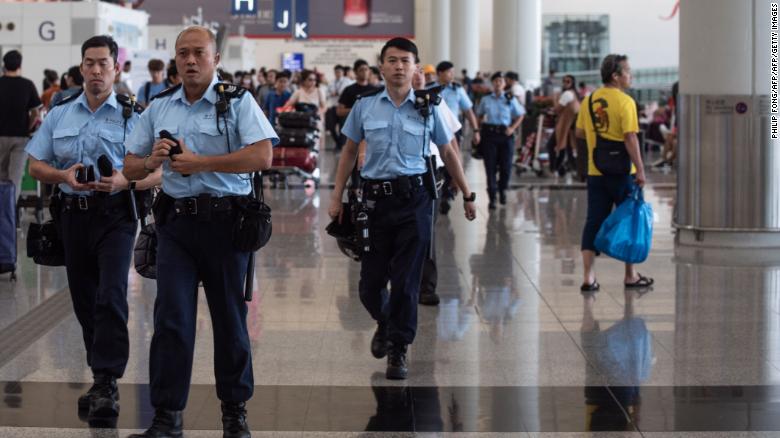 Another officer told CNN that an adult confronted his teenage daughter at a sporting event and called her father's work "disgusting."
"That's the first time I've been near tears and my wife has been in tears," the officer said.
The mission of the Hong Kong police is to maintain law and order, but the officers said they do not know when the unrest in the streets will come to an end.
"This is a political issue. A political issue needs a political solution to solve it," a senior police commander said.
As reported by CNN