Opinion: Those who think they've suffered in the talkbacks caused by the demonstrations of Ethiopian youth against police brutality that took place across Israel should imagine spending a day in their shoes, where simply walking down the street can get you arrested
Tuesday's traffic jam on the Ayalon Highway was one of the calmest I've ever seen, with maximum understanding and minimum honking. It turns out the drivers who were rushing to get home after a long workday knew very well the people who were blocking the road were fighting a fair and just battle – the battle for their lives.
If you think you've experienced suffering by sitting in one of the traffic jams caused by the demonstrations of the Ethiopian community against police brutality, then imagine what it's like living in Israel as a young Ethiopian man, at least for one day.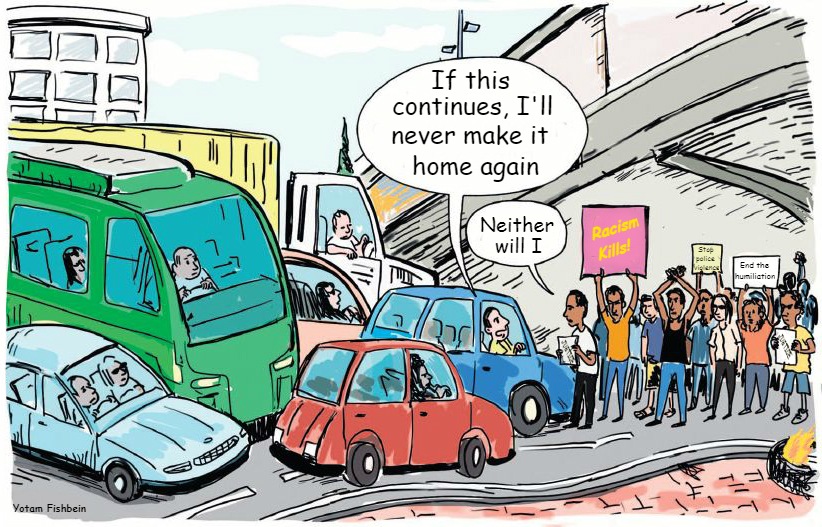 Imagine how many times you'd be asked to show your ID when you're simply walking down the street. How many dirty looks you would get from strangers who probably think that bike that you're riding is stolen. How many times police officers would ask you where you got that designer shirt you're wearing.
Former Israel Police commissioner Roni Alshich himself at one point admitted that when a police officer sees an Ethiopian, "it's natural" that he is treated with more suspicion. In a reality where over-policing of the Ethiopian community is normal, the anger will keep growing.
This anger came to a boiling point after the fatal shooting of an Ethiopian teenager, Solomon Tekah, by an off-duty police officer in Haifa on Sunday.
There was a lot of time to contemplate as I sat in that traffic jam. Thus, I started thinking about a close friend of mine, who is of Ethiopian origin and who not only served as an officer in an elite IDF unit but also lost a leg in a military operation. Try to guess the number of times he's been unnecessary pulled over by the police who were suspicious of an Ethiopian man driving a luxury SUV vehicle. This is a reality in which an Israeli hero has to live.
This situation reminds me of a mini-series currently being streamed on Netflix, called "When They See Us" about the Central Park Five. The show tells the story of five black teenagers wrongfully convicted for raping a white woman and brings to the surface the police brutality addressed toward the African-American youth in the United States. What happens in Israel is another version of that American reality, like in an episode of another Netflix show, Black Mirror. It presents a particularly ugly and desperate picture of our society.
If Tuesday's traffic jams prompt the government to finally start dealing with this burning issue, or if at least one police officer thinks twice before pulling a gun on another Ethiopian youth, every minute of them was worth it.
As reported by Ynetnews