Dozens of firefighting teams battle several large-scale conflagrations as scorching temperatures reach 48 degrees celsius in some parts of southern Israel; authorities warn the public not to go outside in the afternoon hours
Fires engulfed brushland and forests across Israel on Thursday as an extreme heatwave that began in the region earlier in the week intensified, causing disruptions across the country.
Israelis sizzled in sweltering heat, as the weather reached scorching temperatures across the country. By the afternoon hours, Tel Aviv and the northern city of Haifa both saw some 40 degrees celsius. In the southern city of Be'er Sheva, temperatures reached 44 degrees, while Dead Sea region saw some 48 degrees on Thursday afternoon.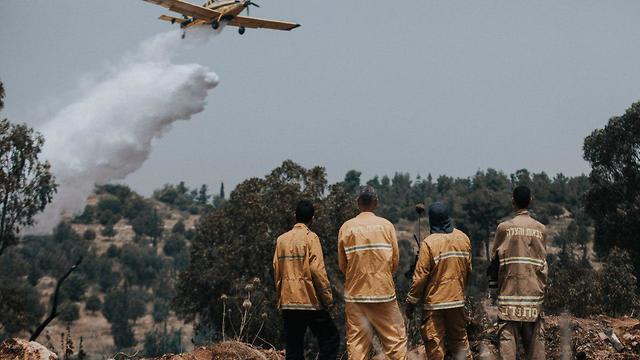 Multiple firefighting planes, dozens of fire trucks and firefighting teams were trying to gain control of massive flames raging in the Jerusalem area, in the Mount Hebron region and in forests in the center of the country.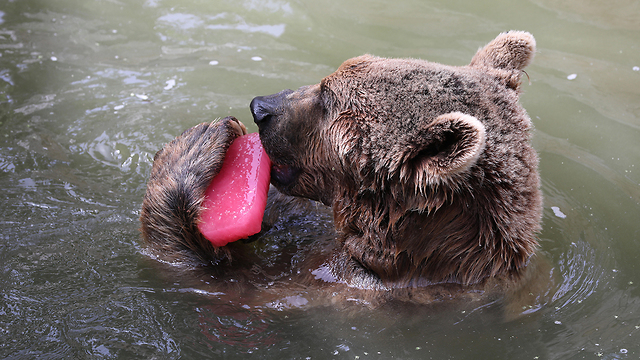 Firefighting services said the conflagrations might have started as a result of Lag B'Omer bonfires not being extinguished properly overnight.
On Wednesday, the National Fire and Rescue Authority restricted the bonfires that traditionally accompany the celebrations. The new regulations said that fires were not allowed to be lit in any forests, even in usually designated areas.
As reported by Ynetnews