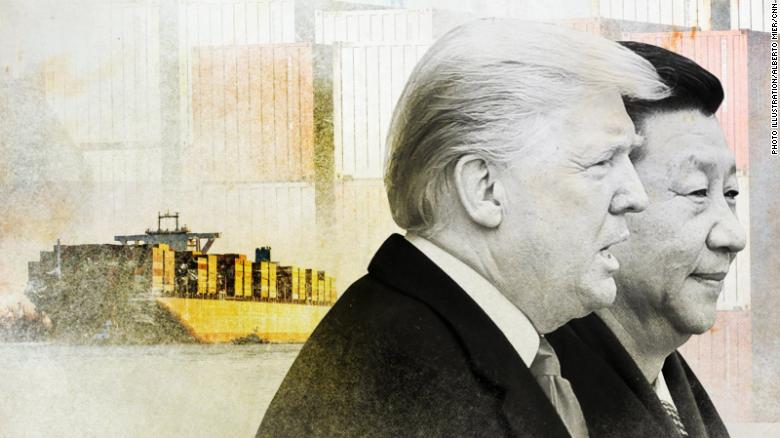 The top US trade negotiator said Monday that the Trump administration will be moving forward on President Donald Trump's threat to escalate tariffs on $200 billion of Chinese goods effective Friday.
Speaking to reporters in Washington, US Trade Representative Robert Lighthizer and Treasury Secretary Steven Mnuchin said China reneged on previous agreements over the weekend, derailing months of progress toward a detailed trade agreement between the world's two largest economies.
As of Friday, penalties on $200 billion of Chinese goods will be lifted to 25% from 10%, as Trump tweeted on Sunday.
"We felt like we were on track to get somewhere," Lighthizer told reporters. "We tried to accommodate changes in the text, but these are substantial and substantive changes." He described the changes as "reneging on prior commitments."
The news comes ahead of a delegation of Chinese negotiators arriving in Washington later this week.
The two men said the move to press ahead with tariffs is not a signal of a breakdown of talks. The Treasury secretary declined to speculate on whether the two countries would be able to close the gap before the end of the week.
Chinese Vice Premier Liu He will still be leading the delegation and arriving in Washington on Thursday, the US officials said.
"It did become particularly clear with some new information they were trying to go back on very clear language that had the potential to change the deal dramatically," said Mnuchin.
He added: "This is a big change in direction for the negotiation."
After repeatedly promising that the US-China talks were in their final stages, Trump threw the negotiations into question over the weekend with a series of tweets threatening new tariffs.
US markets recovered Monday after an initial slide in Asian equity markets in Asia tumbled and US futures slid. Trump continued his warnings on Monday — two days before China's top negotiator was due to arrive in Washington for what many believed would be the completion of a deal.
"The United States has been losing, for many years, 600 to 800 Billion Dollars a year on Trade. With China we lose 500 Billion Dollars," Trump tweeted on Monday. "Sorry, we're not going to be doing that anymore!"
US officials said they were awaiting word from Beijing on the plans for the Chinese delegation that was supposed to arrive later this week.
Earlier Monday, a Chinese government spokesman said they were still planning to move forward with the talks, set to begin Wednesday, but a US official said it was still unclear whether it will be led by Liu He, the vice premier and chief trade negotiator, and whether this round of negotiations will be truncated after Trump's tweets threatening additional tariffs.
The Chinese delegation was set to include more than 100 people, one official said, and was viewed by many involved with the talks as a final step before a summit encounter between Trump and his Chinese counterpart.
Trump was trying to rattle China with the tweet, according to the official, who said the last round of talks ended with some uncertainty on how much China would be willing to change its economic practices as part of a deal.
"The President is, I think, issuing a warning here, that, you know, we bent over backwards earlier, we suspended the 25% tariff to 10 and then we've left it there. That may not be forever if the talks don't work out," White House economic adviser Larry Kudlow told Fox News on Sunday.
While the Chinese have agreed to make some changes to their economic practices in principle, they have been reluctant to see them codified in writing as part of the trade agreement, the official said.
Trump received word on those developments during a briefing from his top trade negotiators last week, a US official said, describing the news as "disappointing."
Trump is being advised by some of his aides that accepting a deal without those changes included would appear weak and politically expedient. And he is growing inpatient with the back-and-forth talks after extending an initial March 1 deadline by months.
Trump has hoped to strike a deal that would boost markets and help along a strong US economy, believing his political prospects are closely tied to Wall Street and Americans' economic optimism.
Some inside his administration have feared that could result in a President overly thirsty for a deal, even one with unfavorable terms. Yet Trump has consistently said he will only sign an agreement if it is good for the United States and resolves long-standing trade disputes.
Such an agreement will only come after a direct meeting between Trump and his Chinese counterpart Xi Jinping, Trump has said, leading to expectations of a summit meeting as early as this month, possibly at the White House.
Those plans, along with the larger trade talks, were in question on Monday, though Chinese officials worked to put forward an unbothered air.
China's Foreign Ministry spokesman Geng Shuang told reporters in a regular press briefing on Monday that the US has threatened China with tariffs "numerous" times in the past, but that positive developments have been made in the ten rounds of trade talks between the two countries.
The US understands China's position "very clearly," Geng said.
As reported by CNN