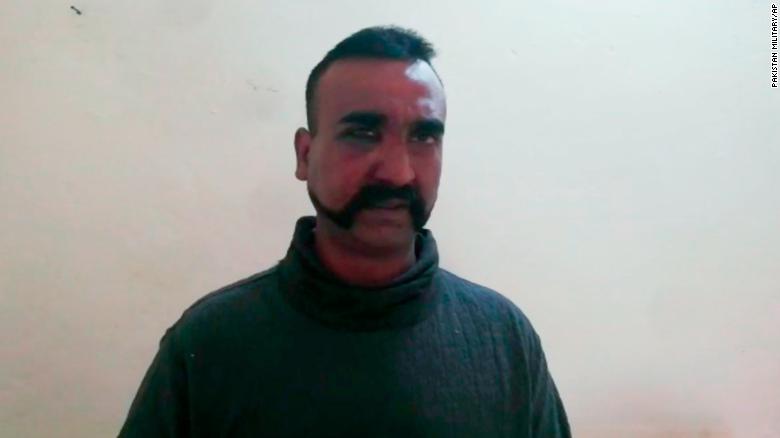 New Delhi – India is waiting for the release of an pilot who has been in Pakistani custody since he was shot down over Kashmir on Wednesday, a goodwill gesture which could defuse the gravest crisis in the disputed border region in years.
Pakistani Prime Minister Imran Khan announced that the pilot, whose jet was downed during a dogfight between Pakistani and Indian warplanes, would be released Friday as a "gesture for peace."
Despite the planned release of the pilot, tensions in the region continued Thursday. Indian Army Major General Surinder Singh Bahal told a joint news conference of India's Army, Navy and Air Force in New Delhi on Thursday that India remains on "high alert."
Pakistan said four civilians were killed by Indian fire across the Line of Control, which separates Indian-controlled Kashmir from Pakistan-controlled Kashmir. India's army accused Pakistan of initiating the exchange of fire on Thursday.
Khan's announcement came after Indian Prime Minister Narendra Modi said that "the entire country is … standing with our soldiers" after several days of military exchanges between the two nuclear-armed neighbors.
On Wednesday, Pakistan said its air force shot down two Indian fighter jets over Kashmir. India confirmed the loss of one plane and said it shot down a Pakistani jet as it responded to the incident.
Indian Wing Commander Abhinandan has been in Pakistani custody since then. Pakistan infuriated Delhi by publishing a video of the pilot which was then circulated on social media.
Khan's remarks came as US President Donald Trump told of "attractive news" from Pakistan and India after his summit with North Korea leader Kim Jong Un concluded Thursday in the Vietnamese capital Hanoi.
"They've been going at it, and we've been involved in trying to have them stop," Trump said. "And we have some reasonably decent news, hopefully that's going to be coming to an end."
Modi also called on the people of India to "stand like a wall or a rock" against terrorists who try to "destabilize the country."
The escalating crisis has also led to the closure of Pakistani airspace, disrupting thousands of flights worldwide for two consecutive days.
Thousands of people were stranded by affected airlines that not only land in Pakistan, but fly over its airspace — one of the major routes from southeast Asia into Europe.
Simmering resentment
The immediate trigger for the latest confrontation was a suicide car bomb attack on February 14 in Indian-controlled Kashmir, which killed 40 Indian paramilitary soldiers. India blamed the terrorist group Jaish-e-Mohammed for the attack, the deadliest on security forces since the beginning of the insurgency in the late 1980s.
"The world is watching our collective will. We trust our army's capability and because of this, it is extremely necessary that nothing should happen that harms their morale or that our enemies should get a chance to raise a finger against us," Modi said Thursday.
Modi's comments came hours after the Indian pilot was identified.
General Vijay Kumar Singh, the Indian Minister of State for External Affairs, posted a tweet on his verified Twitter account describing Abhinandan as the "embodiment of a mentally tough, selfless & courageous soldier," and called for his safe return.
"During these testing times the country stands, as one, behind him & his family. Our efforts are on & under the #GenevaConvention we hope that the brave pilot would return home soon," Singh tweeted.
Earlier, Pakistan released what it said was a video of the detained pilot — a move that India's foreign ministry called a "vulgar display" and "unprovoked act of aggression."
After the February 14th attack, Modi expressed "deep anger" and promised that those responsible would pay a heavy price. However, he has been quiet in recent days.
Modi's reluctance to make a public comment on the escalating crisis along the border in disputed Kashmir is in stark contrast to Pakistan Prime Minister Khan, who called for dialogue between the two sides.
Speaking in a national address Wednesday, Khan said that any further escalation between the countries would be beyond the two leaders' control. He warned that because India and Pakistan had nuclear weapons, the stakes were too high for any "miscalculation" in conflict.
"World history tells us that there are miscalculations in wars. But my question to the Indian government is: Given the arms that we and you have, can we afford any miscalculation?" he said. "It will neither be in my control, nor in the control of (Indian Prime Minister) Narendra Modi."
Tensions between India and Pakistan — which have been heating up since mid-February — spiked even further Wednesday when Pakistan claimed its air force shot down two Indian jets over the disputed border region of Kashmir.
The confrontation came a day after India said it launched airstrikes in Pakistan territory.
India confirmed the loss of one plane in the Wednesday incident and said it shot down a Pakistani jet as it responded.
India and Pakistan both control parts of Kashmir, but each claims the region in full.
As reported by CNN