Analysis: What prompted Naftali Bennett and Ayelet Shaked to launch a new party that appeals to the secular and religious right? What do they know about Netanyahu's future survival?
Among the statements made Saturday night by the chairmen of the student council, sorry, the new right-wing party, most harrowing were the words of Ayelet Shaked, who said it would have been easier for her and Bennett to stay in the Jewish Home party, but they "chose the hard way."
The current education minister (Bennett) and justice minister (Shaked) would not have received senior portfolios in the next government, something Shaked knows all too well. It's actually doubtful that they would have gotten two minor portfolios. In the past several weeks, ever since Prime Minister Benjamin Netanyahu managed to persuade them to back away from their public demand to make Bennett minister of defense, the two have been carrying the bitterness and resentment of humiliation. They are holding on to the insult and feelings of shame caused by Netanyahu.
This resentment came to fruition at government and security cabinet meetings, where, sources say, the two Jewish Home lawmakers were impudent, talking back to Netanyahu like no one has ever done before.
They had given up, was the conclusion reached by all present. Shaked and Bennett no longer had any expectations of the prime minister, understanding that he would be willing to form a coalition with anyone, regardless of political affiliation, he just didn't want to form one with them. This, apparently, was their main motivation in reinventing themselves.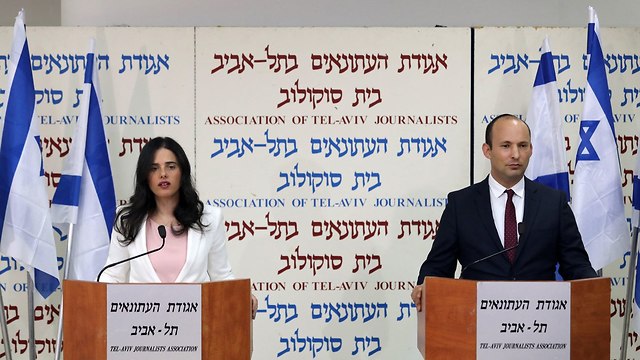 Bennett was right; they had lost their hold over Netanyahu. The prime minister knew that the party of Bennett, Shaked, and MK Bezalel Smotrich was in his pocket. He knew it in the last elections, when he stole a few seats from the Jewish Home, and he discovered once again last month when he managed to stop Bennett and Shaked resigning — not only by sending the head of his National Security Council to former religious politician Rabbi Haim Druckman in order to put pressure on Bennett, but by convincing the right-wing public to stand with him and distance themselves from the leaders of their political camp.
In her opening statement, Shaked thanked two people who have died: former IDF Chief Rabbi Avichai Ronsky, and writer, journalist and former Jewish Home minister Uri Orbach.
It is no accident that Shaked chose two religious Zionists officials who were also liked by the secular public. In thanking Ronsky and Orbach, Shaked was marking the rabbis of the New Right party. No more controversial rabbis who are disliked by the secular public, but people who are also accepted by the military and secular elite.
For this very same reason, the chairmen of the new right-wing party saw fit to introduce their families. Shaked with her secular background, her husband the kibbutznik and fighter pilot, and Bennett with his secular wife Gilat, who just a few weeks ago rebuked Netanyahu for trying to plant "slander" on the Walla news website about her preparing desserts in an non-kosher restaurant. Now, in this brave new joint secular-religious party, it is an advantage to be married to someone secular.
Bennett and Shaked promised that their new party would be the true right, and would not zigzag on policy. Interesting, but this was never a problem for the Jewish Home. The party was right-wing and right-wing was the party. Bennett and Shaked pledged partnership between the secular and the religious, just like in basic training in the army, in the workplace, at the Passover Seder table. Sounds good. What do you say, Bennett, should we launch this enlightened approach in schools too? Or perhaps we should start with MK Shuli Mualem, the first to join the new right-wing, who does not exactly resonate with the secular public.
What's more, we should expect better production values from two such experienced politicians announcing a dramatic move. Their press conference looked very shoddy. From the joint anouncement with the embarrassing pauses, through the scrawled background image and the empty chairs at the front. This would never have happened with Bibi.
But the most intriguing question is what outgoing Justice Minister Shaked heard from her friend, Attorney General Avichai Mandelblit. What does she know that we do not about the prime minister's future and his chances of surviving the next term in office? One thing is certain – Bennett and Shaked know that it is impossible to reach the prime minsiter's chair from the Jewish Home. Worse than that, they can't possibly attack Bibi from there.
If Bennett and Shaked are indeed anticipating Netanyahu's imminent retirement from politics, this could well be the reason for establishing a new right-wing party. Or perhaps we should say, a new Likud?
As reported by Ynetnews