While the vast majority of professionals warn such threatment for young members of the LGBT community is dangerous, many religious therapists offer such services, 'with the help of God, people change.'
An ultra-Orthodox or religious boy discovers that he is attracted to members of his own sex. He knows that Halacha (Jewish law) forbids such relations, but on the other hand feels that he was born this way. In his distress he seeks what he believes is professional help. They, in response, try to "cure" him of his homosexuality.
The worldwide consensus is that sexual conversion treatments are objectionable and even dangerous. Mental health experts agree that sexual attraction cannot be changed. Professionals and lawmakers in Israel recognize this as well, but under the surface an entire industry is flourishing —including psychologists, state-sponsored treatment centers and quite a few charlatans.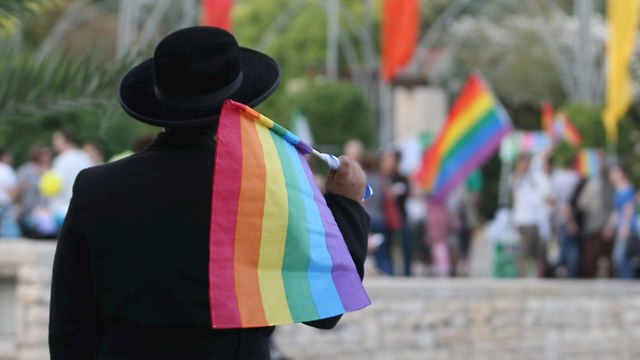 Sexual conversion therapy often leads to depression and even attempted suicide. Sometimes the request for treatment is made by anxious parents behind the backs of their children. In extreme cases, therapists even subscribe them with drugs to suppress their sex drive.
In recent weeks, we have approached many such therapists. In some cases, we introduced ourselves as parents or siblings of a boy or girl who is demonstrating homosexual tendencies. In other cases we sought consultation apparently for ourselves.
As for the secular therapists, there is nothing to tell. They were all very careful not to offer conversion therapy. Among the 20 religious and ultra-Orthodox therapists we approached, only one categorically refused to perform conversion therapy. On the contrary, many boasted about their "great success rate" with patients who moved on, got married and established a kosher Jewish home in Israel; what ensues afterwards is no longer their concern.
But sexual conversion therapy is not an obscure activity taking place on the black market. Last week, a new organization — the Movement for Strengthening Family Values, launched a campaign against the LGBT community. The organization is of course ultra-Orthodox, a sector with particularly high rates of therapists who believe that sexual orientation can be changed through treatment.
The Mayanei Hayeshua Medical Centre in Bnei Brak is a part public, part private hospital, catering mainly to the ultra-Orthodox population. Two years ago, a mental health department was opened at the hospital, and on the recommendation of friends I went there and introduced myself as the "sister of a 14-year-old teenager who had 'homosexual tendencies' and wanted to know how to solve them."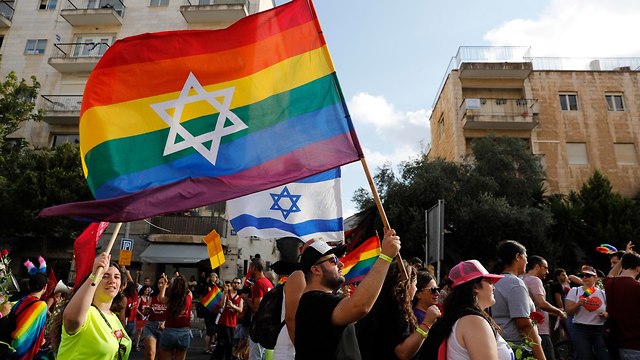 Avoiding 'unnecessary' questions, the representative informed me that homosexuality was treatable, and that treatment was free. "I have to send you forms for both parents to sign and return to us," she said. "We then invite the parents and the child for a first diagnosis, and the doctor decides what treatment is necessary."
Is it possible that in the mental health ward at Mayanei Hayeshua hospital — an officially recognized hospital in Israel —"treats" minors whose "mental illness" is a different sexual orientation? Not according to the head of the hospital.
"At the Mayanei Hayeshua Medical Center, there is no conversion therapy or any other treatment of sexual identity problems," said hospital director Prof. Motti Ravid. "The hospital has no experts for such issues, so the claim is delusional and is disconnected from reality."
The Torat Hayyim treatment center, under the auspices of Rabbi Shmuel Tal, proudly notes that its dozens of therapists deal with various challenges, including "opposing tendencies." In their view, as presented on their website, homosexuality is a mental disorder just like post-traumatic stress disorder following a sexual assault or addiction issues.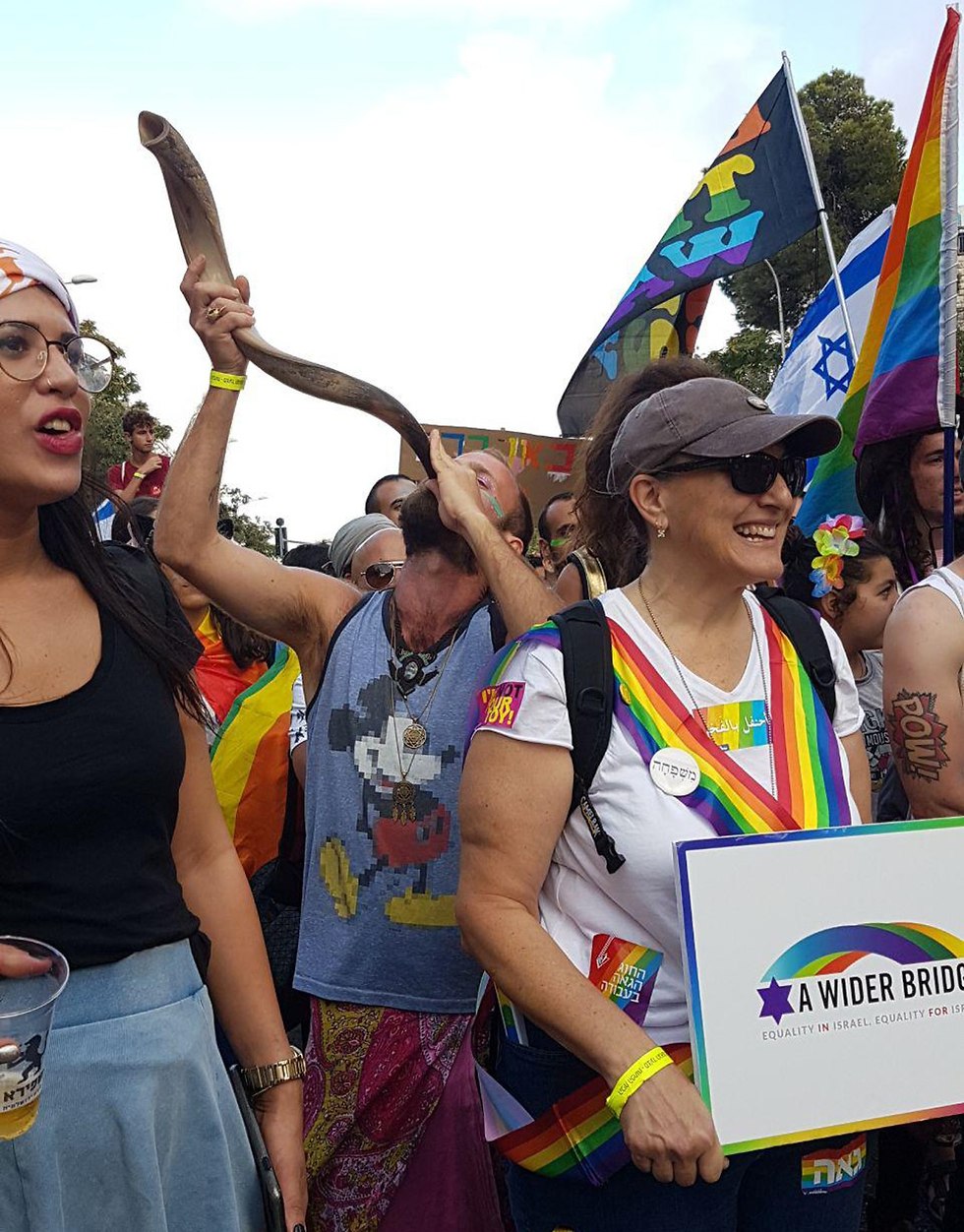 This time I introduced myself as a girl from Jerusalem who feels attracted to other girls. The representative at the center had a number of questions, perhaps to understand how this came to happen to a Haredi girl from a good home: "Is there anyone who knows?" "Did you share with anyone?" "Are you exposed to the media?" "Do you have Internet on your phone?" "For how long have you been experiencing these feelings?"
I told her that I was once at a bar and met a girl. "Was there an intimate relationship?" She asked, half horrified. Yes, I replied hesitantly, almost.
"I can tell you two things: First of all, we live in very special time when the ability to return to the right place is easy," she began. "Unfortunately, conflicting (sexual) tendencies are quite common nowadays, with all the media exposure and publicity. Most people's problem is anxiety… Many men and women reach out to us, thank God.
"Those who come seeking a healthy life, managed to extricate themselves completely and establish good homes," she continued. "Most problems arise when people approach us unwillingly, as if they do not fully believe anymore, or there is already a very strong intimate relationship. I can refer you to our therapist, of course everything is discreet, and everything stays in the treatment room, and with the help of God you can undergo a process of healing."
This healing suppresses this tendency?
"This tendency does not arrive just like that," she responded. "For example, a person is traveling on the main road and there is a right turn. Now he did not look at Waze (a navigation app) and he does not know the way so he turned right because of some event that happened to him in life. Why is it called a deviation or tendency? Because it is not the normal way. So basically in therapy we go back and check what happened that caused your course to turn right."
The organization said in response: "The Torat Hayyim treatment center operates according to the law, and assists applicants in order to benefit those who are interested."
Another mental health organization that offered "treatment" but without mentioning the word "conversion" is a Bayit Cham (warm home), in Bnei Brak. "There is definitely something with which to help him," the representative replied. "It calls for one-on-one talks… and the therapists usually help. Generally it is not a biological tendency that a person is born with."
The director of the organization, Rabbi Arie Munk, said in response: "Based on the recording, in which you portrayed an ultra-Orthodox girl who is very concerned for her brother's welfare, the representative answered you just fine — that he should meet a therapist for talks. No conversion or other treatment was mentioned at any stage.
"Bayit Cham, which operates a professional department for the treatment of children and adults who have been victims of sexual trauma, has often encountered teenagers who have a sexual problem of some sorts, and during treatment it is revealed that this boy was sexually abused as a child or adolescent and that is the source of the problem, it is not inherent," he asserted. "Any attempt to link the activities of the organization with conversion treatments is the result of evil imagination, unrelated to the treatments that the organization provides."
"The mental state has deteriorated"
Twenty years ago, the American Psychiatric Association (APA) warned against sexual conversion therapy, and in 2015 the Mental Health Administration in the United States determined that such treatment could cause anxiety, suicidal thoughts, depression, and risky sexual behavior.
Britain as well has adopted a similar approach, and in 2015 the British Health Ministry published a statement formulated together with health organizations stating that there was no evidence of the effectiveness of the treatments and that they could cause harm to patients.
The position of the Israel Psychological Association, published in 2011, expresses reservations about these treatments and warns against the risks involved, but does not forbid them completely. "The professional basis and empiric evidence for the success of conversion therapy is rather remote," the association's position stated. It was also noted that many of the therapists involved in conversion therapy are not qualified professionals, and caution is necessary with such treatments because of the possibility they will lead to depression and suicide.
Despite the unambiguous stance by professionals in Israel, attempts to stop the organizations and therapists have failed miserably. During her time as health minister, MK Yael German (Yesh Atid) tried to deal with the issue and a statement published by the ministry warned the public about these treatments, in part because "there is even evidence of possible harm." Today, with ultra-Orthodox MK Yaakov Litzman as deputy (and acting) health minister, it seems that the ministry has no interest in preventing conversion therapy, and the market is flourishing.
"I came from a very conservative religious family, and I felt that my attraction to boys was not right," says 23-year-old Idan, from Jerusalem. "At one point, I was sent sent to a well-known therapist who does conversion therapy. I thought that it might help me, or at least get my family off my back. Not only did it not help, my mental state deteriorated due to the treatment, it made me feel damaged and screwed up. I got depressed and began taking medication. Only when I left the (religious) sector and accepted myself for who I was did my mental state begin to improve."
Dror, 29, has also tried conversion therapy out of family pressure. "I guess that it could at least help some people lie to themselves and to others," he says cautiously. "If someone really wants to get married and have children, and goes to a psychologist on his own initiative, it's one thing. But in most cases people like me who go to conversion therapy do so not on their own accord but rather because of pressure from their surroundings and the result is almost exclusively destructive.
"Because essentially, what happens is you go to someone who is purportedly a professional, and he tells you that you were born a bad person and you have to change, but you cannot really change because it is a sexual orientation. That is the danger. I stopped after two treatments because I realized it was bullshit and because I live among a relatively liberal national religious population," says Dror.
A lesson in masturbation
A conversation with Avraham Bitkin, a clinical social worker, reveals information about the methods used in conversion therapy. Bitkin claims to engage in cognitive behavioral psychotherapy and is also a psychodynamic therapeutic guide. Bitkin, who works with children, youth, adolescents and adults, is recommended by the Haredi Association of Therapists.
I introduced myself to Bitkin as a 19-year-old ultra-Orthodox woman. Already during our phone conversation Bitkin began talking about things that would certainly have horrified a real Haredi youngster. Unlike other ultra-Orthodox therapists, Bitkin maintains that for some people their sexual orientation is inherent while in others it is acquired. According to him, in order to understand how to treat sexual orientation, we must first check whether it is natural or acquired.
I told him that from the age of 14 I had felt different, that a year ago my parents bought a computer that exposed me to the world, and I even went out and met someone. "What about boys?" he asked. "Do you not have any feelings for them at all?"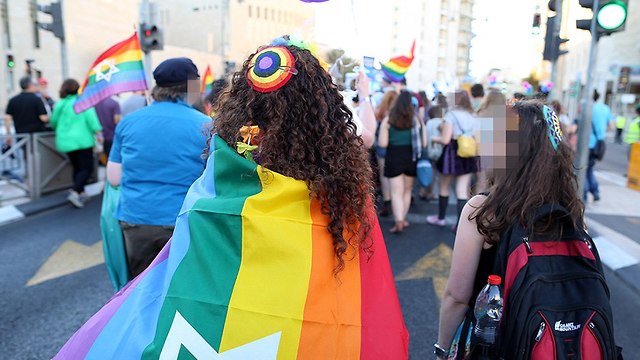 No. I do not feel anything, I told him.
"Look," Bitkin began in a monologue. "In general there are two sorts of people who experience same-sex attraction: those who are born that way and those who acquire it at some later point in life. For example, a 14-year-old ultra-Orthodox boy enters yeshiva and his body is growing and he wants to be a pious Jew and he knows that he is forbidden from looking at girls so he avoids doing so.
"The body wants to move forward but the head inhibits, leading to a large gap forming between the body and the head; essentially there is a battle taking place and he does not understand why," Bitkin explains.
"In absence of girls his body tells him 'It's okay to try with a boy' and this can lead to sexual experimentation. Such things also occur in girls' seminaries… I think you need to understand yourself better and then you can see what's next. I must say that from a Halachic perspective, this subject of pleasure between females is not the same as between males… Now you say, 'OK, I can be discreet regarding my attraction,' but I want to know what will happen next, how I will establish a family and a home in Israel."
Correct, I tell him, this is one of my problems.
"Look, this issue of living with a man and having a family is something which is technically possible. The question is whether you can grow to love the man and be attracted to him, because if you do not enjoy sex with a man he will know. So if you arrive at a conclusion that your sexual orientation was acquired then we can work on it so that you can develop an attraction to men, which was previously unattainable."
At this stage, Bitkin begins to explain what "deep internal clarification" it means to him and it turns out that he means "deep" in the physical sense: Bitkin simply suggested that I masturbate, and when he realized that as an ultra-Orthodox girl I had no idea what that meant, he volunteered to teach me e-v-e-r-y-t-h-i-n-g in detail. From time to time he asked, "Is it okay to talk about it?"
"Have you ever had sexual experiences with men?" He asks. I reply in the negative. "Were you were sexually abused during your childhood?" Again, I respond in the negative. Bitkin asks me to tell him about the experiences I had with the girl I met. "As long as you have not yet tasted the forbidden fruit, it will drive you crazy," he explains. "Especially since the act between two girls is permitted, unlike between two men… The question is whether, for example, I tell you: 'If you want to change then you need to sleep with boys.' How will that make you feel?
At this point, Bitkin asked straightforwardly if I had experienced masturbation and when I said no, he suggested experimenting. "There are actually two erogenous zones which bring a woman sexual gratification. One of which is the breasts, and the most enjoyable part is the clitoris. Do you know what the clitoris is?"
The rest of the conversation is simply too explicit to recreate. Bitkin explains in detail about orgasms, the structure of the vagina and masturbation, including using penetrative devices. ("I can only regret that your mother did not teach you such things… There are girls who at the age of six or seven already begin to touch themselves.")
In response, Bitkin said, via his attorney: "My client does not believe in conversion therapy, he does not work in this manner and does not know anyone who uses this method. He is not aware of anyone who has succeeded in transforming their innate same-sex attraction. Regarding the phone conversation, my client feared that the caller was in the midst of a serious personal emergency crisis. Fearing for the girl's safety, he refused to dismiss her casually by stating that he does not believe in conversion therapy and thus ending the conversation.
"During the conversation and out of concern for the caller, my client attempted to understand whether this young ultra-Orthodox woman understands her sexuality enough for her to declare that she is a homosexual, and that is why he suggested that she read study and learn about her femininity and sexuality, which can help her feel good without being ashamed. My client is sure that he acted professionally and according to the rules of ethics. A good therapist is not deterred by embarrassing issues; he must be able to talk about anything."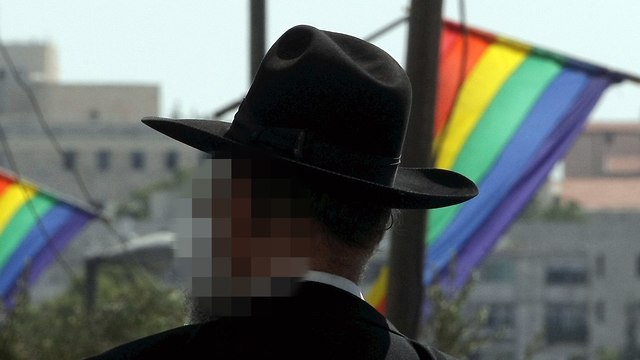 'Many such treatments'
Rabbi Shlomo Aviner is one of the most prominent rabbis of religious Zionism and serves as the rabbi of the Beit El settlement and the head of Yeshivat Ateret Yerushalayim. When I approached him with a story about my brother who is expressing homosexual tendencies, he told me that, "20 years ago we established a free anonymous telephone hotline called Soul Advice… Where they could talk to me and tell me, or my brother, what to do and whom to turn to." The rabbi gave me the phone number and wished me luck.
Another organization, Listening Friends, which provides counseling services to the religious and ultra-Orthodox public, told me that "it is possible to change reality and build a life in the correct manner." After a series of questions they referred me to Soul Advice.
I accepted their recommendation and turned to the organization, where they admitted that dealing with "conflicting tendencies" is one of the areas with which the organization deals, and referred me to a hotline called Your Soul in order to "heal" myself or my brother.
The organization refused to comment for this article. Listening Friends said: "The claim that any treatment aimed at influencing sexual orientation is harmful and improper from a professional perspective is false and stands in contradiction to the position paper of the Israel Psychological Association. Any attempt to intimidate professional therapists and volunteers of help lines that assist people in distress, just because they do not conform to an extreme liberal agenda, is unacceptable and should be rejected."
In the days that followed, I turned to other organizations and therapists. The rabbi and psychologist Shmuel Meiberg, who is recommended by the Haredi Association of Therapists, emphasizes that he deals only with teenage boys. "I've had a lot of such treatments lately, unfortunately, all the time," he said, "but we can get out of this, (they can get) married, and with a good therapist it changes."
Ynet did an investigative piece about Dr. Elan Kartan last year. Journalist Adir Yanko met with him, and he promised to deal with the issues. Since then, despite the backlash from the investigation, he has continued his work as usual, albeit cautiously "There are ways to deal with it," he told me about my younger brother, "especially when he's very young. Unfortunately, there is no guarantee of success; every case on its merits … My service costs a lot of money." He declined to comment further for this piece.
More and more ultra-Orthodox and religious professionals —psychologists, sociologists and others — have agreed to deal with conversion therapy; some have even offered themselves, promising miracles and wonders. And then there was David Grushko, who defines himself as a homeopathy therapist and simply offered me homeopathic pills, "which will help you develop more feminine traits so that your sexual attraction will be towards boys and not girls."
Did it help anyone? "Yes, they have changed," he says. Like Bitkin, he suggests that "if you seek sexual satisfaction, do it yourself and not with anyone else… because once you are used to getting sexual satisfaction from another woman, it will be harder for you to think that you can get it from a man."
"I believe in free choice, so everyone will do as he wishes, including in the sexual realm," Grushko says in response. "I also believe that the world has laws that cannot be changed by man, which are expressed in all natural laws — based on male and female. Homeopathy connects a person to their internal strengths and from there the person gathers the strength to choose a new path in life."
As reported by Ynetnews