For the first time since the Camp Fire started its deadly rampage 11 days ago, rain will stifle some of the flames.
The 4 to 6 inches expected later this week will help suppress an inferno that has already killed at least 79 people. It will also finally improve the heavily polluted and unhealthy air smothering Northern California.
But there's a catch: With more than 151,000 acres of newly scorched earth, there's little vegetation to soak up the rain.
That means the region is now at risk of mudslides, which could be especially dangerous for firefighters battling the inferno.
"They're having to fight this fire right now in the mountainous areas — the ravines, the canyons, very steep, rugged terrain," said Scott McLean, deputy chief for Cal Fire, the state's forestry and fire protection agency.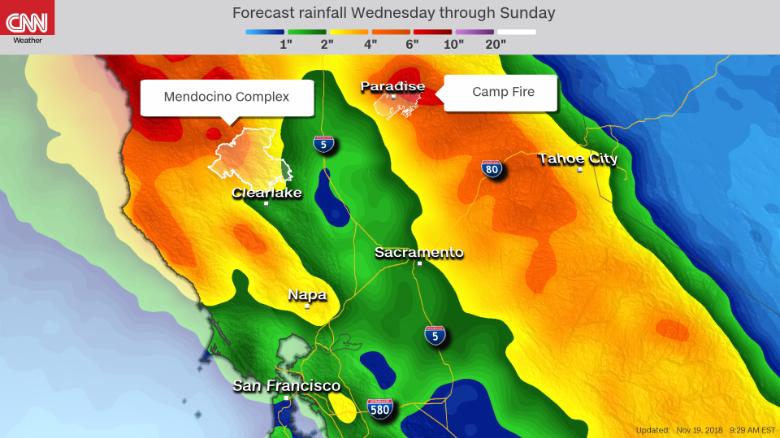 "They're back there on dirt roads, dirt trails, trying to fight this fire. Now it's going to turn into mud, which will be another hazard for them to contend with."
Along with mudslides comes the risk of debris flow gushing from the Camp Fire's charred rubble.
"Recently burned areas could see ash flow … and even have the potential for debris flow if rain intensity is high enough," the National Weather Service's Sacramento office said.
Since the Camp Fire broke out November 8, it's destroyed more than 11,700 homes and torched an area the size of Chicago.
Even worse: Fire officials predict the Camp Fire is only halfway done burning. According to Cal Fire, the blaze might not be fully contained until November 30.
Almost 1,000 people are unaccounted for
In Butte County, where the town of Paradise was virtually wiped out, authorities are scrambling to find 699 people who have been unaccounted for.
That number keeps fluctuating, as many residents have been located.
"That is raw data we're collecting from phone calls, emails and the 911 system," Butte County Sheriff and Coroner Kory Honea said. "It's not perfect data, but our thought process is that it's better to get that information out to help start getting people accounted for. So rather than wait for perfection, we're trying to get some progress going."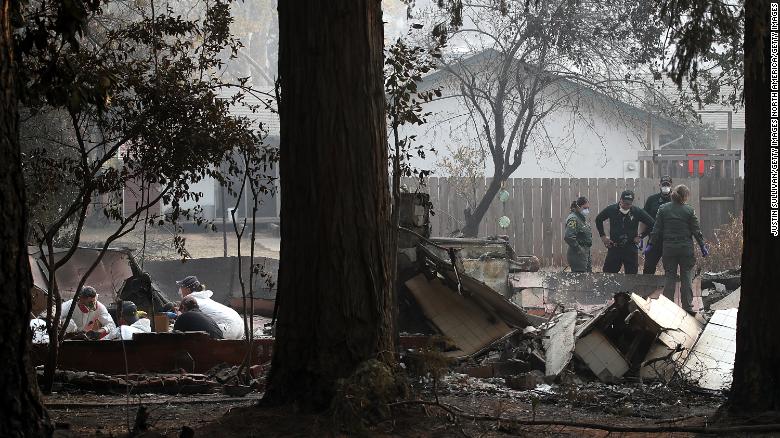 Hundreds of deputies, National Guard troops, coroners and anthropologists are sifting through destroyed homes and scorched cars for human remains. With many retirees living in the Paradise area, officials fear the death toll could rise.
Butte County is keeping a list of the people who have been reported missing from the Camp Fire. Honea urged anyone who sees their own name or the name of a loved one found safe to contact the sheriff's office.
Fires keep raging across the state
While the Camp Fire is already the deadliest and most destructive wildfire in California history, it's far from the only inferno tearing across the state.
In Southern California, the Woolsey fire has killed three people and is still burning west of Los Angeles. As of Monday morning, it had torched more than 96,000 acres.
The Woolsey Fire is now 96% contained and expected to be fully contained November 22. The area will also get some relief from rain this week — though not nearly as much rain as the 4 to 6 inches expected in Camp Fire region, CNN meteorologist Dave Hennen said.
Wildfire evacuees face the threat of flooding
The heavy rain forecast for Northern California could force evacuees who escaped the Camp Fire to flee once again.
Hundreds of evacuees are living in a Walmart parking lot in Chico, about 10 minutes from the town of Paradise.
But since the tent city is at the bottom of a hill, it's now vulnerable to flooding. So organizers are trying to help evacuees relocate.
"I know that losing what they've lost and also transitioning into a parking lot and doing it again is a difficult conversation," said Rob Busick, who's helping organize the volunteer efforts. "But the health and safety of them has been No. 1 since Day One."
And in the days since wildfires forced them from their homes, evacuees at the makeshift camp have been helped by total strangers.
"There's so many people out here that are just broken right now," said Kristina Wheeler, whose food truck has been feeding evacuees. "Even the people who are affected by the fire directly, they're helping. They're donating."
Searching for the causes
While the causes of the Camp and Woolsey fires remain under investigation, some are wondering whether incidents involving public utility companies might have played a role.
Pacific Gas and Electric Company (PG&E) detailed a second incident near the time and place where the Camp Fire started.
At around 6:45 a.m. November 8, PG&E experienced an outage on a circuit in Butte County, the company reported to the California Public Utilities Commission on Friday.
Previously, PG&E reported a separate outage on a transmission line the morning of November 8 "in the area of the Camp Fire."
PG&E is cooperating fully with investigators, "and there has been no determination on the cause of the Camp Fire," the company said in a statement.
In Southern California, utility company SoCal Edison reported that a circuit relayed about two minutes before the Woolsey Fire broke out.
"At this point we have no indication from fire agency personnel that SCE utility facilities may have been involved in the start of the fire," the company said in a report to state regulators.
As reported by CNN