The death of Jamal Khashoggi continues to hang over the heads of both US President Donald Trump and his allied Saudi officials.
On Thursday, Saudi prosecutors formally charged 11 people over the journalist's killing, five of whom will face the death penalty. Just hours later, the Trump administration announced sanctions against 17 Saudi government officials. The powerful Saudi Crown Prince Mohammed bin Salman was not, of course, among those blamed.
The timing of the two courses of action was surely no coincidence. It seems both parties were hoping their responses together would shield the Crown Prince from growing accusations of involvement.
But what a difference a day makes. On Friday, the CIA concluded the Crown Prince personally ordered the journalist's killing at the Saudi consulate in Istanbul last month, a senior US official and a source familiar with the matter told CNN.
US State Department spokeswoman Heather Nauert, however, said the government had not drawn any final conclusions about who was responsible, adding "numerous unanswered questions" remained.
Still, the CIA's explosive assessment makes Riyadh's repeated denials that bin Salman was connected to Khashoggi's death much harder to swallow, and if it's true, the development may be a major blow to the special relationship Trump has fostered with the Saudi royals.
Saudi Arabia has offered so many narratives of how journalist Jamal Khashoggi was killed that it's difficult to believe it will now tell the whole truth.
Riyadh first claimed to know nothing about Khashoggi's disappearance, but weeks later, the Saudi attorney general finally admitted his murder had been premeditated. Saudi prosecutors on Thursday offered yet another version of events, saying Khashoggi was killed by a lethal dose of a sedative in an abduction attempt gone wrong.
Despite the reports about the CIA's findings, Trump is sticking by his friends in the Middle East.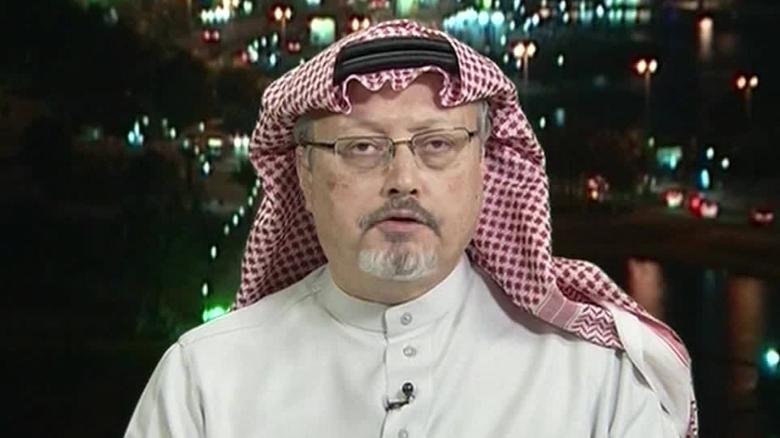 Before he was briefed by the CIA on Saturday, Trump repeated his belief in the Crown Prince's innocence, saying he had been "told that he did not play a role" and that the country had been "a truly spectacular ally."
"They give us a lot of jobs, they give us a lot of business, a lot of economic development," he said on Saturday.
The CIA's assessment, first reported by the Washington Post, is based on a recording provided by the Turkish government and other evidence, including US intelligence, the senior US official said.
Among that intelligence is a phone call from the Crown Prince's brother Khalid bin Salman and Khashoggi, in which Kalid encourages the journalist to make the trip to the consulate, according to the Post. Sources told the Post that Khalid made the call at his brother's command.
Khalid denies the Post's reporting, saying on Twitter he never spoke to Khashoggi by phone and "never suggested he go to Turkey for any reason."
A Saudi embassy spokeswoman said in a statement the reported claims were false. "We have and continue to hear various theories without seeing the primary basis for these speculations."
Trump's not alone
It's not only Trump who would find a guilty Crown Prince a geopolitical problem.
Soon after Khashoggi's death, several world leaders called for an independent investigation. Those calls have turned to whispers in recent weeks and few other countries, besides Canada, are still talking of sanctions.
Ayham Kamel, head of Eurasia Group's Middle East practice, said that is largely because few leaders want to see a faltering Saudi Arabia.
"None of the key Western countries that have relations with Saudi Arabia– the US and its allies — want to destabilize the kingdom, or create the situation where there is an open-power struggle," Kamel told CNN.
"There are too many hot spots in the Middle East and leaders don't want to add Saudi Arabia to the list. Open power struggles are difficult to predict and difficult to control."
A challenge to bin Salman's authority would be particularly messy.
The 33-year-old wields an extraordinary amount of power that the kingdom has never seen before among princes. He oversees almost every major agency in the country that deals with the economy, security and intelligence.
To put his dominance in perspective, it was the Crown Prince who was tasked with shaking up the country's intelligence apparatus in response to Khashoggi's death.
Bin Salman consolidated his position by intimidating his main rivals in a spectacular show of power. The Crown Prince had hundreds of senior government officials, advisers and businessmen detained for months in Riyadh's Ritz-Carlton, transforming the hotel into a gilded prison, in a masked "anti-corruption" drive.
He has enemies within his own family too. Bin Salman skipped over dozens of other princes who would normally precede him as heir to the throne, and any implication of the Crown Prince's involvement in the Khashoggi case could be enough of an opportunity for his rivals to reemerge.
"Once the dust settles on the Khashoggi killing, pressure on the Crown Prince to share power with the rest of the family will remain, if not increase," Stratfor, the geopolitical intelligence firm, wrote in a recent article.
Saudis under the US' wing
Trump was reluctant to issue sanctions on Saudi Arabia in the first place but was forced to under pressure from Congress and he is less likely to want to target the Crown Prince, even if it means going against his own intelligence agencies.
Trump's son-in-law, Jared Kushner, has built a cozy relationship with bin Salman, and was instrumental to designing the US' Saudi policy, largely centered around the Crown Prince and his vision to modernize the kingdom's economy.
In a conversation with Saudi King Salman two weeks after Khashoggi's death, Trump not only seemed to buy into the monarch's version of events that he and the Crown Prince knew nothing at all of the killing, he even laid out the Saudis' first narrative for them, telling reporters that Khashoggi was murdered by "rogue killers" completely removed from the King and his son.
It was the first sign in the case that Trump would side — even coordinate — with the King and Crown Prince. Then too, he made clear that one journalist's life wasn't worth risking lucrative arms and trade deals (though he grossly exaggerated just how valuable those deals were to the US).
It has been under this protective wing of the Trump administration that the Saudis have been able to pursue an aggressive foreign policy and act on with a sense of impunity, according to Stratfor.
"For Riyadh, the calculation that it can afford to upset relations temporarily with friends, only to restore them later, is a reasonable one," Stratfor wrote.
"Saudi Arabia's growing assertiveness is driven in part by the political cover it receives from its special relationship with the current US administration. The White House relies heavily on Saudi Arabia in its effort to contain their mutual adversary, Iran. Washington also seeks Saudi cooperation to temper oil prices."
Saudi Arabia is projecting that assertiveness around the region, whether it be in a consulate in Turkey, in the world of Lebanese politics or a brutal war in Yemen.
Even Canada has felt the wrath of the Crown Prince's overreach. When officials in Ottawa demanded the release of imprisoned activists, Riyadh froze new trade and investment deals, suspended flights to Canada, expelled Canada's ambassador to Saudi Arabia, while recalling its own, and even moved Saudi students studying there.
Turkey's possible motives
The greatest pressure on Saudi Arabia, however, has come from Turkey, which says Khashoggi was strangled to death as soon as he arrived at the consulate and his body then dismembered in a premeditated murder.
Turkish officials have been releasing information around Khashoggi's death drip by drip, trying to draw out the world's interest and keep Riyadh in focus.
Turkey has said for more than a month that it has audio evidence of how Khashoggi was killed and, more recently, President Recep Tayyip Erdogan said his country had shared that evidence with several Western allies.
It is this drip feed of information that has forced Saudi officials to keep changing their story and that appears to have cornered them into admitting Khashoggi's murder was premeditated.
But Turkey, which is undergoing a brutal crackdown on journalists of its own, is likely to have other motives in pursuing Saudi Arabia so aggressively, Eurasia's Kamel said.
"This is being used for geopolitical competition between Sunni powers in the region. Ankara and Riyadh are longtime competitors in the Middle East, and Turkey is using this case to expand its regional power while ensuring Saudi Arabia's rise is contained," Kamel said.
"The agenda Mohammed bin Salman has introduced on foreign policy is more Arab-centric, not only containing Iranian influence but containing Turkish influence too. So Saudi Arabia reemerging as a leader of the Arab world doesn't necessarily align with Turkey's strategic interests.
In the meantime Khashoggi's family is still hoping to discover where their relative's body — or remains — may be. The absence of Khashoggi's body at a funeral in an Istanbul mosque on Friday was a dark reminder that the whole truth has still not been revealed and may never be.
As reported by CNN