German chancellor acknowledges anti-Semitism in the country, fueled by both far-right groups and Muslim extremists, is on the rise once again as she attends ceremony commemorating the start of the 1938 pogroms.
Germany has a moral duty to fight rising anti-Semitism, Chancellor Angela Merkel said on Friday in an emotional speech at a Berlin synagogue to mark the 80th anniversary of a Nazi campaign of attacks on Jews.
Dressed in black, Merkel told Jewish leaders that violence against Jews, blamed on far-right militants or Muslims, was growing in Germany now, eight decades later.
"Jewish life is blossoming again in Germany—an unexpected gift to us after the Shoah," she said, using the Hebrew word for the Holocaust. "But we are also witnessing a worrying anti-Semitism that threatens Jewish life in our country."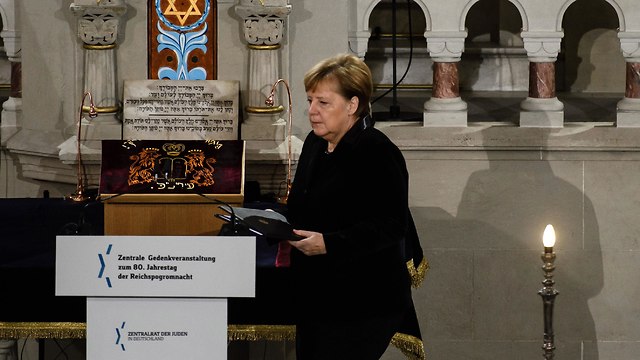 Germany and Austria on Friday marked "Kristallnacht", a wave of killings of Jews and looting and destruction of property launched on November 9, 1938. The name refers to the broken glass which littered streets outside synagogues and Jewish shops and homes.
Shortly before Merkel spoke, an appeal court in Berlin overturned a decision by police to ban a far-right march in the capital planned for later on Friday.
Police had barred the event on the grounds it would be unacceptable to hold a far-right march on the same day as the rest of the country was commemorating Jewish victims of Nazi violence.
But the court was of the view that the constitutional rights to freedom of expression and assembly were paramount.
A counter-demonstration by leftist groups was also planned.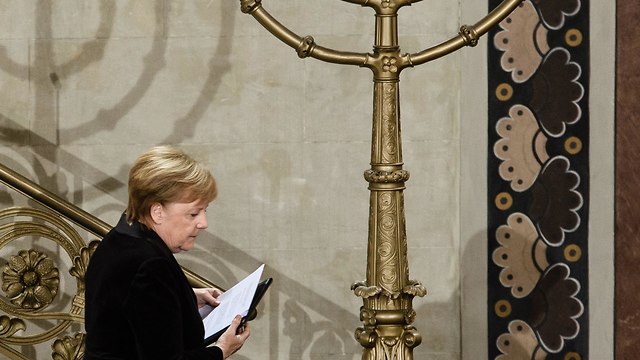 Merkel called for zero tolerance of attempts by far-right groups to hold Germany's large Muslim community responsible for violence committed by Islamist militants.
MIGRANTS
The chancellor's decision in 2015 to welcome almost a million migrants, most of them Muslim, has fuelled the rise of the far-right Alternative for Germany (AfD) party, which says Islam is incompatible with the German constitution.
Germans were shocked by images of skinheads chasing migrants in the eastern city of Chemnitz in September after the fatal stabbing of a man was blamed on two migrants. Far-rightists also clashed with police and attacked a Jewish restaurant.
"This form of anti-Semitic violence reminds us of the beginning of the pogroms," Merkel said.
In Vienna the head of Austria's government, which includes a party founded by ex-Nazis, pledged support for Israel's security on Friday as Austria marked the Kristallnacht anniversary.
Austria for decades presented itself as a victim of Nazism rather than acknowledge its collaboration with its crimes, including the Holocaust. Conservative Chancellor Sebastian Kurz said that had changed.
"We did it too late but we have grappled with our own history … we do not simply suppress the events of the darkest hours of our history in the year 2018," he told a ceremony in parliament marking the anniversary.
The event was attended by members of Kurz's coalition partner, the far-right Freedom Party. Although it was founded by ex-Nazis in the 1950s, the party says it opposes anti-Semitism and denounces the Holocaust. Party officials have, however, been embroiled in recent anti-Semitism scandals.
French Prime Minister Edouard Philippe said on Friday anti-Semitic attacks had surged in his country in the past nine months.
As reported by Ynetnews