Palestinian sources tell London-based Al Hayat that the PA president agreed to accept the arrangement between Israel and Hamas, which was mediated by Egypt, after Egyptian President al-Sisi updated him on the details.
Egyptian President Abdel Fattah al-Sisi has reportedly managed to convince Palestinian Authority President Mahmoud Abbas to agree to accept the ceasefire understandings reached between Hamas and Israel, the London-based Al Hayat reported on Thursday.
For months, the Palestinian leader has opposed the negotiations over the ceasefire arrangement because he was left out of the talks, which were held directly with Hamas. Abbas feared such an agreement would perpetuate the Hamas rule in the strip, pushing the Palestinian Authority out of Gaza for good.
Last weekend, Abbas and Sisi met in Sharm El Sheikh, where the Egyptian president gave his Palestinian counterpart a detailed review of the Egyptian efforts to reach the ceasefire in the Gaza Strip, as well as the attempts to revive the Palestinian reconciliation.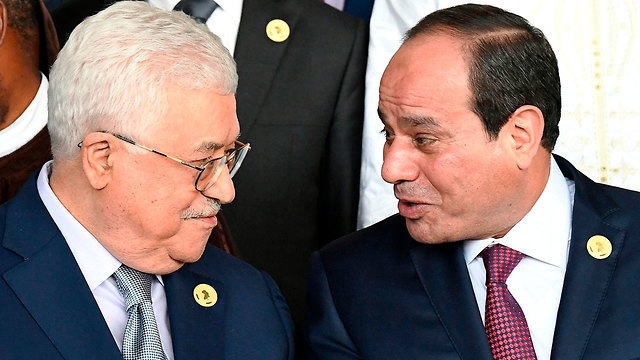 Abbas reportedly agreed to the understandings in order to give Gazans some "breathing space," according to Palestinian sources speaking to Al Hayat.
The sources said the understandings reached include two stages: the first will take two to three weeks, and the second will take six months.
They said Israel has agreed to transfer a $90 million Qatari grant into the Gaza Strip to pay the salaries of Hamas government employees for six months, but conditioned it on the US being responsible for the money transfer. The transfer the money is expected to either take place Thursday or next week.
In addition, the paper reported Israel had agreed, as part of the first stage of the ceasefire understandings, to increase the export from the Gaza Strip for the first time in years.'
Over the weekend, the Hamas-affiliated Lebanese newspaper Al Akhbar published an initial draft of the ceasefire deal between Hamas and Israel, including ten provisions, with every provision constituting a condition for the next one.
As reported by Ynetnews