Op-ed: The visits of both Prime Minister Netanyahu and Palestinian President Abbas in Oman last week is not a photo-op but part of the Sultanate's attempt to bring the two sides back to the negotiating table through the country's unique conflict resolution method called Sabla.
Oman has a unique method to resolve conflicts called Sabla. This is essentially a way of mediating between the two sides seated opposite each other, which allows them to present their arguments and demands, and helps them to reach an agreement. The meeting of Sultan Qaboos bin Said—the ruler of Oman—with Prime Minister Benjamin Netanyahu last Friday, is an attempt to resolve the Israeli-Palestinian conflict through the method of Sabla.
Indeed, Netanyahu arrived in Oman for a brief visit after Palestinian President Mahmoud Abbas visited the country a few days earlier and presented his position on the issue. Oman's Foreign Minister Yusuf Bin Alawi, views Netanyahu's visit as "completely natural." According to Bin Alawi, the prime minister had asked the Sultan whether he could present his position on the conflict as well, and they replied: "Yallah tefadal, come."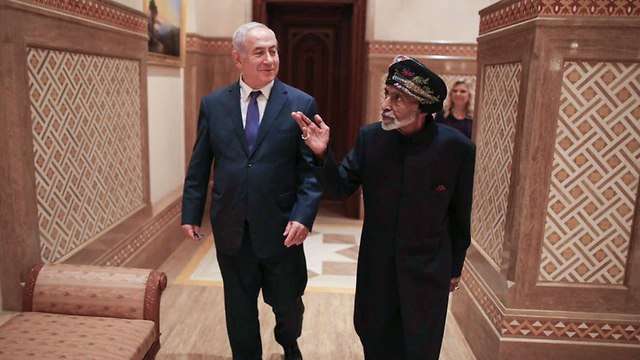 There are courts in Oman, but the residents prefer the Sabla method. That is how they end financial disputes, arguments between ordinary citizens and the government, as well as conflicts with neighboring countries.
When Sultan Qaboos bin Said came to power 40 years ago (after his father was ousted from power), he extended the authority of the Sabla system to be used as a conflict resolution method outside of the Sultanate: between Iraq and Iran, between Saudi Arabia and Qatar, and between Saudi Arabia and Yemen.
Now, the Sultan and his foreign minister want to bring Israel and the Palestinians back to the negotiating table through the means of Sabla, and they are working together with the United States. The Palestinians can boycott the US and Trump, but they can not brush off the Sultan of Oman.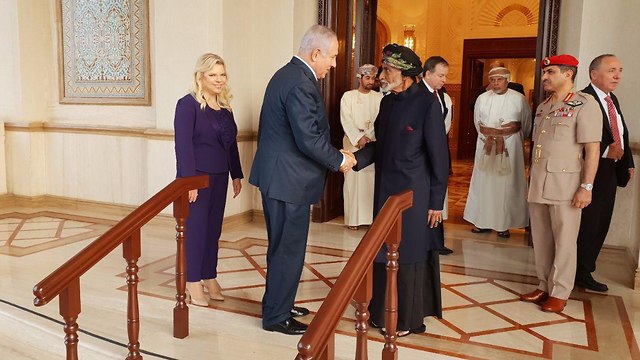 Netanyahu's reception in Muscat was very respectful, despite the demonstrations that took place in the country against the visit of "the devil's representative," and despite the claims made by Iran and Hamas—suggesting that Netanyahu only visited the state for a photo-op and had no serious intention to make progress on the Palestinian issue.
The front pages of all the Omani newspapers published pictures of the prime minister with the Sultan, and even images of Sara Netanyahu, who joined her husband on this trip.
As far as Oman is concerned, once they have identified an opportunity to renew negotiations—they decided to do what is necessary in order to help.
As reported by Ynetnews