Hatice Cengiz, the Turkish fiancée of missing Saudi journalist Jamal Khashoggi, says that although she is afraid that media reports of his death could be true, she wants to wait for a "final result" and still thinks "anything" could have happened to him.
Cengiz, who told CNN that she does not feel comfortable enough to give an on-camera interview, said in written answers to questions from CNN's Christiane Amanpour that Khashoggi "may have been kidnapped, abducted, or some harm may have come to him."
"Images in the media point to the possibility of an abduction or an assassination. I hope that it does not turn out to be murder, as alleged by these images," she added.
"Until official statements are made, it makes more sense to wait a bit longer and to see the final result as opposed to making a bold comment," Cengiz said.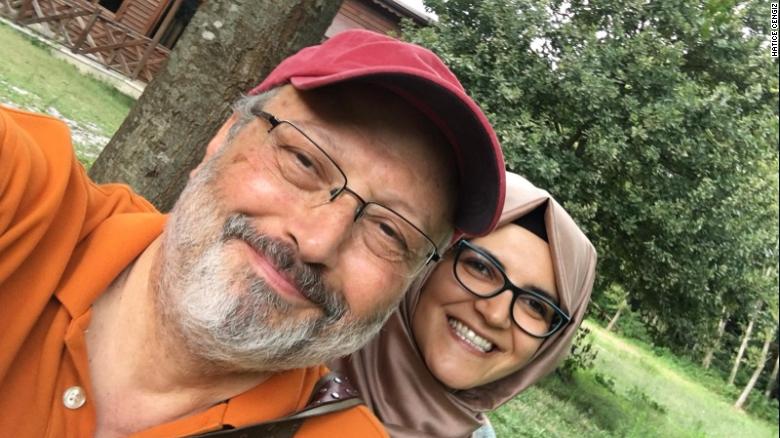 Cengiz last saw Khashoggi, a former Saudi royal insider who became a critic of the regime, when he walked into the Saudi consulate general in Istanbul shortly after 1 p.m. local time on October 2. He was there to obtain paperwork he needed for their upcoming wedding. Cengiz did not see him re-emerge, although Saudi officials said he left the consulate shortly after visiting.
"Until now, no official document could be made available to prove that he did exit from there on his own," she said. "It has not been proven until now through official documents that he exited of his own accord."
Cengiz says she was questioned by Turkish investigators after the disappearance and has had a few calls with officials since. She said Saudi authorities have not contacted her.
Turkish authorities have privately said they believe Khashoggi was killed inside the consulate, a startling allegation that is firmly denied by the Saudis.
On Wednesday, Turkish security officials concluded that the "highest levels of the royal court" in Saudi Arabia ordered the assassination of Khashoggi, according to a senior official cited by The New York Times.
Turkish officials have said that a 15-person team flew from Saudi Arabia into Istanbul on the day Khashoggi entered the consulate, and they have provided information about two private planes that, they say, were involved in the transit of these Saudis. Aviation data analyzed by CNN backs up evidence of the planes' arrival in Istanbul.
In a statement to CNN on Wednesday, a Saudi official said the kingdom "categorically" denies "any involvement in Jamal's disappearance."
"At this stage, our priority is to support the investigation, as opposed to responding to evolving comments not directly related to those efforts. Jamal's well-being, as a Saudi citizen, is our utmost most concern and we are focusing on the investigation as a means to reveal the truth behind his disappearance. Our sympathies go out to the family during this difficult time," the official said.
'A heavy burden'
Cengiz told CNN that she felt responsible for Khashoggi, and has been "in a state of deep confusion and sadness."
"I have this strange feeling like I have failed to look after something so dear," she said.
On Tuesday, Cengiz implored US President Donald Trump and first lady Melania Trump "to help shed light on" his disappearance in an op-ed published by the Washington Post, where Khashoggi was a columnist.
Trump said that he's been in touch with the "highest levels" of the Saudi government about Khashoggi's case and expressed concerns about his possible murder.
"This is a bad situation. We cannot let this happen — to reporters, to anybody, we can't let this happen. And we're going to get to the bottom of it," Trump said in the Oval Office on Wednesday.
He said his administration has been in touch with Cengiz, and wants to bring her to the White House.
But Trump stopped short of saying whether he believed the Saudis have knowledge about his whereabouts, or may have played a role in his disappearance, stating that not enough was known to make a determination.
Cengiz described how difficult it was, in the middle of dealing with Khashoggi's disappearance, to have to cancel all their wedding preparations.
"It has been a heavy burden to have to stop or even cancel everything we had started," she said.
"We were planning a life between Washington and Istanbul. Like everyone else, were just hoping to live a happy life. I thought that I would learn so much from him," she said.
Cengiz and Khashoggi met at a conference in May, where they soon "became emotionally involved and decided to marry," she said.
As reported by CNN