15-year-old Palestinian teen shot dead by IDF troops while over 1,000 rioted near the Erez border crossing; meanwhile, Hamas delegation returns from Cairo after four days of discussions with Egyptian intelligence on ceasefire with Israel.
A 15-year-old Palestinian teen was shot dead Wednesday evening during clashes between Palestinian rioters and IDF forces near the Erez border crossing in the northern Gaza Strip.
Over a 1,000 Palestinians protested in several different spots along the border fence, throwing stones at IDF forces and setting fire to tires.
The Israeli troops responded with crowd dispersal measures, with the IDF saying the soldiers "are acting in accordance with the rules of engagement."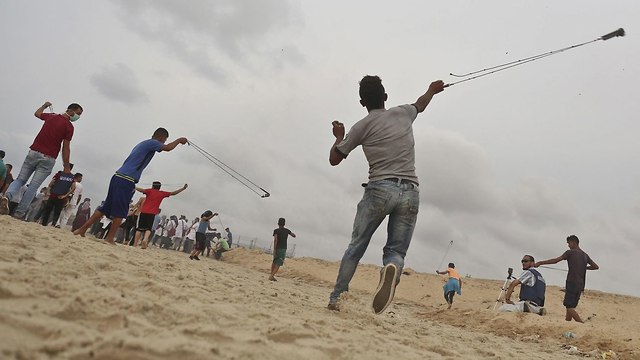 The IDF has yet to comment on the incident in which the Palestinian teen was killed.
Meanwhile, a Hamas delegation headed by the terror group's deputy leader Saleh al-Arouri returned Wednesday after four days of discussions in Cairo with top Egyptian intelligence officials.
The discussions revolved around both the reconciliation with Fatah—a rival Palestinian faction led by Mahmoud Abbas—and an arrangement in Gaza, which would include a ceasefire agreement with Israel. It is unclear what the outcome of these discussions was.
In recent weeks, there has been a spike in Palestinian rioting in Gaza, as well as in the launch of incendiary balloons and kites.
On Monday, some 4,000 Palestinians rioted in northern Gaza, throwing stones and Molotov cocktails and launching fireworks at Israeli forces, who responded with crowd dispersal measures.
Over the last weekend, some 20,000 Palestinians rioted in several spots along the Gaza border. Seven Palestinians were reported killed from IDF fire during those clashes, including three teenagers aged 12, 14 and 18. The IDF said it had attacked a Hamas position.
As reported by Ynetnews