PM meets with his Egyptian counterpart al-Sisi on sidelines of UN General Assembly to discuss regional developments and the situation in Gaza; only an Egyptian flag was put in the room; Egyptian spokesman: 'the two stressed the importance of renewing cease-fire talks with Hamas.'
Prime Minister Benjamin Netanyahu met Wednesday with Egyptian President Abdel Fattah al-Sisi on the sidelines of the UN General Assembly in New York.
The two leaders met amid continued efforts of Egyptian intelligence to mediate a possible long-term ceasefire arrangement between Israel and Hamas.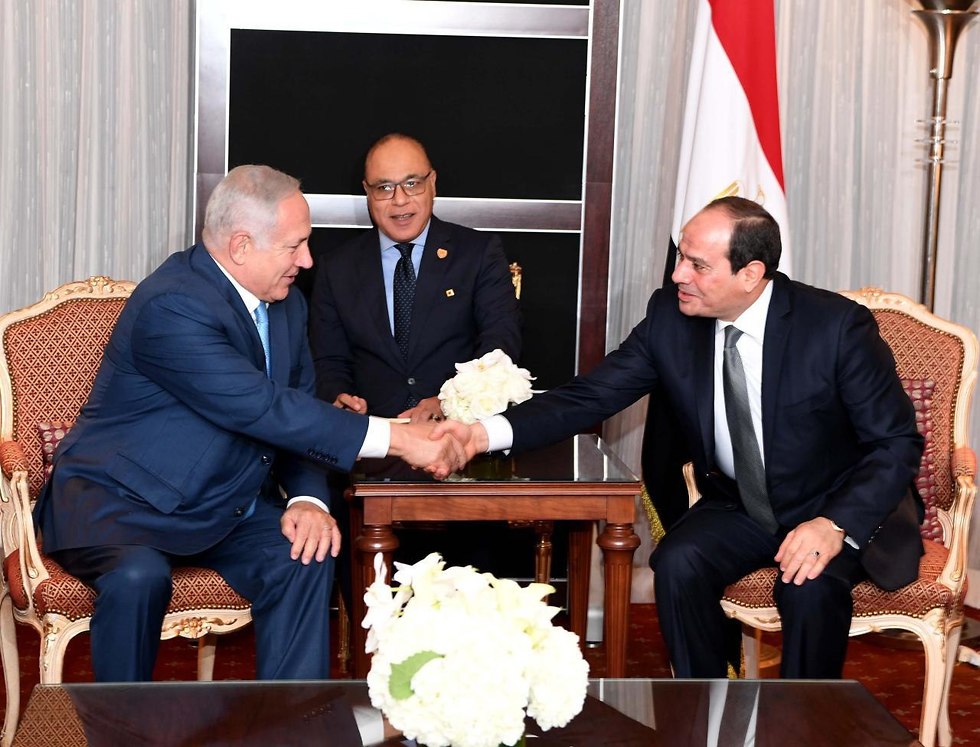 Netanyahu's talks with Sisi late on Wednesday focused on "regional developments", the Israeli Prime Minister wrote on Twitter without elaborating.
A spokesman for the Egyptian president issued a statement saying that the two leaders "discussed the peace process, and stressed the importance of renewing negotiations between the Palestinians and Israelis in order to form a comprehensive and just solution to the Palestinian problem."
He added that resolving the problem would create a new reality in the Middle East, one "in which all peoples enjoy stability." According to the spokesman, Netanyahu thanked al-Sisi for his efforts in fighting terrorism.
Netanyahu and al-Sisi met publicly for the first time in September of last year, also in New York. Last month, Ynet learned that the prime minister held a secret meeting with al-Sisi.
The information came from a foreign diplomatic source, but the Prime Minister's Office refused to comment on the matter.
According to Channel 10 News, the meeting took place on May 22 when Netanyahu flew with a small delegation of advisors and security guards. He stayed in Egypt for a few hours and participated in the breaking of the Ramadan fast before returning to Israel late at night.
Egypt plays an important role in a cease-fire talk between Israel and Hamas.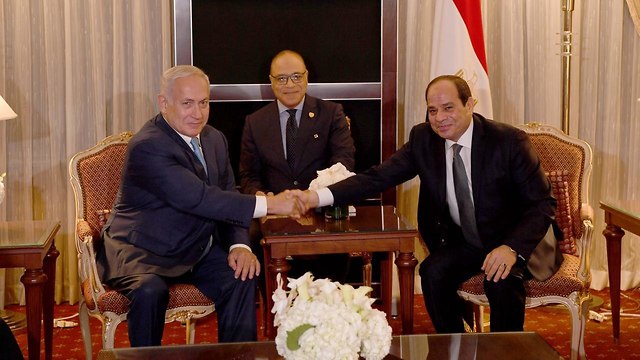 Last Saturday a delegation of senior Egyptian intelligence officials arrived in the Gaza Strip for a brief visit as part of Egypt's effort to renew the internal reconciliation talks in Gaza as well as ceasefire negotiations with Israel.
The Egyptian intelligence officials who entered Gaza through the Erez Crossing met with Hamas leader Ismail Haniyeh for a "significant and crucial" meeting, Palestinian sources said.
"Egypt's main interest is to reach an intra-Palestinian reconciliation in accordance with Palestinian Authority (PA) President Mahmoud Abbas's demand that he is the only legitimate representative of the Palestinians with whom any understandings can be reached.
As reported by Ynetnews