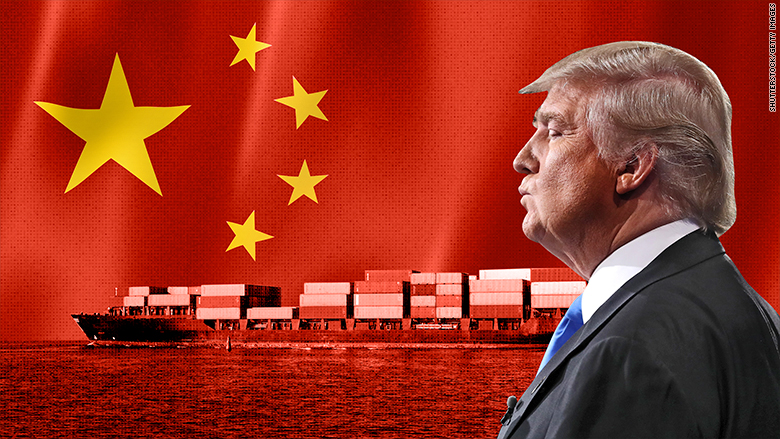 The trade fight between the United States and China is set to intensify Monday when the two economic superpowers hit each other with their biggest round of tariffs yet.
The Trump administration will impose new 10% tariffs on $200 billion of Chinese goods just after midnight ET (noon in Beijing), spanning thousands of products, including food seasonings, baseball gloves, network routers and industrial machinery parts. China has said it will retaliate immediately with new taxes of 5% to 10% on $60 billion of US goods such as meat, chemicals, clothes and auto parts.
The moves are a significant escalation in the growing conflict between the world's top two economies.
"We are squarely in the midst of the 'it'll get worse before it gets better' phase," Aninda Mitra, senior sovereign analyst at BNY Mellon Investment Management, said in a note after the latest tariffs were announced last week.
From Monday, President Donald Trump's waves of new tariffs on China will cover roughly half the goods the country sells to the United States. The latest round affects thousands of products bought by US consumers, including hundreds of millions of dollars of furniture and electronics imports.
The US tariffs imposed earlier in the year mostly hit industrial goods.
The measures are meant to punish China for what the Trump administration says are unfair trade practices, such as intellectual property theft.
Beijing has rejected the US assertions, accusing the United States of protectionism and bullying. It has fired back with tariffs on American goods worth more than $110 billion.
Further escalation is already looming.
The latest round of US tariffs is set to increase at the end of the year from 10% to 25%. China hasn't yet spelled out how it will respond to that.
Trump has also threatened tariffs on another $267 billion of Chinese products. That would mean the US measures effectively cover all China's annual goods exports to the United States (the total for 2017 was about $506 billion).
China, which imports a far smaller amount from the United States, is running out of new products to target, but analysts say it still has other options to retaliate. They include charging even higher tariffs, imposing import quotas, restricting Chinese citizens' travel to the United States for study and tourism, and slashing taxes for companies affected by the tariffs.
'Deadlock'
Trump administration officials have said that the ultimate goal is to achieve free trade with zero tariffs and zero subsidies on both sides. But analysts say Beijing is becoming more suspicious about US intentions.
"China is growing concerned that the US motivation is now trying to keep China down and contain it," Timothy Stratford, a managing partner at law firm Covington & Burling in Beijing, said last week. "I expect that we're going to have a deadlock for some time."
Trump's decision to move ahead rapidly with the latest tariffs appears to have put the brakes on plans for a new round of negotiations between the two sides. Treasury Secretary Steven Mnuchin had invited Chinese negotiators to Washington to resume talks, but a senior White House official said Friday that no new meetings are planned for the time being.
Many American business leaders agree that China's trade practices must be addressed, but they object to the use of tariffs, which are paid by companies importing the products. CEOs now have to decide whether to absorb the cost or pass it on to consumers. Some may be able to find a new supplier outside of China, but that takes time.
Thousands of companies have asked the government to exclude certain products from the tariff list, claiming they cannot find another supplier outside of China for the items they need. None of their requests have been granted so far.
Companies and consumers paying the price
Big corporations are already warning about the damage. US chipmaker Micron said Thursday that the new wave of US tariffs is likely to hurt its profits in the coming year. China's tariffs could hurt America's energy companies planning to export an abundance liquefied natural gas.
American consumers are likely to see prices rise later this fall for a variety of household products, ranging from shampoo, to dog food and appliances, said Doreen Edelman, co-chair of the global business team at law firm Baker Donelson.
Walmart has said the new tariffs could force them to raise prices on wide variety of items, and Target said working families will pay more for school essentials like notebooks, calculators and binders. Procter & Gamble has also warned that tariffs could raise the cost of many of its household staples.
Chinese businesses are feeling the effects, too.
Feng Renhao said his trading firm in the northeastern city of Dalian has suffered "a huge impact."
It had been buying seafood from American companies for more than 20 years. But after China slapped 25% tariffs in July on seafood from the United States, Feng said he had to drop his US suppliers and turn to Canada and European countries.
"We hope the trade war can end soon," he told CNN.
As reported by CNN