Palestinian teen provocateur's father tells Turkish news agency that planned trip to Europe via Jordan—where Tamimi intended to share her experience of imprisonment in Israel for assaulting an IDF soldier—was summarily stopped with no explanation provided.
Israel has imposed a ban on the Palestinian provocateur Ahed Tamimi and her family from traveling abroad, according to a report in the Turkish news agency Andaolu.
Bassem Tamimi, the girl's father, told the news agency that his family had planned to travel to Europe after crossing into Jordan and participate in events during which they would discuss Tamimi's imprisonment in an Israeli jail.
Tamimi, the blond-haired and blue-eyed Palestinian who has become a symbol of resistance among Palestinian supporters, but is viewed by Israel and others as a provocateur encouraged by her family to carry out acts of violence, was released from prison in July after serving an 8-month sentence in Israel for slapping, punching and kicking, along with her cousin, an Israeli soldier on camera.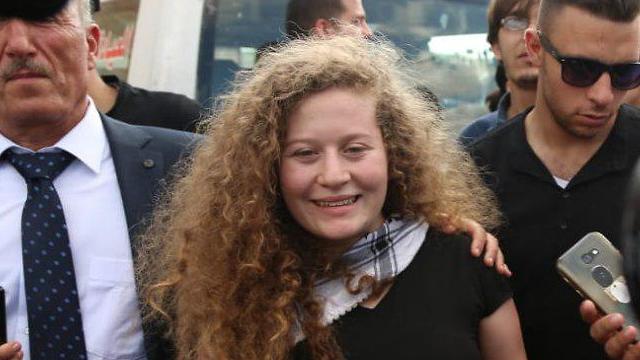 The 17-year-old became a heroine to Palestinians after the December 15 incident last year outside her home in the village of Nabi Saleh was streamed live on Facebook by her mother, Nariman, and went viral. She was 16 at the time.
According to Bassem, the Palestinian authorities informed the family that Israel will not authorize them to leave their country. Their departure was scheduled for this Friday. No explanation was provided, the family said.
Upon her release from prison in July, Bassem said that his daughter "did not make a mistake."
As reported by Ynetnews