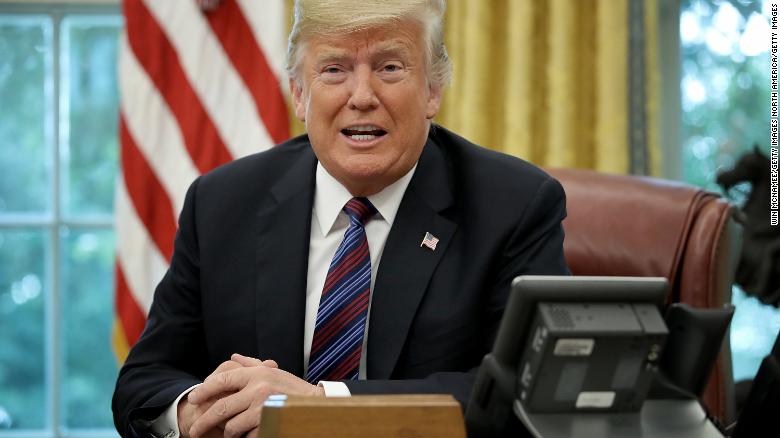 The battle that unfolds in Room 216 of the Hart Senate Office Building will also juice the fight between the parties before November's midterm elections — the culmination of weeks of political combat that could have grave implications for the Trump presidency itself.
The elections, for the entire House of Representatives, one third of the Senate and a clutch of critical gubernatorial and statehouse races, will mark the first time a nationwide electorate has had the chance to cast judgment on Trump's tumultuous impact as the 45th president.
If history is any guide, Trump could be slammed by a corrective wave building since his 2016 election triumph that sweeps Democrats to significant gains, including the possible capture of the House. This would be a nightmare scenario for Trump, since it could tighten a vise of investigations around his White House or even lead to impeachment hearings.
But if the President drives his fabled political base to the polls in sufficient numbers to save the House he would surely interpret his triumph as validation of his tempestuous style and emerge more powerful and even less constrained than ever before.
In between the Kavanaugh hearings and the midterms, a succession of challenges loom, from the Mueller investigation to the stuttering effort to force North Korea to give up its nuclear weapons, that will have considerable implications for Trump and the rest of the world.
'Good job Jeff'
Everyone else might have been enjoying the last long weekend of summer on Monday. But for Trump, there is no off season for attack politics. After aborting an apparent trip to play golf on a steamy Monday afternoon, he set off on a Twitter tear against some of his favorite targets.
First, he lambasted Sessions, this time over corruption indictments laid against Reps. Duncan Hunter of California and Chris Collins of New York, the first two House members to endorse him.
"Two easy wins now in doubt because there is not enough time. Good job Jeff….," Trump tweeted.
The intervention held a mirror up to Trump's mood and nature: It revealed his nervousness about the midterms and his disdain for the traditional firewall between the White House and the Justice Department, meant to guard against the politicization of the law.
It again hinted at the thin ice under Sessions, who Trump appears to believe should be acting as his own personal protector and lawyer rather than as an independent guardian of justice.
Several Republican senators appear to have softened their support for Sessions in recent weeks, sparking speculation that the President could dismiss him after the midterm elections, a period that could be especially volatile if Democrats win the House. Trump told Bloomberg Sessions' job was safe at least until then.
Some Trump critics fear that the President could dispense with Sessions, who is recused from the Russia investigation, in order to get an attorney general that could frustrate it or even prevent the public release of any final report that Mueller chooses to write. It remains unclear however whether the President could get a nominee with such an agenda through Senate confirmation.
Trump on Monday also seized on a more positive aspect of his midterm election message, the strength of the economy, at the start of the week that will include the latest jobs report from his government.
"The U.S. is respected again!" Trump wrote, as he retweeted a message from his press secretary, Sarah Sanders, from which GOP leaders would love him never to deviate.
"Our economy is booming, millions are working again, and our country is back on the right track thanks to President @realDonaldTrump's policies. Happy Labor Day!" Sanders wrote.
Robust economic growth and low unemployment constitute the best incentive Republicans can put before voters this fall. But there is also an argument to be made that Trump's approval ratings — he dipped to just 36% in one recent poll — should be far higher given current prosperity. The fact they are not could be a warning sign that Trump's disinclination to reach out to voters that do not already support him could help doom many Republican lawmakers come November.
The mystery of the Russia probe
Another dark cloud hanging over the midterm elections is the Russia investigation.
Washington is waiting to see whether special counsel Robert Mueller will make any significant moves in the intensely political period ahead or whether he will choose to try to insulate his prosecutors from Republican accusations of trying to influence voters.
The White House has given every sign that it would welcome a campaign season clash with Mueller as a way to fan scare talk of impeachment that could convince any wavering Trump voters that their champion needs their support at the polls. Trump's lawyer Rudy Giuliani has promised to put out his own report debunking notions of Russian collusion or obstruction of justice.
Trump must also worry about widening legal complications from the guilty plea lodged by his former personal lawyer Michael Cohen in a tax and fraud case in which prosecutors also granted immunity to the chief financial officer of the Trump Organization.
His worries on this score may intersect with the Kavanaugh hearings since a debate is expected on the extent to which the President should be exposed to legal scrutiny while in office.
Despite being an aggressive member of independent counsel Kenneth Starr's team during the Lewinsky scandal that led to Bill Clinton's impeachment, Kavanaugh now appears to believe that Congress should shield sitting presidents from civil and criminal cases and takes a sweeping view of executive power.
He is likely to face calls from Democrats to recuse himself from any such cases that make it to the Supreme Court.
Though the Republican majority in the Senate and the demise of the filibuster rule for Supreme Court nominees means Kavanaugh is likely to be confirmed, both parties will use this week's confirmation hearings to engage their most committed activists before the midterms.
Republicans will effectively be making good on a bargain that Trump made with evangelical voters — an important part of his coalition that has held firm despite questions over his conduct and character — following his vow to anoint authentic conservatives to the Supreme Court.
Democrats are likely to use the hearings to build on fears among liberals that the right to have an abortion could be at risk from the new Supreme Court's conservative lurch — a factor that could send moderate voters flocking to the polls in November.
Trump will be sure to capitalize on the Kavanaugh hearing when he kicks his midterm campaign into a higher gear at the end of the week, with visits to Montana and North and South Dakota.
Before then, his administration is braced for the resumption of trade talks with Canada, following his warning to exclude the US ally and top export market from the new iteration of the North American Free Trade Agreement that he put at the center of his 2016 campaign.
As reported by CNN