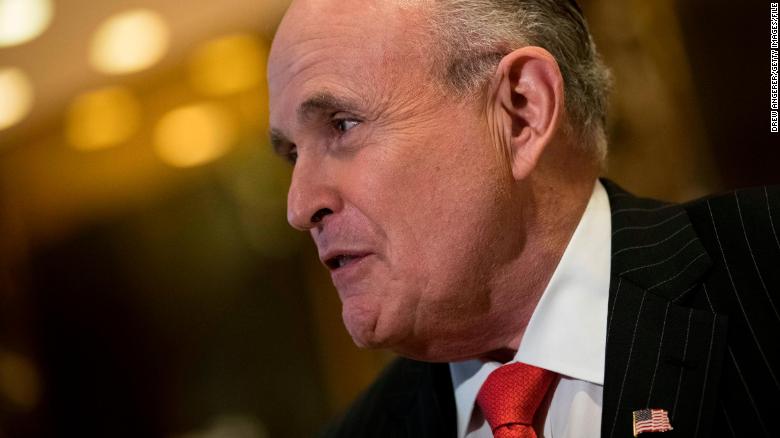 Washington – Rudy Giuliani, President Donald Trump's attorney, said Sunday that "truth isn't truth" when explaining that he won't let special counsel Robert Mueller rush Trump into testifying because he doesn't want investigators to trap the President into a lie.
"When you tell me that, you know, he should testify because he's going to tell the truth and he shouldn't worry, well, that's so silly because it's somebody's version of the truth. Not the truth," Giuliani told NBC's Chuck Todd on Sunday morning during "Meet the Press."
"Truth is truth," Todd said in response.
"No, no, it isn't truth," Giuliani said. "Truth isn't truth. The President of the United States says, "I didn't …"
"Truth isn't truth?" Todd interjected. "Mr. Mayor, do you realize, what … I think this is going to become a bad meme."
"No, no, no … don't do this to me," Giuliani said.
"Don't do 'truth isn't truth' to me," Todd continued.
"Donald Trump says I didn't talk about [former national security adviser Michael] Flynn with [then-FBI Director James] Comey. Comey says you did talk about it. So tell me what the truth is," Giuliani said.
This isn't the first time in recent days that Giuliani has spoken about the truth and facts this way.
During an appearance on CNN's "Cuomo Prime Time" on Tuesday evening, Giuliani told CNN's Chris Cuomo
that facts are in the eye of the beholder.
"If fact [checking] is anything, we've never had anybody with the level of mendacity that he has. Not even close," Cuomo said of Trump.
"It's in the eye of the beholder," Giuliani responded.
"No, facts are not in the eye of the beholder," Cuomo said.
"Yes it is — yes they are. Nowadays they are," Giuliani asserted.
The President's outside legal team for the special counsel investigation, which is headed up by Giuliani, replied to Mueller's proposal for terms of possible presidential testimony earlier this month, but the former New York mayor wouldn't disclose the details of his team's response.
Trump has said he is willing to speak with Mueller's team, but his legal team has expressed opposition to that possibility because they believe the special counsel's investigators could take what Trump says, if it differs from what others have laid out, as a lie.
"They have two pieces of evidence," Giuliani said to Todd on Sunday morning, explaining his stance. "Trump says I didn't tell them, and the other guy says that he did say it. Which is the truth? Maybe you know because you're a genius."
On Sunday afternoon, former FBI Director James Comey appeared to respond to Giuliani's "truth isn't truth" comment via Twitter.
"Truth exists and truth matters. Truth has always been the touchstone of our country's justice system and political life. People who lie are held accountable. If we are untethered to truth, our justice system cannot function and a society based on the rule of law dissolves," Comey tweeted.
Giuliani has been speaking about Comey in the news lately. Last week, Giuliani told CNN's Jake Tapper that if the President sits down for questioning by special counsel Mueller, Trump will say he never discussed easing up on a probe of former national security adviser Flynn with Comey.
As reported by CNN