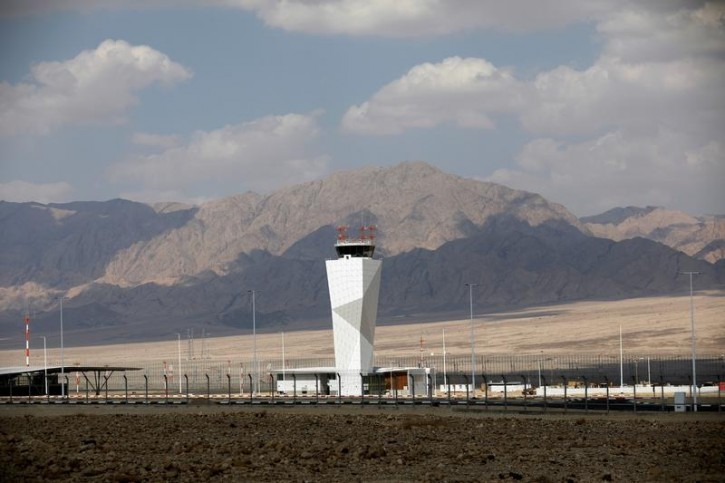 Eilat, Israel – Once almost lost to international tourism, the Israeli resort of Eilat hopes a new airport will attract a million foreign visitors a year by 2025, with eastern Europeans especially offering growth for the winter holiday season.
International tourist arrivals in Israel hit a record 3.6 million last year, pumping $5.5 billion into the economy. But three-quarters of them opted for Jerusalem, leaving the Red Sea beaches of Eilat more for Israeli holidaymakers.
Foreign tourists are scarce in the winter when temperatures in Eilat are warm but hotels are half empty.
Travelers to Eilat flying into Israel's main international airport near Tel Aviv need to take an extra domestic flight, or make an arduous four-hour drive through the Negev desert.
But the most glaring problem is the old airport in the city center, which can take only eight flights an hour and no wide-body aircraft. That capacity is already filled by the 1.4 million plus Israelis who fly to Eilat each year.
"Eilat almost disappeared from the map of international tourism," Tourism Minister Yariv Levin told Reuters. "We saw only four (international) flights a week to Eilat three years ago, which is almost nothing. From next winter, we will probably see more than 50 and maybe even 60 flights per week."
Direct international flights are now available thanks to government incentives, but only to a stop-gap civilian terminal at the Ovda military airfield 60 km (40 miles) from Eilat. More than 175,000 foreign tourists flew into Ovda in the first five months of this year, double the entire figure for 2017.
But the $500 million Ramon International Airport will have an annual capacity of 2.5 million passengers, with room for expansion. Scheduled to open later this year, it will be able to handle 20 takeoffs and landings an hour and accommodate larger aircraft such as Boeing 747s.
Ramon International, 18 km from the city, will replace the old airport while Ovda will revert to sole military use.
With Eilat bordering on Egypt's Sinai peninsula, where Islamic State remains active, it will be protected by a 30-metre (100 foot) high fence equipped with sensors and detection technology to protect against missile and other attacks.
DEAD SEA AND DESERT
The revival began in 2015, when the government and Eilat Hotels Association began offering airlines 60 euros ($70) per passenger they brought on direct flights from abroad to Ovda. Taxes and fees were also scrapped for three years to keep fares low.
Mostly low-cost carriers such as Ryanair
fly in the winter season to Ovda, particularly from eastern and central Europe where rising living standards now allow many to take a second holiday as well as the traditional summer break. Links with western Europe are also growing, with flights from Zurich and Madrid starting this winter.
"The growth potential is in foreign tourism because the local market is at a standstill," said Shabtai Shai, head of the Eilat Hotels Association.
Ryanair, Europe's biggest low-cost carrier, will add flights from Prague this winter for a total of 15 routes to Eilat
Chief commercial officer David O'Brien noted that while the Canary Islands are closer for western Europeans, Eilat is a shorter hop for central and eastern Europeans.
"For once, Israel is able to exploit its geographical market," said O'Brien. "The openness of Europeans to try new destinations is growing."
Michael Watkin, visiting Eilat with his wife Nori from Copenhagen, said he would come more if there were direct, competitively priced flights from Denmark.
"The weather is so amazing all year round. When people are looking for a winter vacation they are looking for warmth, sun, going to the pool and just being outside," he said.
Liat Agassi, marketing manager for the city's Municipal Tourism Corporation, said Eilat's proximity to the Negev desert was also a draw. "If you come from Europe, you see many things but you don't get to see the desert and you don't get to see the Red Sea," she said.
As reported by Vos Iz Neias