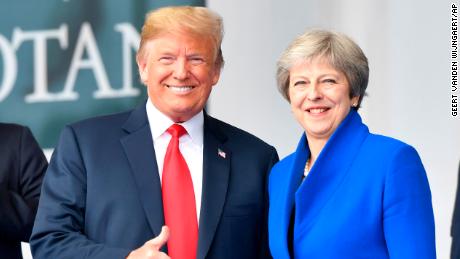 London – President Donald Trump and British Prime Minister Theresa May did not address the US President's stunningly critical comments about May as Trump arrived Friday for their first working meetings.
Trump and May talked up the close relationship between their two countries at the outset of their bilateral meeting Friday morning at Chequers, the British prime minister's country retreat, and complimented each other. May said Trump "did a very good job at NATO" while Trump said the two "worked very hard together at NATO."
Asked whether he regrets his interview with British tabloid The Sun — in which he knocked May's "soft Brexit" compromise and boosted a rival within her own party — Trump very visibly shook his head and rolled his eyes, turning to his aides with a look that showed his displeasure with the question. May looked toward him after he declined to answer.
Trump and May will hold a joint news conference on Friday where they are likely to be pressed about the interview, which has dominated news coverage in the US and UK since Thursday night.
Trump's interview published Thursday amounted to a stunning diplomatic affront for a visiting US president, emerging while Trump was still at a gala dinner May threw in honor of his visit. The dinner offered much of the pomp and circumstance of a state visit, with a military band, red carpet and ornate surroundings, even though Trump's stop in the UK is officially not a state visit.
For May, it comes at a time when she is already politically weakened following a string of resignations from her Cabinet.
Despite Trump's criticism — which pounded the front pages of nearly every British newspaper — he and May carried on with their regularly scheduled meetings on Friday. Trump and first lady Melania Trump are also scheduled to have tea with Queen Elizabeth II on Friday afternoon, his first visit with the British head of state.
The US first lady visited the Royal Hospital Chelsea this morning with Philip May, husband of the prime minister, while their spouses meet at Chequers. The Royal Hospital is not actually a hospital, but a home for retired soldiers, known as the Chelsea Pensioners.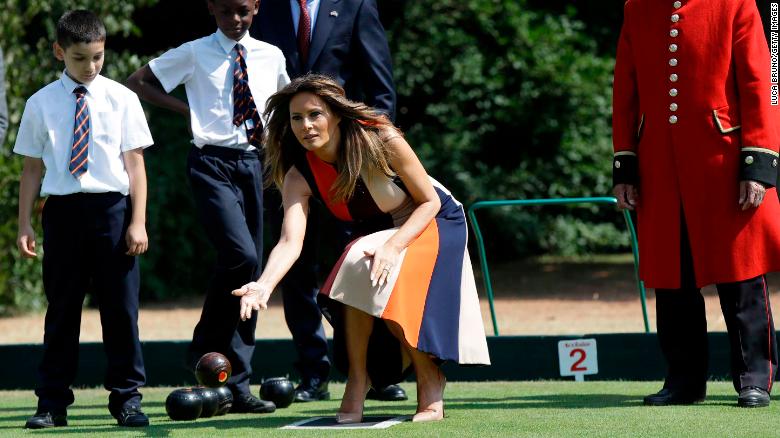 The White House attempted to mollify Trump's criticism, with White House press secretary Sarah Sanders releasing a statement insisting that "the President likes and respects Prime Minister May very much."
"He thought she was great on NATO today and is a really terrific person," Sanders said. "He is thankful for the wonderful welcome from the prime minister here in the UK."
But Sanders' statement will likely do little to clean up Trump's black-and-white comments about May's handling of Brexit negotiations, in which Trump warned that May's "soft Brexit" would likely "kill" the prospect of a new US-UK trade deal and explained that he "told her (May) how to do" Brexit.
"I told her how to do it. That will be up to her to say. But I told her how to do it. She wanted to go a different route," Trump said, adding that May "didn't listen." "She should negotiate the best way she knows how, but it's too bad what's going on."
Trump also all but endorsed May's chief political rival within her own party, the recently resigned British Foreign Secretary Boris Johnson, calling him "a very talented guy," lamenting his resignation from May's Cabinet and saying he believes Johnson "would be a great prime minister" — though he insisted he was "not pitting one against the other."
Trump's rebuke of May came even as the UK prime minister offered her support for Trump's controversial upcoming summit with Russian President Vladimir Putin.
"I welcome President Trump's forthcoming meeting with President Putin: Open channels of communication between the US and Russia are key to managing the risks of confrontation," May said in a speech during a working dinner with NATO allies, according to quotes from her remarks provided by her office.
Her government rolled out the red carpet for Trump and worked with the US to pull off a visit that mitigated the effect of long-expected protests in London.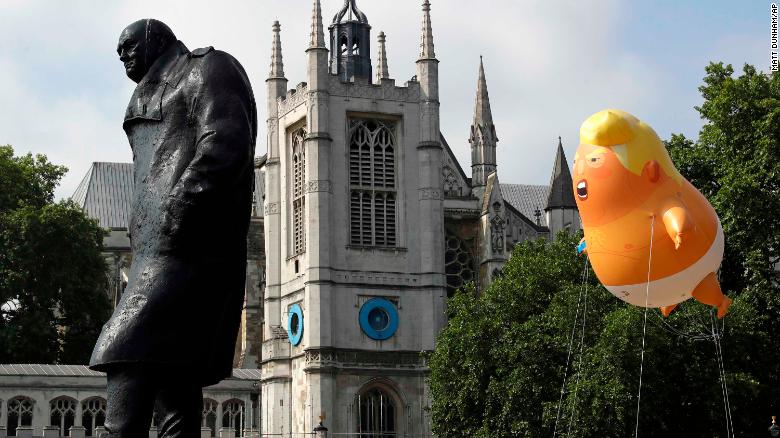 The US President, who has faced planned protests in London since his arrival, also told The Sun he feels "unwelcome" in London, explaining why much of his visit will take place outside the capital city.
The "Trump Baby" blimp that was expected as part of the protests floated up outside of Britain's House of Parliament on Friday morning.
Blimp organizer Leo Murray told CNN the giant balloon had been designed to speak to Trump "in a language that he understands, which is personal insults."
As reported by CNN