Dr. Dafi Moran of the Wolfson Medical Center in Holon writes an emotional Facebook post about the special connection she established with a Gazan baby suffering from a life-threatening heart defect and his grandmother; 'There are people with left-wing views and people with right-wing views at the hospital, but we leave the news outside,' she says. 'We are, first of all, human beings.'
Dr. Dafi Moran, a resident doctor at the Wolfson Medical Center's Pediatric Department, posted a message on her Facebook page recently which quickly went viral.
"Two days ago, in a windowless corridor in the center of Israel, a five-month-old baby from Gaza was wheeled away from his crying grandmother, while two Israeli women held her," Dr. Moran wrote.
"He was taken into heart surgery, for the second time in his short life, where Israeli doctors fixed his congenital heart defect and gave him a chance for a normal life. Meanwhile, the two Israeli doctors consoling his grandmother hugged her and prayed with her for a successful surgery.
"I was one of the two Israeli doctors in the corridor. There were no cameras. No press. No countries. No conflict. No religion. Just people, trying to help each other. There is hope."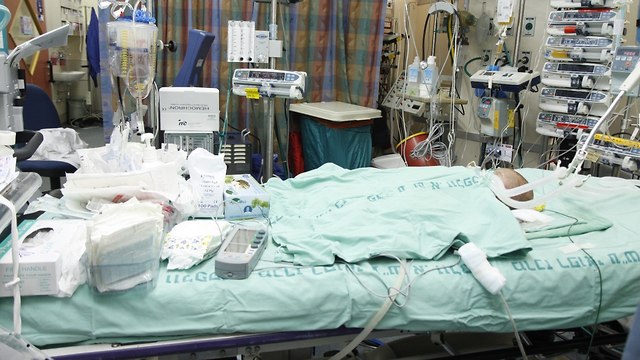 The Gazan baby and his grandmother arrived at the hospital with the help of the Save a Child's Heart non-profit organization, which offers life-saving pediatric cardiac care for children from Third World countries.
Dr. Moran says she felt a special connection to the baby and to his grandmother. "I grew attached to them during their stay at the Wolfson hospital. Occasionally, a special connection is created with a patient's family, regardless of where he comes from.
"I escorted him to several checkups. He is almost as old as my son, who was born a short while ago. I held him in my arms to made him stop crying. When I escorted them to surgery, I had a very emotional moment with the grandmother who accompanied him. We managed to connect despite the language barrier. I wanted to share this emotional moment with my friends. I have many friends abroad who occasionally voice their opinion on the conflict. I thought they should see another angle of the situation.
"I never imagined the post would reach so many people. So far, I have only received positive reactions about it."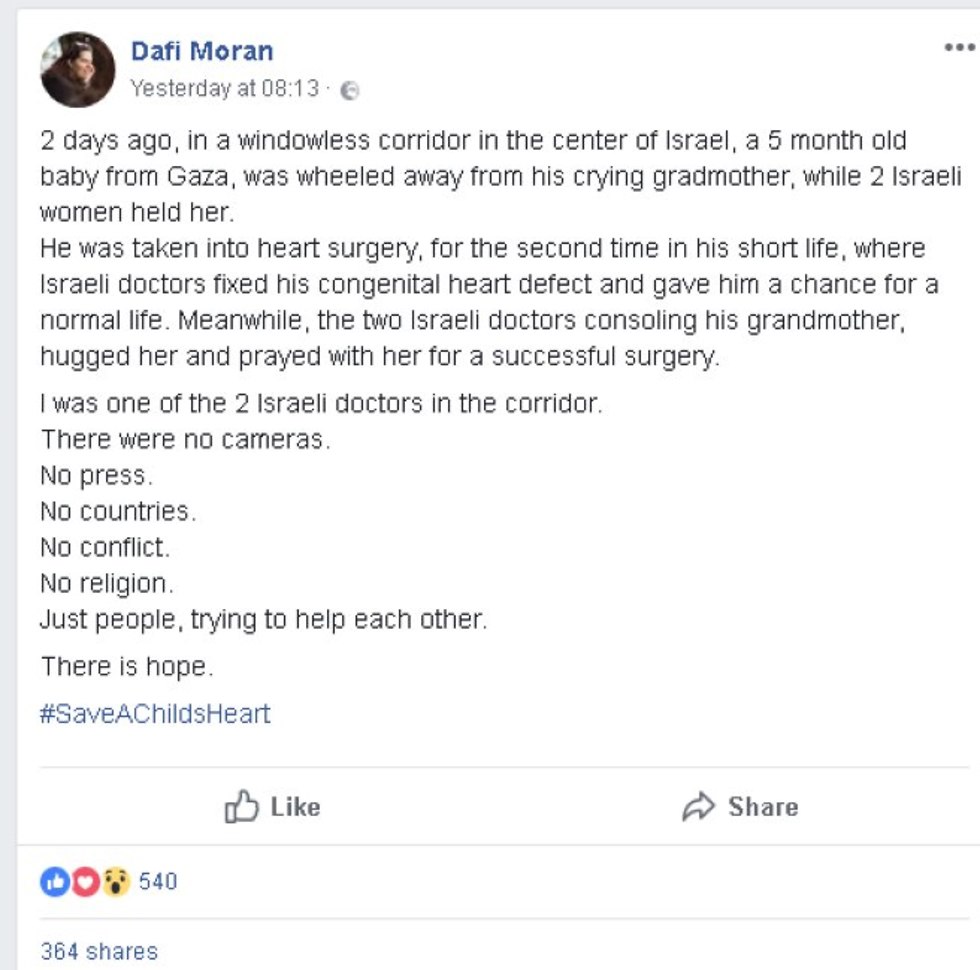 Dr. Zion Houri, director of the Children's Intensive Care Department at the Wolfson Medical Center, explains that the baby suffered from two congenital defects. "One defect caused failures in the movement of blood from his lungs to the heart, and the second defect was a coarctation of the aorta."
According to Dr. Houri, each defect placed the five-month-old baby in a separate life-threatening situation. Together, the defects posed a double threat.
"We performed an initial operation to repair the movement of blood and kept him for observation. After he came out of intensive care, we saw that the coarctation of the aorta was worse than we had thought, so he needed surgery to repair that defect as well."
Leaving the news outside the hospital
Dr. Moran says she and her colleagues don't let current affairs interfere in their work.
"We're all human beings. We all hear the news. At the hospital, there are people with left-wing views and people with right-wing views, but at the end of the day it makes no difference. Whoever comes to work leaves the news outside the hospital. We are, first of all, people and doctors. We're talking about a baby whose chance to live a full life would be very small if it weren't for our treatment. When I look at him, I don't see a child from Gaza. I see a child."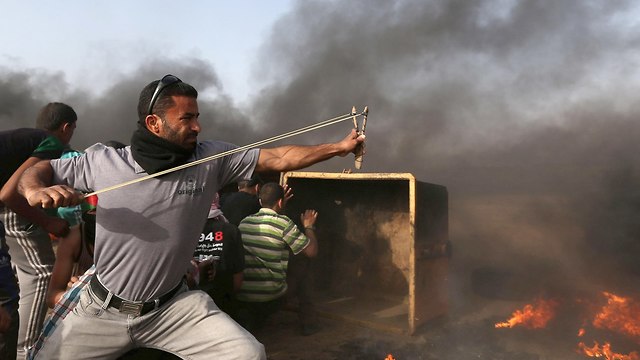 The doctor stressses that treating children from Third World countries doesn't come at the expense of treating Israeli children. "It's true that the health system is overburdened, but Israeli children receive precedence in every issue. Our staff becomes professional as a result of treating these children. These are usually complicated cases, which we don't see among Israeli children, because our health system is more advanced. The experience we gain from these cases is valuable."
"A child is a child is a child," adds Dr. Houri, who is also one of the Save a Child's Heart's founders. "His or her parents' background makes no difference. The importance of this project is the children. We have operated on children from 57 countries in the world. There's a lot of satisfaction in that."
Since its establishment in 1995, Save A Child's Heart has saved more than 4,700 children from 57 developing countries and has trained more than 150 medical staff members from these countries.
These days, the organization is building a children's hospital at the Wolfson Medical Center, which will serve the local Israeli population along with the children being treated by the organization and serve as an international center for pediatric cardiac surgery.
As reported by Ynetnews