In first encounter since diplomatic spat erupted following incident involving Israeli security guard and death of two Jordanians at the Israeli embassy in Amman, the two leaders discuss regional developments, the peace process, economic ties and Netanyahu reiterates commitment to upholding status quo of Jerusalem's holy sites.
Prime Minister Benjamin Netanyahu met with Jordan's King Abdullah II in Amman on Monday, in what was their first encounter since a diplomatic spat erupted following a deadly incident last year involving an Israeli security guard and two Jordanians at the Israeli embassy in the Hashemite Kingdom.
According to a statement from the Prime Minister's Office, the two leaders "discussed regional developments, advancing the peace process and bilateral relations."
The statement also said that Netanyahu "reiterated Israel's commitment to maintaining the status quo at the holy sites in Jerusalem."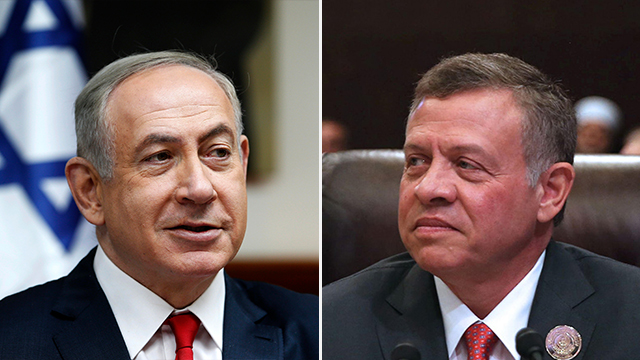 In March, Jordan accepted Israel's choice of a new ambassador for the kingdom, another sign of improving ties after a months-long crisis.
Government spokesman Mohammed Momani said at the time that the envoy, Amir Weissbrod, "can start his mission any time now."
Last month, Weissbrod landed in Amman where he officially took up his post as the Israeli ambassador, nearly nine months after his predecessor Einat Schlein, along with her entire diplomatic staff, was forced to leave Jordan due to the shooting incident that ruptured the two countries' relations.
The incident began last summer when a security guard at the Israeli embassy in Jordan shot and killed two Jordanians, alleging one attacked him with a screw driver. The Israeli guard and Schlein were given a hero's welcome by Netanyahu, infuriating Jordan.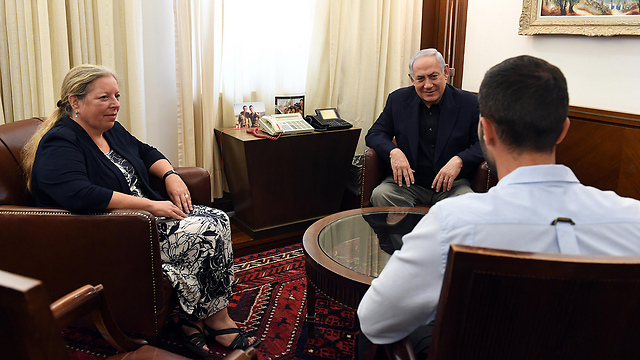 Jordanian authorities say they suspect the shooting was unprovoked but could not investigate the guard due to his diplomatic immunity.
A senior official confirmed after the incident that Schlein would not be returning to Amman. "The Jordanians don't want her back, and this has been a big obstacle in patching things up."
Israel has shown no sign of meeting Jordan's demand that it launch criminal proceedings against the guard, who was identified, much to Israel's chagrin after the shooting, by the Jordanian daily Al-Rad as Ziv Moyal, 28. His diplomatic identity card was also published, delivering a blow to Israel which had censored the publication of his details.
As reported by Ynetnews