Madrid – Pedro Sánchez was sworn in Saturday as Spain's Prime Minister, a day after ousting scandal-hit political rival Mariano Rajoy in a no-confidence vote.
Sánchez, who leads the Spanish Socialist Workers' Party, took the oath of office before King Felipe VI at the Zarzuela Palace near Madrid. He was the first Spanish Prime Minister to be sworn in without a Bible or crucifix, according to his party.
"I promise by my conscience and honor to faithfully fulfill the obligations of the office of President of the Government with loyalty to the King, and to keep and enforce the Constitution as the fundamental norm of the State," Sánchez said.
Rajoy was present at the ceremony, shook Sánchez's hand and wished him good luck.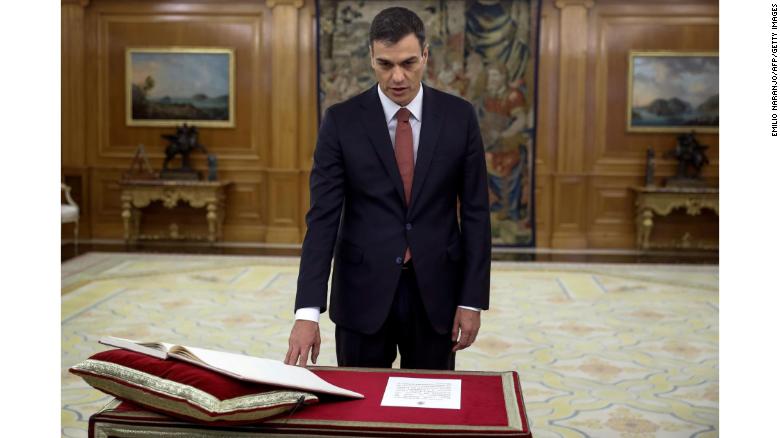 The 46-year-old politician faces significant challenges as he assumes office. Spain was riven last year by the Catalan independence crisis, which remains unresolved, and many Spaniards continue to feel the effects of the global economic crisis.
Sánchez — a pro-European economics professor who was a keen basketball player in his youth — previously said he would call for snap elections should he become Prime Minister.
Sánchez will work on his Cabinet this weekend, and it will be announced at some point next week, his party said.
His Socialists secured support for the no-confidence motion from a number of other parties in parliament, including the anti-austerity Podemos, Catalan pro-independence parties and the Basque Nationalist Party.
Since his own party holds only 84 seats in the 350-seat chamber, Sánchez will need to keep those parties, with their differing agendas, on his side in order to pass any legislation.
'Spain starts a new page'
Posting Friday on Twitter, Sánchez promised a fresh start for the country. "Spain starts a new page. A period to recover the dignity of its institutions. From responsibility, dialogue and consensus, it is time to work for equality, to build a country that does not leave anyone behind," he said.
Rajoy had been in power since 2011 as the head of the Popular Party. On Friday, he became the first leader in Spain's modern democracy to lose a no-confidence vote in parliament.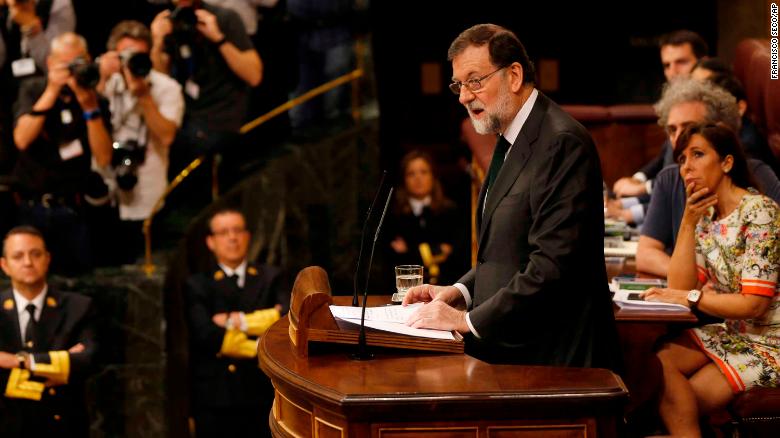 The Socialists tweeted that it was a "great day for democracy" and that the party would "work responsibly to give back our country the dignity it deserves."
Rajoy's party has been plagued with corruption allegations for years. Rajoy has faced the humiliation of testifying in cases against its members, though he has not been among the accused.
The confidence motion was filed by Sánchez after a court convicted Rajoy's former aides of running slush funds to help finance Popular Party election campaigns. The court also questioned the credibility of Rajoy's testimony during the proceedings.
It was the first time in Spain that a party had been convicted and fined on corruption-related charges.
As reported by CNN