Despite reports Jerusalem and Moscow reached agreement for Iranian and Hezbollah forces to withdraw from southern Syria, Israeli official says PM Netanyahu insists Tehran must leave Syria completely.
An Israeli diplomatic official denied Saturday night reports that Israel has reached understandings with Russia regarding Iranian presence in Syria.
The official said Prime Minister Benjamin Netanyahu had spoken to Russian President Vladimir Putin and US Secretary of State Mike Pompeo and stressed to them that the Iranians must leave Syria completely, and not just withdraw from the Golan Heights.
Netanyahu also told Putin and Pompeo that Israel will maintain full freedom of operations against Iranian entrenchment in Syria.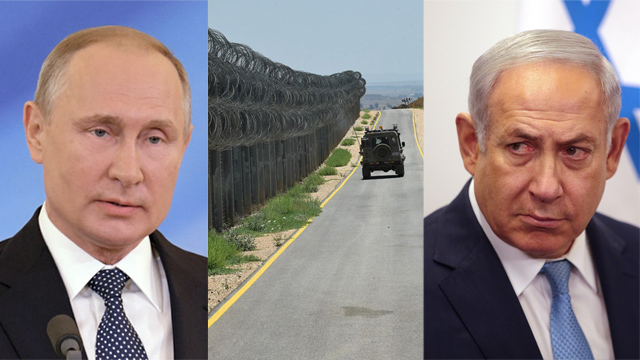 According to a report in Asharq Al-Awsat, the Iranian and Hezbollah forces will initially pull back their forces to within 20 kilometers of the border, and later to a range of 60 to 70 kilometers, with Russia underlining the fact that this was a gradual process.
In addition, Russia has reportedly given Israel a "green light" on operating in Syria's territory under the condition it will not harm Syrian regime centers.
Russian President Vladimir Putin reportedly wanted Israel to allow Assad's army to move southwards to the Jordanian border and secure all of the Syrian Golan Heights.
In return, the Russian president is willing to promise Israel that Iran's Revolutionary Guards Corps and Iran-affiliated militias will not be present in the territories Assad's army takes.
On Friday, Russia's ambassador to the UN Vasily Nebenzia said he heard from the news that an agreement was reached on "certain disengagement in the southwest of Syria and, I think, my understanding is that an agreement has been reached."
But Syria's Foreign Minister Walid Muallem insisted Saturday no agreement has been reached for southern Syria, adding that Damascus is not currently involved in any negotiations over the area.
Meanwhile, a Syrian war monitor reported that Iranian troops and fighters of Lebanon's Hezbollah group are preparing to withdraw from southern Syria.
The Britain-based Syrian Observatory for Human Rights said Thursday Iranian advisers and Hezbollah fighters will be withdrawing from the southern regions of Daraa and Quneitra near the Golan Heights.
As reported by Ynetnews