Lashing Netanyahu for deliberately failing to resolve 'fake and unnecessary crisis', and accusing him of treating Israeli citizens like 'toys' by possibly calling early elections, Bayit Yehudi leader says defense minister portfolio may not be enough to satisfy his ambitions in next government.
Education Minister and Bayit Yehudi party leader Naftali Bennett announced Sunday morning that he would consider running for prime minister if early elections were held in Israel caused by what he described as a "fake" coalition crisis.
"If (Prime Minister Benjamin) Netanyahu forces elections on the citizens of Israel for personal and irrelevant reasons, the public will settle the score with him and we will also consider running and going head to head for the premiership," Bennett said in an interview with Ynet.
The crisis erupted in recent weeks when the Council of Torah Sages demanded that Deputy Health Minister Yaakov Litzman's United Torah Judaism (UTJ) make his support for the 2019 state budget dependent on the passage of an amendment to the current IDF conscription law that would solicit state recognition of Torah studies to being equal to military service.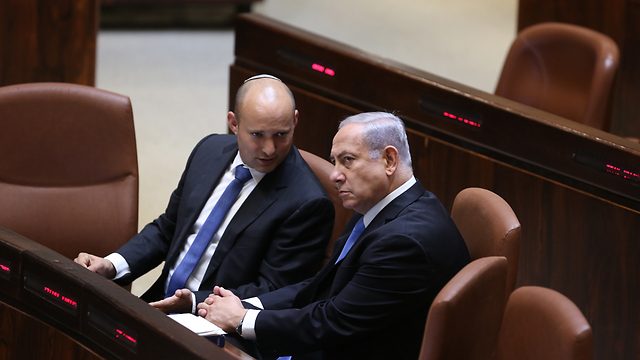 The amendment Litzman is seeking to the current law would essentially facilitate exemption from military service for yeshiva students.
Just hours before Netanyahu convened a meeting with the heads of the coalition parties on Saturday evening in a bid to resolve the disagreements, Bennett accused him of treating Israeli citizens like toys.
"If the prime minister thinks he can tell the whole state 'follow me to the elections', he will show himself to be alone on the hill and lose the nation. Are eight million Israeli citizens his toys? We're taking them to elections a year-and-a-half before it is time?" Bennett asked.
"No one at the moment has a desire for elections. It is bad for the state and the citizens. Elections cost millions in state funds and they should take place in their right time. We are not a third world country," he complained.
"The public needs to know that this crisis is not a crisis. It is fake and unnecessary. Even after we reached a compromise and presented an outline, yesterday more conditions were added," Bennett claimed.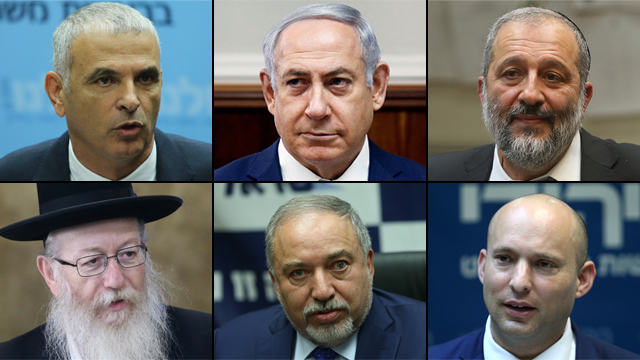 "I said last week and I will say it again: this is a fake crisis. The prime minister could have resolved it within a few minutes. It's not clear what exactly he wants and where he is leading us to."
Insisting that he supports Netanyahu and believes that he generally handles state matters responsibly, Bennett decried the possible "dragging" of the nation to premature elections.
"I support the prime minister because I think that he conducts state business to the best of his judgement. If Bibi was prime minister after managing things well and responsibly, we would support him," he added, referring to the prime minister by his nickname.
"Next time, I would be defense minister and wouldn't run against him. Even though I said I wouldn't run against him, if it turns out that he drags the state to unnecessary elections, I will reconsider everything."
The coalition meeting held on Saturday night concluded with Netanyahu setting out a list of terms designed to restore unity, but without any final agreement.
During the meeting that lasted two hours and finished just after midnight, the prime minister instructed that the phrasing of the amendment bill to the conscription law being sought by the ultra-Orthodox parties be agreed upon by all the Haredi parties and Attorney General Avichai Mandelblit.
Some have speculated that the crisis is a mere ploy to let the government unravel itself, thereby providing a pretext for Netanyahu to call elections, bolster his mandate and extricate himself from the net of corruption investigations closing in around him, while simultaneously demonstrating his indispensability in keeping a coalition together.
"If Netanyahu wants elections in June, he won't get them," said a coalition official on condition of anonymity on Saturday.
"To dissolve the Knesset and prematurely call elections he has to agree on a date. All coalition partners are against calling early elections over this fake crisis and the vast majority of MKs in the Likud are against it."
"It's Netanyahu against 119 MKs," the official added. "He wants us to give his elections on a silver platter because that is what is comfortable for him and what suits him. He's on a high in the polls and from the euphoria of the US visit and he thinks this is the best time from his point of view. But it won't happen."
"There is an obligation on all the coalition parties that the moment we signed the coalition agreement, he would sign that he wouldn't dissolve the Knesset until November 2019," said the official.
Other officials in the coalition suggested on Saturday night that the toughening of Defense Minister Avigdor Lieberman's stance on the conscription bill was no coincidence, and was being coordinated with the prime minister to ratchet up the crisis and deliver the coup de grâce.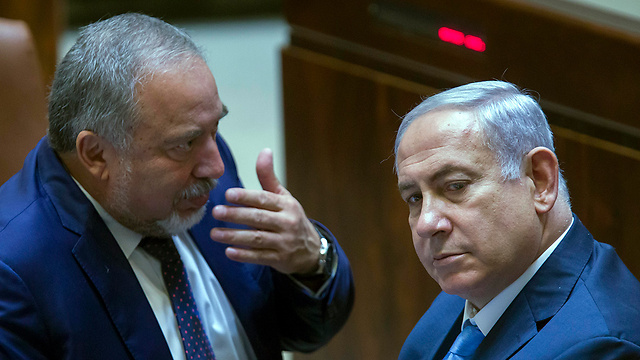 "It looks like Netanyahu and Lieberman are coordinating and are determined to to bring down a right-wing government over nothing," the official contended.
However, the Prime Minister's Office dismissed the rumors as "nonsense" while Lieberman's offices labelled them as "a crude lie. The claims of coordination are nonsense."
As reported by Ynetnews