Facing pressure from his ultra-Orthodox flank, which has made its support for 2019 state budget dependent on legislation to enable Haredi yeshiva students to avoid IDF conscription, and threatened with early elections by finance minister if budget not passed, a defiant PM insists 'goodwill' can resolve crisis.
Israel will not head for elections in the coming months if "goodwill" prevails among coalition partners to solve an internal feud over IDF conscription, Prime Minister Benjamin Netanyahu said Sunday before his departure to the United States.
Last Wednesday, the United Torah Judaism party (UTJ) plunged the government into yet another crisis by pledging not to support the state's 2019 budget unless an IDF conscription bill, that would solicit state recognition of Torah studies to being equal to military service, was brought for a vote and passed in the Knesset.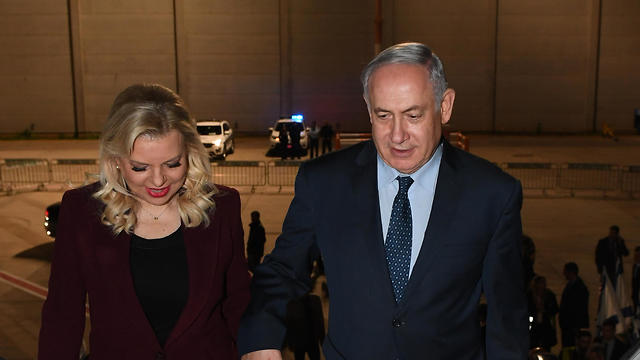 Since then, Finance Minister Moshe Kahlon (Kulanu) issued an ultimatum, threatened to pull out of Netanyahu's Likud-ruled coalition if his budget was not passed within two weeks.
"There is no need for (to go to early elections) and if there is goodwill it won't happen," Netanyahu said while standing with his wife Sara before ascending the plane. "There's goodwill on my part and I hope that there is also among our other partners."
But since the crisis erupted, matters only appeared to be getting worse, with government sources attending the late night meetings to solve the problem reporting that the coalition "faces the toughest crisis since its founding."
Netanyahu was not the only one in the Likud ranks, however, determined to project confidence in the wake of a potentially impending collapse.
Culture and Sports Minister Miri Regev, who is filling in for the prime minister during Netanyahu's trip to the US, stated during an event on Saturday night dubbed "Miri's Banquet" that only the Likud could be sure of a guaranteed victory in the event of premature elections.
As reported by Ynetnews