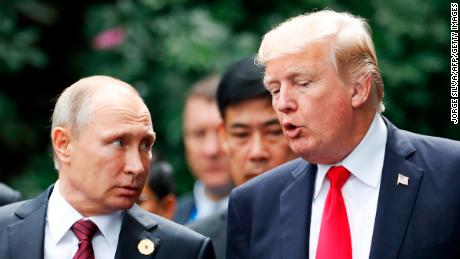 Washington – President Donald Trump says Russians are "laughing their asses off in Moscow" for the way Washington has handled the Russia investigations, following the Department of Justice's charges against Russian nationals last week for allegedly interfering in the 2016 election.
"If it was the GOAL of Russia to create discord, disruption and chaos within the U.S. then, with all of the Committee Hearings, Investigations and Party hatred, they have succeeded beyond their wildest dreams. They are laughing their asses off in Moscow. Get smart America!" Trump tweeted Sunday morning.
The President has repeatedly called the investigations into his presidential campaign's potential collusion with Russia a "hoax," but on Sunday, Trump tried to clarify his stance.
"I never said Russia did not meddle in the election, I said 'it may be Russia, or China or another country or group, or it may be a 400 pound genius sitting in bed and playing with his computer,'" Trump tweeted. "The Russian 'hoax' was that the Trump campaign colluded with Russia – it never did!"
Russia has denied any involvement in the election, and Trump has repeatedly denied any collusion.
But Trump has repeatedly cast doubt on Russian meddling in the 2016 election as a "hoax" as well.
In September 2017, he tweeted: "The Russia hoax continues, now it's ads on Facebook. What about the totally biased and dishonest Media coverage in favor of Crooked Hillary?"
Last November, he also told the press that he took Russian President Vladimir Putin at his word that Russia did not seek to interfere in the 2016 election.
"Every time he sees me, he says, 'I didn't do that,' " Trump said. "And I believe, I really believe, that when he tells me that, he means it."
And as recently as last week, three sources familiar with the President's thinking told CNN he remained unconvinced that Russia interfered in the presidential election.
Trump praises, slams Schiff in same tweet
On Sunday, Trump also praised Rep. Adam Schiff, the ranking Democrat on the House Intelligence Committee, for placing some blame for Russian interference into the election onto the Obama administration.
"Finally, Liddle' Adam Schiff, the leakin' monster of no control, is now blaming the Obama Administration for Russian meddling in the 2016 Election. He is finally right about something. Obama was President, knew of the threat, and did nothing. Thank you Adam!" Trump tweeted Sunday morning.
But Schiff pushed back on Trump's assertion Sunday morning, telling CNN's "State of the Union" that the President "claims vindication anytime someone sneezes."
"I've said all along that I thought the Obama administration should have done more … They were very wary of appearing to be putting their hand on the scale of the election," Schiff said, referencing the Obama administration's initial failure to implement Russian sanctions. Schiff added that "none of that is an excuse for this President to sit on his hands" regarding recent Russian sanctions set in place by Congress.
As reported by CNN