Just before LaMia Flight 2933 crashed into a hillside near Medellin, Colombia, a crew member onboard told air traffic controllers, "The plane is in total electric failure and without fuel," according to two sources familiar with the investigation who heard audio recordings.
The conversations add new details to the final moments of the crash Monday that killed 71 people, including members of a Brazilian soccer team.
They also add further evidence supporting investigators' suspicions that the jet had depleted its fuel during its charter flight from Santa Cruz, Bolivia, to Medellin.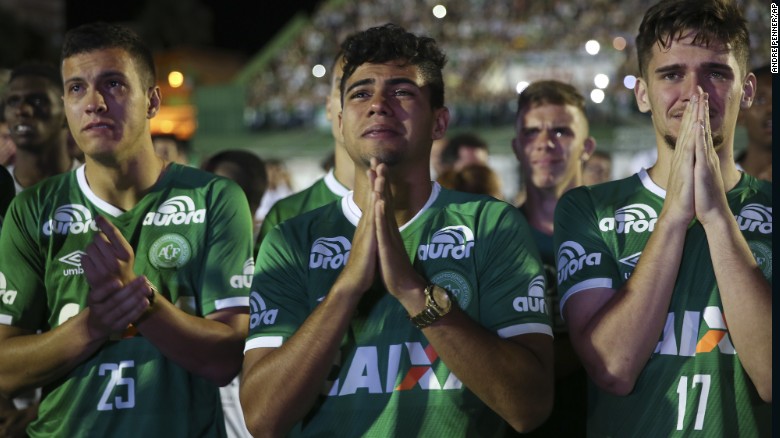 The audio was published in Colombian media. Brazilian soccer squad Chapecoense was on its way to the Copa Sudamericana finals in Medellin. Three players, two crew members and one journalist survived, Colombian authorities said.
CNN reported Tuesday evening that investigators were considering a shortage of fuel as a significant contributor to Monday's crash, according to a person familiar with the early stages of the inquiry.
The lack of apparent fire damage among the wreckage of the of the British Aerospace Avro RJ85 strongly suggest the jet's fuel tanks were dry when it hit the ground.
Eyewitness account
Colombian media on Wednesday also published audio of an Avianca Airlines co-pilot, Juan Sebastian Upegui, relaying an eyewitness account as the doomed LaMia flight descended and lost contact with air traffic control.
Upedgui said the rapidly descending jet passed to the side of his own aircraft. "We even saw the plane lights as it was going down."
The pilot was listening to the radio and recalled that the crew of the LaMia aircraft did not declare to air traffic controllers a specific emergency regarding low fuel. In the audio, Upedgui said, "I remember that [my] commander asked, 'They have fuel problems and are not declaring an emergency?'"
Colombian Civil Aviation Authority spokeswoman Maria Cristina Pabon told CNN she could not confirm the authenticity of Upedgui's recollection or any air traffic control tapes that had been released by Colombian media.
But she added, "there are many coincidences — it could be [true], however, officially the recordings are in custody and no one can touch them."
What causes a plane to run out of fuel?
Fuel exhaustion occurs when fuel is cut off from the engines, causing them to stop running. It can be caused by a number of factors including a fuel leak, internal icing, failure of the fuel pumps or gauges, or crew error managing the engine's use of fuel.
Electrical failure would also occur if an aircraft runs out of fuel. Electrical power is generated in-flight when the engines are running or through an auxiliary power unit on board. If those two sources fail, as they would without fuel, an aircraft's onboard batteries can power some systems for a short time.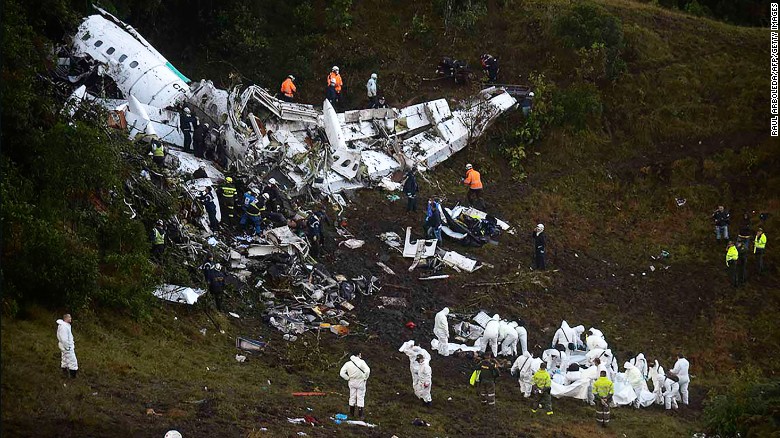 Alfredo Bocanegra, director of the Colombia Civil Aviation Authority, said even though a preliminary investigation pointed to an electrical problem, the possibility the plane ran out of fuel has not been ruled out, CNN Italian affiliate ANSA reported.
However, Bocanegra said investigators would have to ascertain why the aircraft didn't have enough fuel, because it was just 5 miles away from the airport.
The Colombian Civil Aviation Authority declined to comment further on technical details. Photos released by authorities showed debris from the four-engine Avro RJ85 strewn across a hillside with no apparent charring among the wreckage.
Running out of fuel is "very, very rare in commercial aviation terms because there are so many checks and balances to make sure you have enough fuel on board," said Grant Brophy, an air safety investigator.
Previous incidents
Exhausting all fuel aboard is not without precedent. Seventy-three people were killed in 1990 when a Boeing 707 flown by Colombian airline Avianca crashed near New York's John F. Kennedy International Airport after a flight from Medellin when it ran out of fuel, following an extended holding pattern and an aborted landing.
The cause was blamed on poor communication between the crew and air traffic control.
Scheduled commercial aircraft in the US are customarily flown with enough fuel to fly their planned route, plus enough extra fuel to reach the most distant of alternate airport options and 45 minutes of additional fuel as a safety margin to account for adverse wind and weather conditions.
Charter and international operators can operate under different rules, according to Phil Derner, an FAA licensed aircraft dispatcher and editor of the NYC Aviation news outlet.
Investigators will reconstruct the flight's final hours using data collected from the flight data and voice recorder, as well as maintenance and manufacturing records. The plane's so-called "black boxes" were recovered early Tuesday and were in excellent condition, according to Colombian aviation officials.
The charter flight took off from Bolivia's Viru Viru International Airport in Santa Cruz at 6:18 p.m. local time, according to air controller Manuel Palamas.
According to tracking data from FlightRadar24, the aircraft entered a racetrack-shaped holding pattern at around 20,000 feet before it crashed.
Air accident investigators in the United Kingdom, where the plane was manufactured, were also dispatched to the crash site to aid Colombian authorities in determining what happened.
Aircraft a regional workhorse
The Avro series of regional jets were once mainstays of small US and European airlines that eventually retired them in favor of more efficient two-engine jets and propeller planes. The jet that crashed Monday flew with US regional carrier Mesaba Airlines when it was first delivered in 1999, according to the Aviation Safety Network.
According to a July 2016 report by Boeing, the Avro family of aircraft has suffered 14 accidents in which the aircraft was a total loss, including seven with fatalities. Monday's crash is the eighth due to noncriminal acts.
The crash marred what has been an otherwise exemplary year for aviation safety. Fatalities due to air crashes so far in 2016 are at less than half the 10-year average.
As reported by CNN