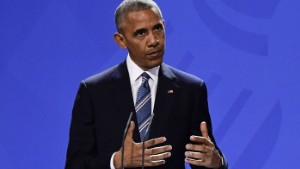 Lima, Peru – President Barack Obama predicted in Peru Saturday that a Trump presidency won't result in "major changes in policy" for the US-Latin America relationship, though he conceded that tensions are likely to rise on the subject of trade.
But, Obama told the audience at the Young Leaders of the Americas Initiative, once the incoming administration looks at how trade relationships are working, "they'll determine that it's actually good for both the United States and our trading partners," though he said "modifications" are possible.
Obama also gave the same advice to Latin America that he gave to European leaders earlier this week, cautioning the audience to not "assume the worst" on what a Trump presidency could mean for policies but to "wait until the administration is in place."
Obama was addressing a town hall audience and discussed the importance of democracy in the wake of the election, saying that democracy means "the outcomes of elections don't always turn out the way you would have hoped."
"Democracy is more than just elections," Obama told the YLAI, a program that supports young entrepreneurs created by Obama in 2015.
"Democracy can be frustrating because democracy means that you don't always get 100 percent of what you want. Democracy means that sometimes you have to compromise. And it means that you know, the outcomes of elections don't always turn out the way you would have hoped," Obama said.
Peru is the final stop on the President's last trip abroad while in office. Earlier this week, Obama visited Athens and Berlin, where he was plagued with questions of what a Trump presidency means for the United States alliances abroad.
Obama also announced a series of investments and new programs in support of YLAI Saturday, including new grants and increasing access to mentorship from the private sector.
As reported by CNN