One year after the Sofer family was attacked in their car with a Molotov cocktail that wounded their young daughter, they meet with the soldiers who have since apprehended the terrorists responsible.
One year after her family was attacked in their car, four-year-old Tahel Sofer met on Tuesday the IDF soldiers who apprehended the terrorists who injured her.
On October 23, 2015, the Sofer family was ambushed by a group of terrorists whilst they were travelling on Highway 60 nearby Bethel. One of the attackers threw a Molotov cocktail at the car, moderately wounding Tahel. She, her parents and her two sisters were all taken for treatment at the hospital following the attack.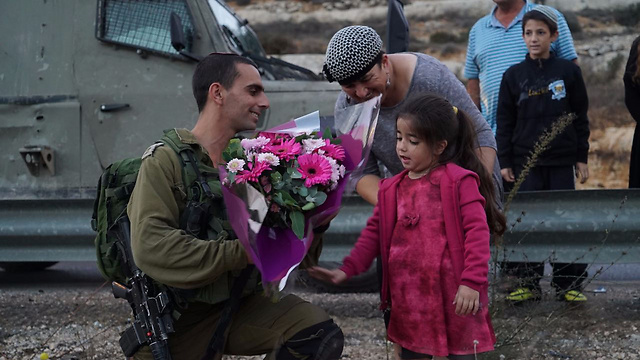 One year later, the family came from their home in Nitzan to a site nearby the scene of the attack to thank the Paratroopers' 202nd Brigade, who recently managed to catch the terrorist cell who had attacked the family.
Tahel's mother, Sigal Sofer, said, "This is real closure for us, coming here, to the place where they tried to murder us. We came to this place—everybody who was in the car—to thank the soldiers who did great work. We appreciate and respect their actions."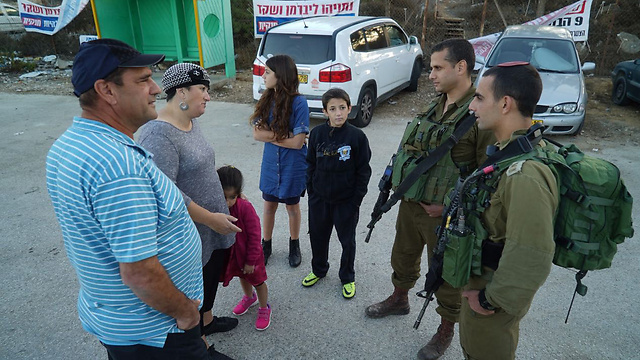 Tahel also thanked the soldiers. "Tahel understands everything and can tell anyone who asks what happened to her," her mother explained. "She doesn't use the word 'terrorist' yet, but rather she calls them 'bad guys.'"
Capt. Eliyahu Asban, the company commander, recalled the moment when his unit detained one of the terrorists: "We were standing at a checkpoint, and then one of the soldiers identified the wanted man. We immediately took him out of the car and arrested him. Coming here with the soldiers is an emotional experience."
The 202nd's commander, Lt. Col. Roy Zweig, said that after the soldiers learned that the terrorists were those who had injured a little girl, they felt proud and happy: "The soldiers were happy that they had managed to catch terrorists and end this incident that could have repeated itself."
As reported by Ynetnews