Op-ed: Settler leaders are responsible for the Amona failure too, but it was the state's messengers who were involved in the construction and development of communities on private lands. A mistake cannot be fixed with the mistake of evacuating Amona.
The State of Israel has been in control of Judea and Samaria for nearly 50 years now. It has an historic connection to Hebron and Shilo, yet it has been hesitant for 50 years and has not dared touch the sensitive issue of land regulation. Not even in Jerusalem. How does one acquire land in east Jerusalem today? By bringing an approval from the local mukhtar and obtained rights to the land. It's delusional.
Jordan, on the other hand, controlled Judea and Samaria for less than 20 years without any historic or legal affiliation. Jordan's occupation of Judea and Samaria was not recognized by the world and was considered an illegal occupation. Nevertheless, King Hussein did not hesitate, and within a short period of time he began reorganizing the lands in Judea and Samaria. In some of the areas, the Jordanian occupation rule managed to complete the move and distribute on paper wide areas for private ownership, sometimes for free, according to its caprices.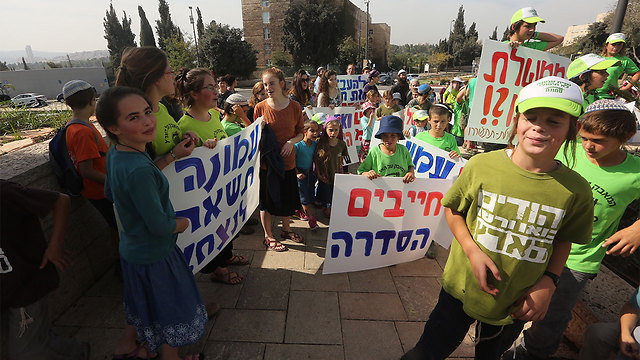 Since the beginning of the settlement movement in Judea and Samaria, most communities were built on state lands. In other words, they were built on the areas which were not privately owned or lands which King Hussein did not manage to distributed. In exceptional cases, existing communities spread on lands which were registered as private—Ofra, for example. Later on, individual outposts were created on private lands—Amona, for example. As someone who lived in Amona in the past and who lives in Ofra today, I have said it and I will say it again: It was a mistake. It's a serious mistake to build on land that is registered as private, even if we are talking about a rocky mountains.
The settler leaders are also responsible for this failure, but it is mostly the state's messengers who were involved in the construction and development of communities on private lands. A mistake must not be repeated twice, and a mistake cannot be fixed with another mistake. A demolition of Amona and of homes in Ofra or in Netiv Ha'avot is a serious mistake. The residents, who in most cases did not know that the land was registered as private, should not have to pay for the state's mistakes.
The softened Regulation Bill seeks to fix the mistake in a different way, a way which will benefit the land owners through compensation and prevent damage to the residents. The bill does not seek, under any circumstances, to allow the mistake to continue—in other words, to spread to more private lands. It only seeks to regulate what has already been built.
Within the Green Line, there is no absolute right to property, and the state is allowed to expropriate land from a private owner for public benefit. Why is this not applied in Judea and Samaria? There is certainly a public need to prevent the demolition of a community like Amona, which has existed for nearly 20 years now.
As reported by Ynentews