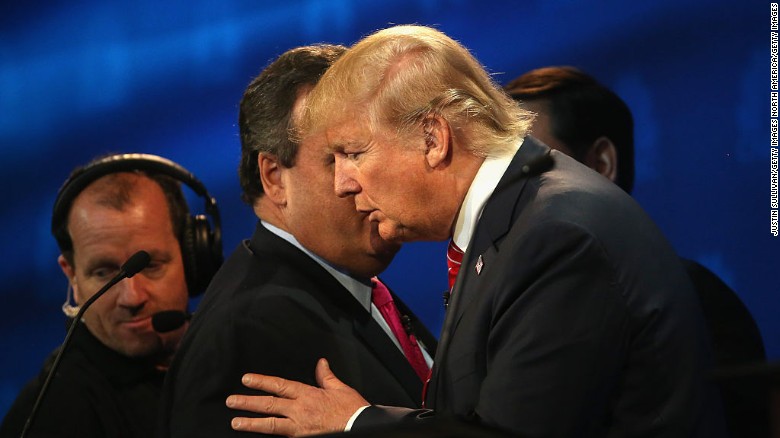 Washington -mNew Jersey Gov. Chris Christie's February endorsement of Donald Trump shocked observers as the first sign of capitulation from the Republican establishment to the man who would eventually become their nominee — and then their president.
It could've easily been the other way around.
That's one revelation in "Unprecedented: The Election that Changed Everything," CNN's upcoming book on the 2016 race that comes out December 6.
"Trump told Christie in 2015 that he didn't expect to make it past October—at which point he would endorse Christie, according to a Christie adviser who asked not to be named in order to speak about behind-the-scenes maneuvers," according to the book, written by CNN's Thomas Lake with reporting from Jodi Enda, Susan Baer and CNN's political team.
"I think they always had an understanding that the first one out would probably endorse the other," the adviser said.
During the throes of the Republican primary, Trump and Christie had a common enemy: Marco Rubio. After Christie's endorsement, Trump would praise Christie for his takedown of Rubio during the Republican debate right before the New Hampshire primary. Christie mercilessly mocked Rubio when he repeated a talking point again and again to criticize President Barack Obama.
During the Republican primary, Christie and Trump — who have known each other through New York-area politics — were not as harsh toward each other as were other pairs of rivals. Christie, though, did criticize Trump by calling on voters to get serious and not treat the election as a game, and Trump at one point alleged that Christie knew about his now-convicted aides' plans to close down the George Washington Bridge.
Christie has since become one of Trump's most stalwart defenders, and he is currently under consideration for a number of high-profile cabinet posts. But on Friday, Christie was layered over as chair of Trump's transition team, with Trump's vice president, Mike Pence, now in charge of assembling the Trump administration.
The relationship between two outsized personalities will continue to unfold in the months ahead.
As reported by CNN