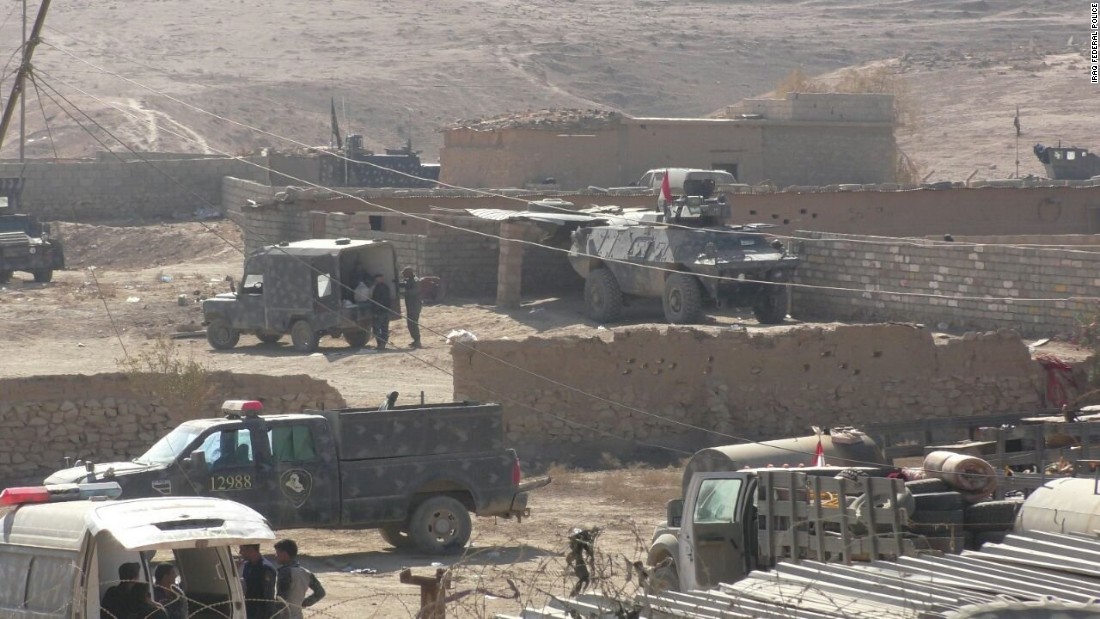 Irbil, Iraq – A mass grave containing the remains of about 100 beheaded civilians has been discovered inside a school in a town south of Mosul, Iraq's military said in a statement Monday.
The mass grave was found by Iraqi forces in the School of Agriculture on the outskirts of Hammam al-Alil, a town that was recaptured from ISIS on Monday, Iraq's Joint Military Command said.
"Gangs of ISIS militants continue to commit crimes against our people," the statement said.
Special teams are being sent to the site to investigate the killings, the statement said. Beheadings and mass graves have become a hallmark of the Sunni terror group.
Iraq's federal police forces and army troops attacked the ISIS-held town of Hammam al-Alil — about 30 kilometers (18.6 miles) south of Mosul, and the last significant settlement on the Tigris River before Mosul — on Saturday.
&A day earlier, the UN Refugee Agency said it had received reports that ISIS was instructing residents of the town to hand over boys aged 9 and older, apparently to fight on behalf of the terror group.
Tens of thousands displaced
Since October 17, a huge coalition of Iraqi forces have been waging an offensive to retake Mosul, ISIS' major stronghold in Iraq, which has been under the terror group's control for two years.
After Baghdad, Mosul is Iraq's second-most-populous city, with 1.2 million residents. Aid agencies have warned that the push to liberate the city could trigger a new refugee crisis.
So far 34,038 people have been displaced by the military operations, according to the International Organization for Migration.
Peshmerga assault on Bashiqa
Early Monday, Kurdish Peshmerga forces, who are playing a key role in the battle against ISIS, began a large-scale, three-pronged assault to clear the terror group from Bashiqa, a few miles northeast of Mosul, according to the General Command of Peshmerga Forces.
It said in a statement that after advancing into Bashiqa's center from three fronts, Peshmerga forces had begun house-to-house clearances in the ISIS-held town with the support of airstrikes.
Coalition forces made swift progress on the approach to Mosul but have encountered ferocious resistance upon entering the city's limits.
The estimated 3,000 to 5,000 ISIS fighters in the city have had two years to prepare for the Iraqi forces' arrival. Entering forces are expecting such defenses as extensive networks of tunnels and booby-trapped buildings.
As reported by CNN