Hosted by Israeli-American business mogul Haim Saban and his wife, the FIDF gala saw celebrities and well known Jewish philanthropists donate millions to help IDF soldiers; Saban: 'I don't take any of this for granted.'
Over $38 million was raised at the annual Friends of the IDF (FIDF) Gala on Thursday night in Los Angeles, California. The evening saw performances by Israeli model and actress Moran Attias and David Foster.
Included in the audience were Robert De Niro, Larry King, Arnold Schwarzenegger, Gerard Butler, amongst other celebrities.
Also included in the audience was National Director and CEO of the FIDF Maj. Gen, (Res.) Meir Klifi-Amir, President Peter Weintraub, and 17 soldiers, including some lone soldiers who grew up in the US, but moved to Israel in order to join the IDF. The event itself was held by business-mogul Haim Saban and his wife Cheryl.
One of the largest donations came from Rabbi Yechiel Eckstein, founder and president of the International Fellowship of Christians and Jews, who donated $6 million. Haim Saban himself donated $5 million, Serge Azria donated $5 million, and brothers Paul and Maurice Marciano donated $5 million. Meanwhile, David Hagar donated $3 million, while the parents of Teddy Sagi donated $3 million.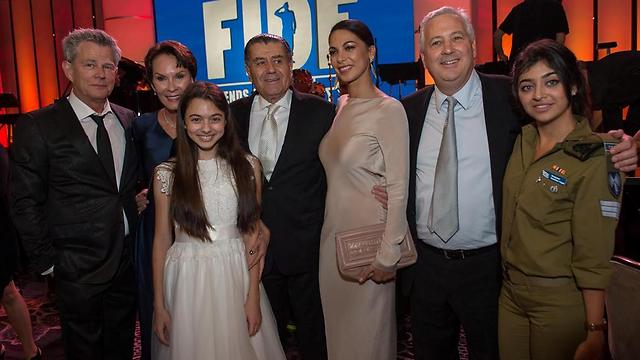 Saban said that "this year marks a decade where my wife and I – who are putting on this event – get to see how the FIDF continues to provide educational and welfare services to IDF soldiers, and how the organization continues to harness the power of the Los Angeles community."
One of the most emotional parts of the Gala was when Ohad Benyichai – the soldier who suffered from the most extensive injuries of Operation Protective Edge – entered the events hall with his parents after being flown personally to Los Angeles by Haim Saban.
"I heard Benyichai's unbelievable story, whereby he overcame all the odds and healed from his injuries, and he continues to conquer mountains with the help of his wonderful parents," Saban said. "I began to tear up when I the video of his story, and I decided to bring him and his parents to tonight's gala. Ohad's story, and the stories of all the other soldiers who were critically injured and survived is the story of Israel. It's a story of bravery and determination, a story of tenacity and the will to never give up, but to win instead."
He continued, saying "at first, they didn't give Ohad a good prognosis of survival. This was the prognosis for the Nation of Israel every time our enemies rose up to try and destroy us. From Egypt to the Holocaust to all of Israel's wars. Just as Ohad won, so will the State of Israel. They will never destroy us. We are here forever."
Ynet conducted an exclusive interview with Haim Saban before the 2016 gala.
What is your role here in the yearly gala?
"Every year I go up to the stage as a kind of bum, asking for money for the state of Israel," Saban joked.
"But in all seriousness, during this gala we try to provide a partial situation report as to what's going on in Israel in terms of security. There are some short films screened, and there are soldiers who come and explain that Israel doesn't just blow up and kill terrorists. At the end, with the help of the assembled guests, we try and raise as much money as possible to give to the IDF."
"There are those who come and donate every year," Saban continued. "There are also those who come for their first time and see the true face of the IDF. My wife and I's primary roles – ever since we began holding these events – is to help people understand what Israel is and what the IDF is, as well as help people understand why it's important to support the soldiers in the IDF. It's the role of a lifetime."
You were able to raise $14 million in 2010, and last year, you were able to raise $34 million. These amounts indicate the level of support for the IDF. Do you worry about the moment that you won't be able to continue to raise these amounts?
"I'm always thinking about this, because I don't take any of this for granted. People's generosity depends on them. The only thing we can do is bring them the beauty of Israel and explain to them how they can help the soldiers," Saban responded.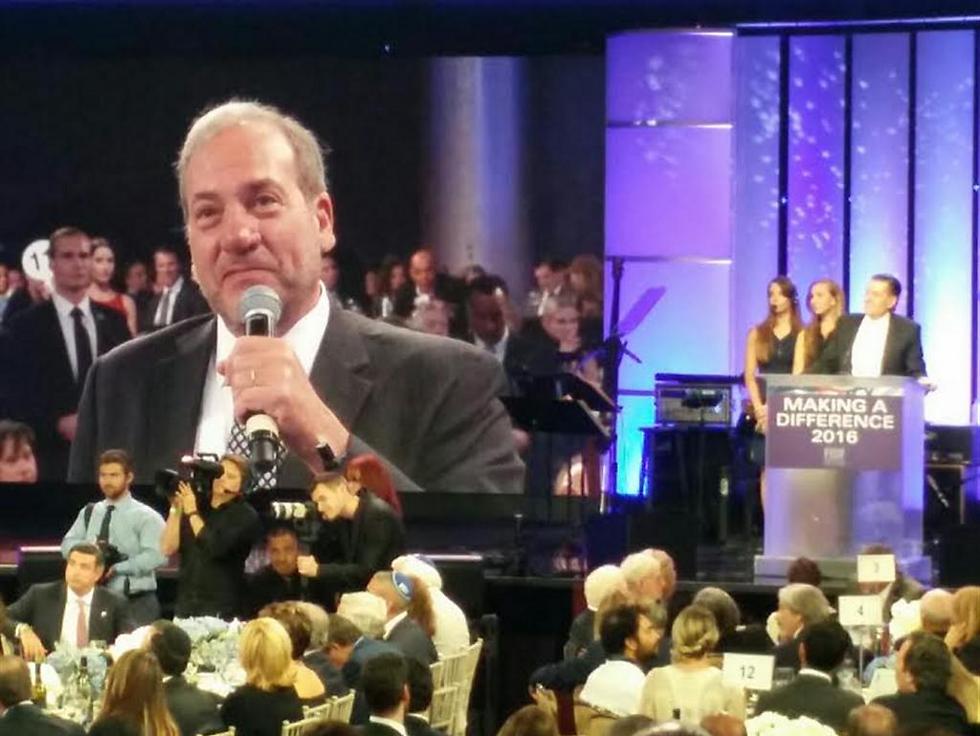 "Moreover, the amount of support and how much they donate depends on each individual. Regarding how much people identify with the soldiers of the IDF, I can say that this year – a month before the gala – we are already sold out of tickets, and people have bought entire tables (for friends and family to attend) to the tune of thousands of dollars. The very existence of these people, who stand and announce how much they are willing to pledge to the IDF, that is what I work for," Saban added.
The event is taking place five days before elections in the US, and the question is whether or not Hillary Clinton – who has publically expressed her support for Israel – will win the elections, or if Donald Trump, who you disapprove of, will win the elections. Are you worried?
"While the US elections are indeed very important, they don't affect how much people donate to the IDF. I hope that Trump won't be elected, because if he is, he will be a disaster for the US-Israel relationship. Hillary will be good for Israel, and will help Israel maintain its status as a Jewish and Democratic country. Hillary loves Israel. Trump loves Trump. Period."
The Friends of the IDF is a non-profit organization which has been working in the US for 35 years, and was founded by Holocaust survivors who immigrated to the United States. The organization receives $100 million every year for the welfare of IDF soldiers. The organization helps IDF soldiers from impoverished families, and helps lone soldiers who have no immediate family in Israel, amongst other philanthropic projects.
As reported by Ynetnews