Op-ed: The slain prime minister was a model example of leadership which takes responsibility for its actions. He did not make excuses and did not hide behind IDF officers and the fighters on the ground. This is leadership in all its greatness.
Yitzhak Rabin the man, the fighter, the commander, the statesman, is remembered first and foremost as a leader. Those who met him and were impressed by his special personality, and those who followed his military and political path, immediately noticed his leadership. His ability to make decisions, sometimes tough and life-risking decisions, the depth of though, the huge experience, the richness.
A non-impassioned leadership, which draws its power and strength not from false talk but from quiet in-depth treatment, from personal and national baggage like no other, and from the knowledge that he is serving something which is bigger and more important than him, and all of us.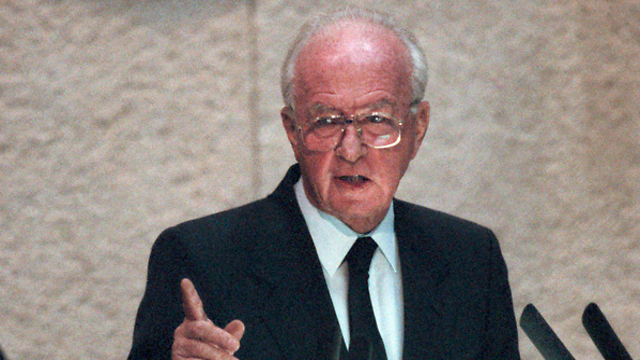 I served under Yitzhak Rabin, the prime minister and defense minister, in several junctions as a fighter and as a commander in the IDF, and in all of them Rabin was – to me and to the members of my generation – an authority, a leader who allowed us to sleep peacefully knowing that his hands were on the national security wheel, and someone we could definitely learn everything from.
We knew how sensitive he was regarding human life. As a person who had lost many of his friends in Israel's wars, he recognized that war was the last resort, at any time. As a fighter and commander, Yitzhak knew how to use power, but also acknowledged his limitations; he pursued peace, but was also realistic; he understood very well the complex strategic reality faced by Israel, and did not follow illusions.
All his life, Yitzhak contributed to the state, and the concern for its future and the future of the next generation affected his every move. The IDF was the apple of his eye. "I am proud and happy to have been given the right to serve in the IDF, which is the most remarkable system created by the State of Israel," he wrote in a farewell letter when he concluded his term as chief of staff.
I met Yitzhak for long security discussions and approvals of special operations. Before we left for the enemy's hinterland on another operation he had approved, he would lean with us over maps and aerial shots for hours, delving into the smallest details, sharing his massive experience with us, always as sharp as a razor and asking the right questions. Helping us hit the road in peace of mind, knowing that there is someone who cares for us at home.
But there was one difficult and painful night, in October 1994, when his leadership was reflected in full force even for those who did not get to know him personally or who disagreed with his political path. Several hours after Sayaret Matkal fighters broke into a house in Bir Nabala in order to rescue kidnapped soldier Nachshon Wachsman, but unfortunately failed to accomplish their mission and returned to their base without Nachshon and without the team commander, Capt. Nir Poraz, Yitzhak faced television cameras and the grief-stricken Israeli public and declared: "I, as the prime minister and defense minister, am responsible for the decision to carry out the operation this evening against the terrorists who kidnapped Nachshon Wachsman, may his memory be blessed."
Just like that, in one sentence, Rabin demonstrated a model example of national leadership which takes responsibility for its actions. He did not drop the responsibility on someone else, he did not make excuses and did not hide behind IDF officers and the fighters on the ground. This is leadership in all its greatness.
Life may have gone back to normal since that black Saturday evening in the Tel Aviv square, but Israel has yet to recover from the murder. It rocked the foundations of the house we grew up in so hard, and our world – as we knew it until then – will never be the same. This shock forces us to protect our values and fight for them, as they are the hope for our continued existence as a people and as a nation and in order for us to be able to sustain an exemplary society here.
It's our duty to the State of Israel, and it is our duty to the next generations. This is one of the key lessons from the bitter night of November 4, 1995.
As reported by Ynetnews