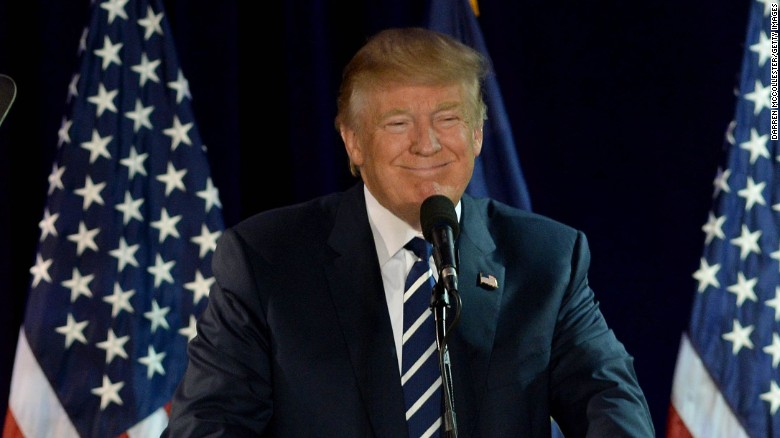 Grand Rapids, Michigan – Donald Trump on Monday thanked the top Hillary Clinton aide whose husband is at the heart of an FBI's investigation that led to the discovery of new emails potentially related to Clinton's use of a private email server while she was secretary of state.
"Thank you, Huma. Good job, Huma," Trump said, referring to Huma Abedin, a top Clinton aide. "Thank you, Anthony Weiner."
The FBI discovered the emails on a device seized from Abedin's estranged husband Anthony Weiner, who is being investigated for allegedly exchanging sexually explicit messages with an underage girl.
Trump said emails — the contents of which are unknown — will be "absolutely devastating" to Clinton. The FBI is still working to determine if any of them are pertinent to the investigation into Clinton's private email server.
Trump also thanked Weiner during a rally Sunday in Las Vegas, saying "we never thought we were going to say thank you to Anthony Weiner," whom Trump has long derided as a "sleaze" and a "perv."
"Hillary is the one who broke the law over and over and over again. We can be sure that what is in those emails is absolutely devastating," Trump said without citing any evidence. "I think we hit the mother lode, as they say."
Trump also praised FBI Director James Comey for publicly disclosing last Friday that the FBI was reviewing newly discovered emails for links to the Clinton server investigation, a decision some Democrats have slammed as a political decision that could influence the results of the election.
"I have to give the FBI credit, that was so bad what happened and it took guts for Director Comey to make the move he made. It took a lot of guts," Trump said. "I was not his fan, but I'll tell you what, what he did, he brought back his reputation."
"He's gotta hang tough," Trump said of the FBI director, whom he had repeatedly and relentlessly assailed since Comey recommended during the summer that no criminal charges be filed against Clinton.
Trump was joined in Grand Rapids, Michigan, by Bobby Knight, the famous former Indiana University basketball coach who took the stage twice Monday — including in the middle of Trump's speech — to talk up Trump's candidacy.
After calling Trump a "tough son of a bitch" in his introductory remarks, Knight waltzed back on stage in the middle of Trump's speech.
"In a Donald Trump administration, there will be no bullshit," Knight added.
As reported by CNN