An Egyptian Brigadier General in the armored division was killed by Islamic militants outside his home outside of Cairo Saturday morning; he is the highest ranking Egyptian official to be assassinated since Morsi was toppled.
CAIRO- A senior Egyptian military official was shot dead on Saturday outside his home on the outskirts of Cairo, security sources and his wife said.
Gunmen opened fire on Brigadier General Adel Rajaaie, an armored division commander who had served in troubled northern Sinai, as he left his home in Obour City outside of Cairo to go to work, his wife told Reuters.
"Minutes after he left the house I heard gunfire, I went out to find him covered in blood … he received a lot of bullets .. He died instantly," said Samia Zain El Abedeen.
She said neighbors told her the assailants had automatic weapons and fled in a car.
A newly-emerged militant group calling itself Louwaa el Thawra, or the Revolution Brigade, claimed responsibility for the attack on a Twitter account that was suspended shortly after the claim.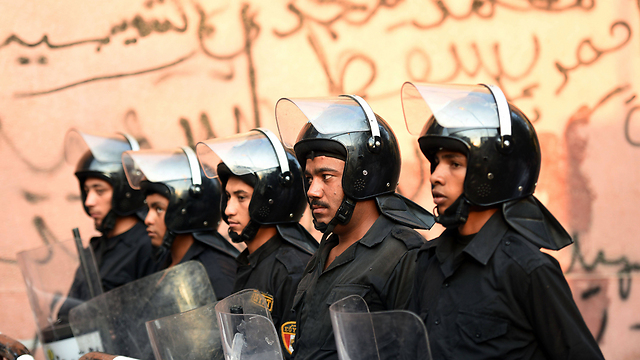 Rajaaie, 52, is the most senior military official to be assassinated since the toppling of Islamist President Mohamed Mursi in mid-2013 by general-turned-president Abdel Fattah al-Sisi.
A military funeral will be held at Field Marshal Mohammed Hussein Tantawi Mosque, in Cairo, the same mosque where Egypt's top public prosecutor, Hisham Barakat, was given a military funeral after being killed by a car bomb in June 2015.
Egypt faces an Islamist insurgency led by ISIS's branch in North Sinai, where hundreds of soldiers and police have been killed. There have also been attacks in Cairo and other cities.
Judges and other senior officials have increasingly been targeted by radical Islamists angered by hefty prison sentences imposed on members of the now-outlawed Muslim Brotherhood.
The Brotherhood, which says it is a peaceful organization, won Egypt's first free elections after the 2011 uprising that ended Hosni Mubarak's 30-year rule.
Since the Brotherhood's candidate, Mursi, was deposed after mass protests against his rule, Sisi has overseen a crackdown in which hundreds of Brotherhood supporters have been killed and thousands jailed or sentenced to death.
An Egyptian court confirmed a 20-year prison sentence on Mursi on Saturday on charges arising from the killing of protesters during demonstrations in 2012, judicial sources told Reuters.
Another recently emerged militant group called Hasm Movement, the Arabic word for decisiveness, has claimed responsibility for five attacks since July, including an assassination attempt on Zakaria Abdel Aziza, a senior Egyptian prosecutor. The group said the attack was in revenge for death sentences handed to thousands of convicts.
As reported by Ynetnews